In the first of a new series in which members of the RIBAJ Rising Stars cohort set the agenda for their generation of architects, Edward Dale-Harris explains his involvement in a community build in Rwanda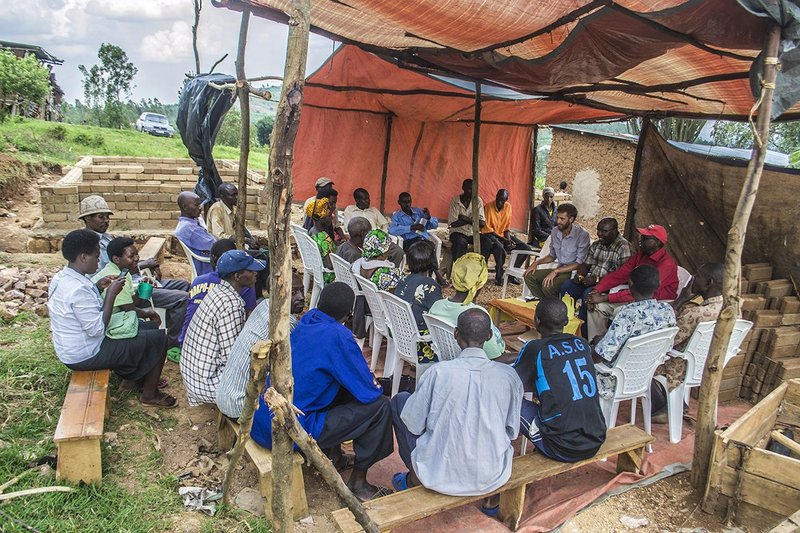 Cooperative meeting and speeches after first phase on site in Ntarama, Rwanda, December 2014.

Credit: Edward Dale-Harris
I was at the Cass Design School when it lost many of its workshops and downsized its courses, forced towards more laptop-based education. As a consequence I found it hard to get off the computer and engage with the people and materials in the design process. I felt abstracted from the real thing. How could I find work that would engage the users of the space and design for them? How could I really understand the materials sourcing and processes? It all seemed so far away. I wanted to quantify all the material and energy in a system of making, and know what is the real cost?
So I volunteered. I cold called and emailed various charities. I offered them my services for free. I booked a flight. I went to Rwanda with charity Reach to stay with a priest who reconciled traumatised victims and culprits of the 1994 genocide.
Since then I've been four times to volunteer for Reach. The third time I helped build a low cost rammed earth house. I spent three months working on it, on site most days. I worked alongside the beneficiary, his family and the cooperative. I got to know how they lived. We worked together to build this house.
The purpose of the project was reconciliation. It was restorative justice: 20 released prisoners volunteered to build a house for one of their surviving victims, who had lost their house, family and everything. They would also work alongside six of their other victims.
The group was formed through Reach's three months reconciliation programme during which they would give their testimonies of what happened during genocide. Some begged for forgiveness. Others managed to forgive them. Importantly, this was a two-way process. Witnessing this social transformation of people once enemies to becoming friends was simply remarkable. Who would have believed that this kind of reconciliation was possible.
This simple 35m2 house had more soul and meaning to it than any other. The building embodied so much shared effort and energy. The time and the materials were all given freely. It was through this time spent together on a shared endeavour that the group could practise reconciliation into the long term.
Buildings are built for different reasons. Some for money, some through necessity, some for reconciliation.
The UK has a building culture with a deep disconnection from its users. Most of our housing is provided on a large scale. Complex and unclear regulations force this work into the hands of professionals in large companies. Housebuilding doesn't have to be that complicated. Self-build, small scale DIY housing should be encouraged. I would challenge anyone to get involved in community self-build projects. There is so much to learn and gain socially, environmentally and economically.
To find out more about RIBAJ Rising Stars, a scheme to reward up and coming construction professionals, visit
https://www.ribaj.com/rising-stars-2016
Rising Stars 2017 is opening for entries in June.
---