The 20-strong shortlist of an ambitious generation, building on retrofit skills, rethinking architectural visualisation and opening up knowledge on low carbon buildings and materials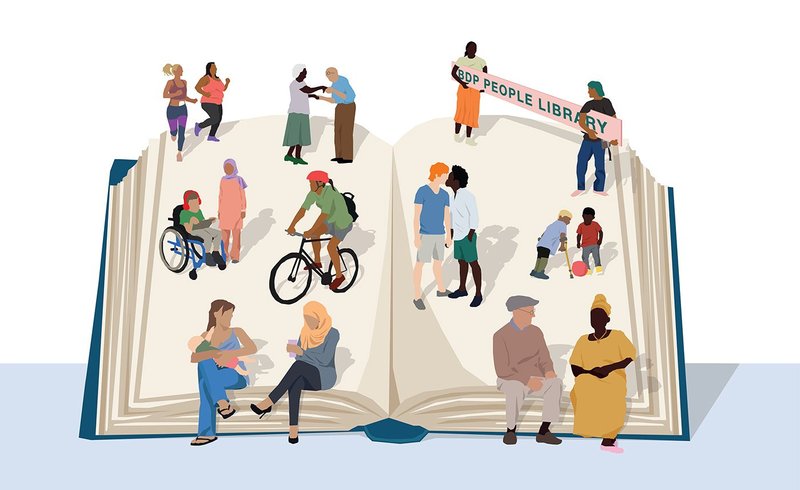 Drawing diversity: Evie Martin's BDP People Library being used for project visualisation.
There is something staggering about the insight offered in the biographies of the bumper crop of entrants to this year's RIBA Journal's Rising Stars, supported by Origin. They paint a picture of an ambitious generation, addressing themselves to designing through the problems of the day.
The shortlist of 20 exemplifies the best of these from co-design to drawing equality, and from brilliant project architects with sensitive side hustles to inventive designers and agile thinkers.
Read on for an idea of what they have been doing and where they might be going next. The final cohort of Rising Stars will be announced on 24 October 2023.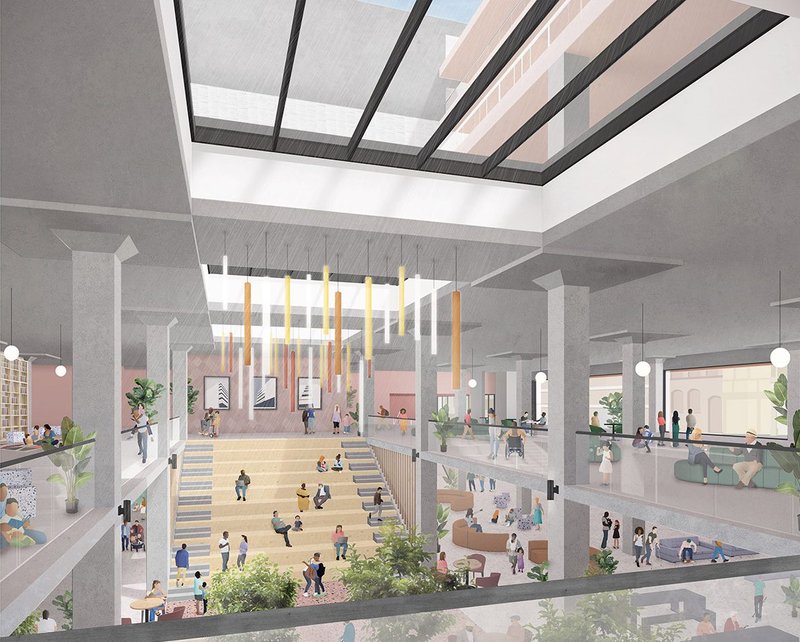 Martin's BDP People Library in use.
Oliver Beetschen, architect, theatre designer at Charcoalblue Agile architect with a passion for DfMA (design for manufacture and assembly) whose experience spans theatre design, railway footbridges and Elizabeth Line stations.
Clementine Blakemore, director, Clementine Blakemore Architects Founder of her own practice delivering inventive and inclusive projects that have a positive impact on both the wider community and the environment.
Larry Botchway, architect, co-founder of POoR (Power Out of Restriction) Collective Botchway is a driving force behind the POoR Collective, a social enterprise design practice dedicated to the development of communities through the elevation of young people.
James John Cliff (Rogers), director, Studio Weave Played a key role in the growth of Studio Weave, developing the practice's approach to holistic built environments that address the changing climate.
Pati de Souza Leão Müller, public programme curator, Building Centre Makes knowledge of the built environment engaging and accessible.
Jack Hawthorne, associate, Henley Halebrown Project architect of complex award-winning projects, and instigator of Henley Halebrown's Dialogues series of public talks.
Hajir Kheder, engagement manager, Karakusevic Carson Architects Draws on her architectural training to deliver creative collaboration and effective co-design.
Sophia Malik, architectural assistant, Arup Champion of innovative and sustainable bamboo construction for resource-poor communities, including the adaptive reuse of existing buildings.
Evie Martin, Part 2 architectural assistant, BDP Devised the BDP People Library to create more meaningful and diverse imagery to populate project visuals.
Claire Miller, associate architect, Askew Cavanna Architects Advocates for gender and racial equality, education and social mobility in the built environment in addition to leading community engagement and co-design work.
Akshara Pulpa, architect, Connolly Wellingham Architects Project architect for Feilden Fowles' acclaimed Homerton Dining Hall in Cambridge and now on reuse at Connolly Wellingham, with her qualification as a retrofit coordinator.
James Purkiss, associate, Archio Architects; research fellow, UCL Sustainability champion and Passivhaus designer at Archio, where he co-designed a retrofit guide with residents of the 29,000-home Becontree estate.
Faye Sedgewick, knowledge transfer partnership associate and Part 3 architectural assistant, Building Design Northern Leader of a knowledge transfer partnership driving innovation and quality in the design of homes and care environments for older people in the north-east of England.
Hamza Shaikh, architect, digital artist at Gensler Architect, podcast host, artist and influencer known for his exploration of architectural drawing on social media, including the integration of AI technologies.
Lois Shannon, architect, Taggarts Project architect with expertise in construction contractual matters, and chairperson of the Early Career Architects Forum at the Royal Society of Ulster Architects.
Elena Shilova, architect, Grimshaw; visiting professor, University of East London Leads material innovation and advanced fabrication agendas at Grimshaw's London studio, where she is co-developing Sugarcrete Slab, a construction system derived from a sugarcane by-product.
Tobi Sobowale, Part 2 architectural assistant, Gensler Architectural designer, photographer and writer who advocates for diversity and inclusion in the architectural profession and has pioneered Gensler's Behind the G initiative for graduates.
Martha Summers, architect, Martha Summers Architect and artist who has designed several queer and feminist community spaces as personal projects, including the London LGBTQ+ Community Centre, in addition to her work at Feilden Fowles.
Greg Walton, director/architect, Studio McW Heads his own practice as well as co-founding Made of Good, a company focusing on property development as a creative practice.
Gina Windley, architect/sustainability designer, Levitt Bernstein Committed to improving sustainable practices both through her work at Levitt Bernstein, where she leads on sustainability in its Manchester studio, and more widely for LETI and Architects Declare.