Little changes could have huge effects in allowing smaller practices to thrive, says small practice director and RIBAJ 2019 Rising Star Benni Allan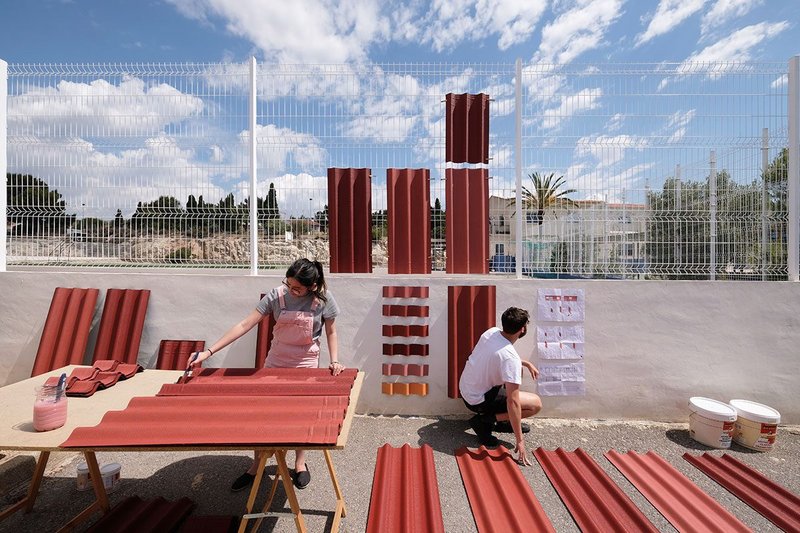 La Falda school by EBBA-Architects.

Credit: Benni Allan
It is hard trying to write about something relevant when everything seems so immaterial in the current situation. Clients pressing pause, leads dropping like flies and sites (rightly) closing; all the things that as a small business you do your best to avoid.
The last event to spark similar effects was the 2008 financial crash. I had just started university and didn't have much appreciation of its effects on businesses like ours today, a small studio with the greatest intentions of delivering high quality architecture, but fragile when disaster hits.
I've always been interested in the word 'practice' and the customs it suggests. The noun, a group of individuals working together towards shared goals. Or 'to practise', the verb, a process of doing things many times, which helps you become more proficient at whatever activity it may be. An online search also gives the definition 'the actual application or use of an idea, belief or method', as well as the 'customary procedure or way of doing something'. All of this is to say that there is a lot to learn about practising in practice, which we do collectively.
Running a small practice can be beautifully fulfilling and enriching. EBBA has been fortunate to work on projects with incredible clients and contributors. However, the fun, creative tasks are sometimes overshadowed by the mundane realities of operating the business. No one knows what the future – including that of practice – will look like if things must adapt to the way we are functioning in the short term, but this doesn't mean things need to be worse. It takes great events to enact change. Could this be an opportunity to rethink both practising and practice for a more positive future? What would you change?
A first reflection, and something I hear from peers, is about the struggles of a small practice making the jump to work on larger projects, regardless of the extensive experience of individuals in those teams. The current procurement system and requirements rule out many companies from the tendering process, particularly for projects in the public sector that would be well served by a smaller studio which might only have that one (significant) project, and therefore the impetus to make it the best scheme. The tendency is to see 'small' as a risk. However, the changes in policy that would allow smaller practices to thrive are small in themselves but culturally huge.
To get around this we collaborate with bigger practices which act like a guarantor. We get to work on projects of a slightly larger scale, usually a chunk of a bigger scheme, and the more established practice gains a whole new team with incredible commitment and enthusiasm without the burden of additional staff.
This leads to my second reflection, that everything is about collaboration: a collaboration between you and the team and the wider network of individuals involved in the delivery of a project. Without them, little will get done. Foremost, however, is the relationship with the client, a continuing dialogue and negotiation throughout, involving compromise between cost and overall design ambition.
Other ways we have managed the issue of risk is by showing the value of being small and nimble. Some of our earliest projects were self-initiated, like the Manchester nursery and La Falda in Spain, or at least started from a simple idea and informal conversation that turned into something more. As architects we are trained to solve problems and tend to be socially driven. A small practice's naivety can play as an advantage when one gets absorbed, giving everything to a project. As ambitious young designers we are eager to please and want to create enjoyable places for those who will live in or use them. We see value not just as monetary, but social and environmental.
This is where the profession should claw back some of its roles and be more embedded in the early stages, as part of RIBA Stage 0 – known ambiguously as strategic definition – or better still, as part of the strategic planning stage before the brief is written. Our two most recent education projects are both examples of how we've helped to guide and define the brief, which ultimately allowed us to make important decisions at an early stage and enabled a richer working relationships, not to mention the ability to deliver the projects at a fraction of the cost. Too often projects are defined long before an architect is involved. Early involvement is critical in the delivery of high quality buildings and spaces. Public Practice has been doing amazing work shaking up organisations and councils.
Many countries in Europe are well ahead when it comes to strategic planning, often having lead planners responsible for writing and reviewing policy on an on-going basis to determine where and what gets built. Last year I went with students from the University of Greenwich to Zurich, where the Spatial Planning Act sets up the structure for zoning and restrictions for things such as height, density and use. These parameters make it easier for clients and architects to define the brief.
Countries like Switzerland also have a stronger culture of supporting young practices to win and deliver substantial projects. One example is the Swiss National Museum extension and renovation, which was won by Christ & Gantenbein in 2002 after only four years in practice. We have seen a slow movement towards opening these opportunities here – the Museum of London competition for example. We welcome public organisations that are requiring larger practices to team up with emerging ones to tender for specific projects. But could we not flip this to see competitions of a respectable size aimed at small practices, with the opportunity to tender on the understanding that a larger office would also be appointed to reassure clients that risk can be managed?
One way to open up procurement could be to create a banding system for projects of specific scales and budgets so only practices of a certain size could bid for them. Southwark recently put out a tender for a framework with a lot dedicated to 'New Design' which sought practices below a threshold, yet still set the limit to a maximum turnover of £2 million. But the procurement process also prioritises cost over quality, an issue that has been ongoing since mandatory fee scales were abolished in 1982. To promote quality across the industry we need to address this. If there were ways for tenders to control cost on a more equal playing field, we would see practices compared on quality and experience.
EBBA had some first-hand experience of this when we were invited to bid for a small housing development for a private developer. We won the job last summer and have submitted it for planning. The competition was assessed completely on our approach and method for delivering the project. I believe we were successful because we were able to get across our commitment to giving the project our all and describe how we would engage the different stakeholders throughout the process. It also helped that the client was interested in doing something unique and it understood the project would warrant a huge collective effort that we demonstrated was possible. There are very good examples of this working relationship, of small practices producing fruitful and high quality buildings, such as CO-Housing project for Artists by Apparata with Create London.
Finally, and without being too gloomy, the most pressing issue we must act on once we get back to some normality is the impending environmental catastrophe. Seeing something come to fruition is one of the rewards of being an architect. All the work you put into a project is worth it when you can appreciate the fruits of your labour. However, as an industry we must ask how we can continue to build at rapid pace but dramatically drop our carbon footprint. Before the health pandemic we saw a promising shift in attitudes to sustainability and the climate crisis. We should use this opportunity to rethink how we can influence projects to achieve lower carbon emissions. The motion to ban timber in high-rise buildings seems like a step-off from where we should be going compared with France, which has enacted laws to require all buildings under eight storeys for the 2024 Paris Olympics to be built from timber. The Architects Climate Action Network thinks structural timber should be exempt from the ban too.
This slowdown gives us better appreciation of what we can do as a profession and how to advance. 'Practise, the verb, is repeatedly doing something. But to really improve we must see where we are going wrong, and only then can practise make perfect.
Benni Allan is director of EBBA Architects and a RIBAJ Rising Star 2019