Isabelle Priest gets the client perspective from Ros Kerslake from The Prince's Regeneration Trust, where a good relationship with the profession is key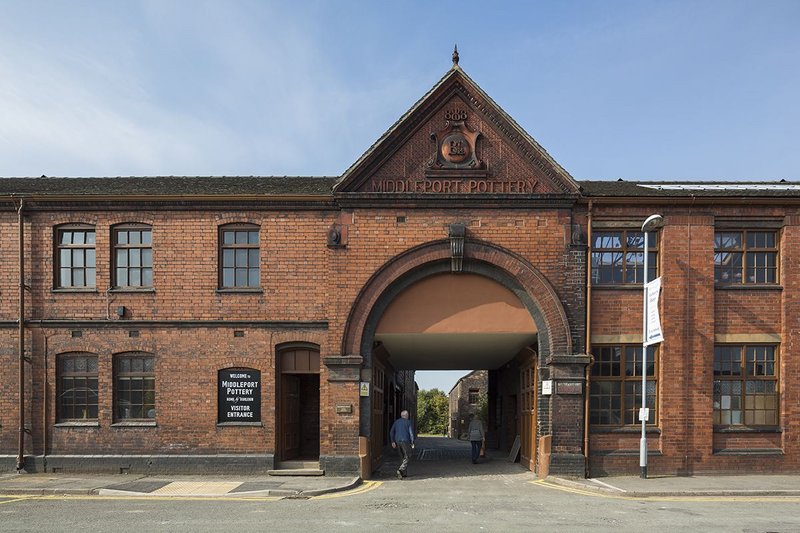 Visitor entrance to Middleport Pottery.

Credit: Tim Crocker
The Prince's Regeneration Trust was set up 20 years ago by the Prince of Wales to rescue heritage sites for the benefit of their local communities. It focuses on finding solutions and funding for buildings of national significance that would not normally be restored through conventional routes. Much of its work is carried out outside London and the South East. Recent high-profile projects include the celebrated transformation of Middleport Pottery by Feilden Clegg Bradley Studios (FCBS) and as featured in The Great Pottery Throw Down, as well as The Wedgwood Institute, both in Burslem. CEO Ros Kerslake describes how the Trust both works with and needs the services of architects.
How does the Trust find and fund its projects?
We find our projects through a range of sources. We can be contacted by the public, directly by Historic England or by people or organisations who know the buildings or sites. They are usually challenging projects that need fresh ideas and energy. How they come to the knowledge of the Trust varies, but it is usually because of market failure in regular redevelopment. We fund them through a mixture of grants, donations and public fund raising.
What resources do you have in-house and when do you call on architects?
We have a team of 20 people that includes engineers, surveyors, regeneration and finance specialists as well as architects. Our need for external architects varies. At Middleport Pottery, Feilden Clegg Bradley Studios led the team, but we did the heritage work, business and audience planning ourselves. We also brought in advisors for the presentation and interpretation of the collection and museum.
How do you recruit architects onto your projects?
We appointed FCBS through a European procurement process, but it depends on the size of the contract. If it's small, we'll ask around, look locally or talk to architects we are familiar with. Yet there are actually very few firms who specialise in heritage. The Trust is not always involved in selecting architects – we advise on many which might be commissioned by a council or community project. At the moment we only have two projects where we have recruited an architect, but we'll be working on as many as 40 others.
Explain how the Trust got involved in Middleport Pottery
Middleport Pottery was an unusual project. English Heritage (now Historic England) was concerned because it was the only surviving Victorian pottery still occupied by the business it was built by, Burleigh. The buildings looked like they hadn't changed since Victorian times. It was a time capsule but with an operating business that still made products with traditional and disappearing skills such as tissue wrapping. The manager's office was unchanged since the Great Exhibition. Our job was essentially to raise £9 million to make the building look the same as it did when it started out. As a team we developed a philosophy of 'mending'. Although we needed to add a visitor centre, more offices, a café and bigger shopping area, Middleport was a subtle piece of work – certainly not about making a big architectural statement. We were surprised that it received a number of awards.
How did the project work with FCBS?
We worked collaboratively. We spent a lot of time agreeing the philosophy of the project so that as we went through the design we could test ideas against it. It was a complex process of phasing to keep the pottery operational – a bit like trying to figure out a Rubik Cube. But before we brought FCBS on board we had marked out many of the spaces. Some of them moved as a result of access issues, but the whole way through we involved stakeholders, conservation officers and English Heritage.
What was the most challenging aspect of the Middleport Pottery project?
The Prince's Regeneration Trust now owns the whole site, of which it leases 50 percent to Burleigh. The rest of the site is let out to other types of businesses – arts, graphic design, educational. Moving the pottery from occupying the whole building into 50 percent of it was complicated because it relied on goodwill. Of course, that came with its own problems – mainly the risk that the remaining space wouldn't get let. I'm pleased to say that it is all let now though, and I would say that's because the architect's design has worked. FCBS was passionate about keeping the character of the property and as much of its contents as possible. So, for example, the former pottery desks were lowered to be comfortable for modern computer use. The minimal intervention has created interesting spaces. Another problem was the collection of around 20,000 moulds which were on the upper floors. The engineer calculated that the building was five times overloaded, which presented problems as we had to move it. We were worried the building would collapse while the weight was being taken out.
How typical is Middleport Pottery of the Trust's other projects?
On any other site we would have taken a very different approach. Projects are always site and business plan specific. We have mill conversions in Scotland which are residential and follow an industrial theme, but of course are residential standard. We also work in a specialist field so do not deal with a huge range of architects. Often it can be quite niche, needing an expertise in military buildings for example. Primarily when searching for new architects we are looking for strong project management skills. These are critical for our projects. The architect needs to be able to deal with problems when – not if – they arrive.