This year's Royal Gold Medal Student Crit sparked discussion of everyday concerns – despite the absence of the medallist herself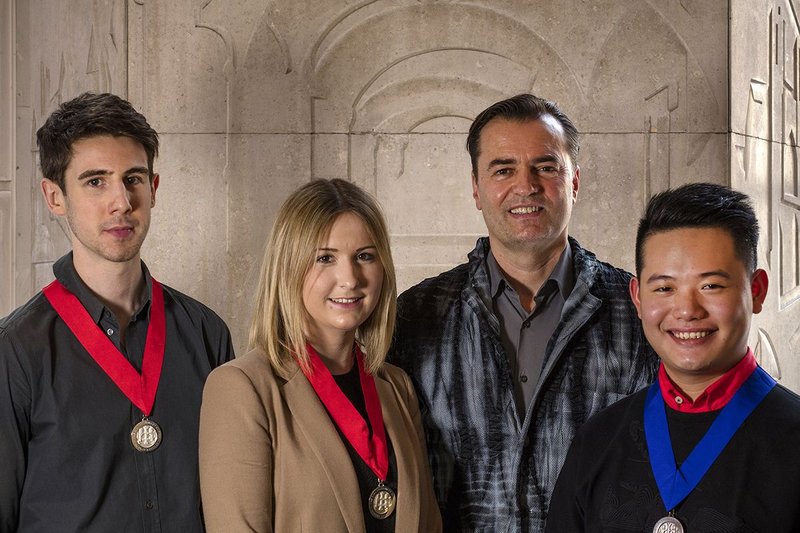 Student Medallists - Wilkie, Price and Boon - with Patrik Schumacher of Zaha Hadid Architects.

Credit: Morley von Sternberg
One felt for the RIBA Student Medallists as the room hushed in expectation of the arrival of Royal Gold Medallist Zaha Hadid. Perhaps they breathed a collective sigh of relief when in came a train of the crit panel – with Hadid firmly replaced by her right hand man, Patrik Schumacher. Even so, he has been a fierce critic of medallists' projects in the past, describing them as operating in a a 'parallel universe' based on 'improbable narratives' and calling on students to eschew these as counterproductive.
Luckily, improbable narratives were few and far between this year. As always with the students, you learn far more from a presentation, even of selected parts of a project, than you can from what is available in the president's medals publication or online. The flair, enthusiasm and style of the students were all there, even in just those 15 minutes of presentation.
From Marie Price of the University of Westminster we learnt about using new tools for research – making Google Maps a rigorous tool for measurement and analysis of four sets of London terraces and their gardens, adding in Zoopla information to find dates of extensions and shots of interiors that set up the relationship between in and out. 'Back gardens are an area largely absent in housing research,' she explained. 'Negotiating access is just too difficult.' Her dissertation medal-winning study, 'The Overlooked Back Garden: Voyeurism in the English Garden', analysed the gardens and their rooms by space use: socialising on the terrace, utility along the washing line and shed, leisure bouncing up from the trampoline. She looked at light and shade, overlooking and privacy. Then she mapped those different conditions against one another, coming up with some interesting conclusions about the way inhabitants negotiate different levels of invasions of privacy. She concluded that 'homeowners accept the challenge of privacy' and, ever the architect, proposed that a way of sharing parts of the back garden might make for more interesting flexible space.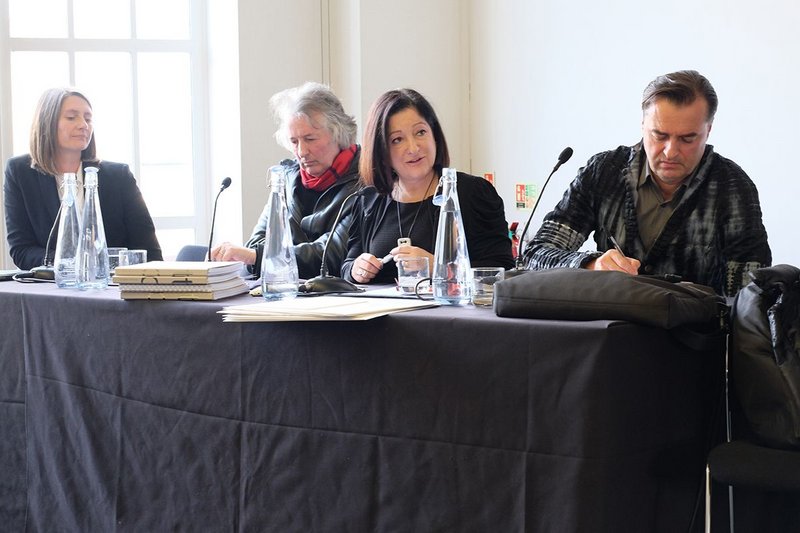 The jury panel from left Peg Rawes, David Gloster and chair RIBA President Jane Duncan and Patrick Schumacher.

Credit: Tony Chapman
Questions from the panel were phrased more like statements throughout, couched in academic language, with barely a question mark in sight. Schumacher kicked off, putting his recently-bought terrace house with blocked and milked windows together with Price's thesis and speculating whether planning's fear of overlooking might be challenged with an understanding of this condition of accepting invasions of privacy. David Gloster, RIBA director of education, suggested that if neighbours only knew each other it might make this cheek-by-jowl living a whole lot easier. From the Bartlett and the dissertation jury, Dr Peg Rawes pointed to an example of this sort of sharing in Cornwallis Crescent, Bristol.
Bronze medallist Yik Chung Boon from the Bartlett took his project with a great dose of fun and an alternative look at education and space. His title, 'Space as the Third Teacher', was drawn from the writing of educator Loris Malaguzzi. Set with the task of designing a building for a dull site in Florida, Boon set to work on ideas for a Montessori school. He made a magical card dolls house to fold out and play, thought about how abstract ideas could become physical and drew lots of 'silly' drawings of things that can move. 'Can we go back to a creative engagement with space?' he asked. 'Can architecture promote creative thinking?' Surely if the wooden Froebel shapes of Montessori schools could do it, then architecture could also rise to the challenge? His design for the moveable, reconfigurable and inhabitable school was a response to this with the aim not to communicate a singular purpose like 'table – write' but to allow things to be whatever children want to be.
Schumacher snapped to attention at the drawings of the patterns of children moving around the classroom. 'It is very important to bring the message home about architecture structuring social interaction,' he enthused. He calls this interaction 'life processes' and is researching, at the Architectural Association, how to simulate and interrogate these electronically. He issued an open invitation to Boon to investigate it through algorithms. Whether Boon will take up this offer in favour of his energetic, playful sketches remains to be seen.
As silver medal winner, Finn Wilkie from the Mac took the stage last. His was the most formally couched, a critique of the deadening process of critical reconstruction in Berlin. He questioned whether the imposition of the pre-war block, in which architecture is merely facadism, is a good way forward, noting the destruction of many of the less conformist monuments and fragments of the Soviet era. He called for a heteroglossic city in which many design tongues may be heard and where places of particular symbolism, like Schinkel's islands, can flourish and mesh the city together – as with Wilkie's own design for a contemplative and collaborative Bauforum in which people could gather.
Gloster found this rather a grave, tectonic project and pondered whether a more provocative intervention would be needed. 'Informality is the prime generator of urban form outside the western world,' he said. Schumacher shared Wilkie's critique and voiced his own frustration at similar reconstruction principles and aesthetics being applied in London. What are, or should be, the ordering principles, he pondered. 'Should we go back to older ones? My answer would come out more radical than yours,' he told Wilkie. From one of the leading lights in Royal Gold Medallist Zaha Hadid's practice I think that is an endorsement. Of the critique, and the narrative, if not the design itself.
---