With big names such as WilkinsonEyre and a £130 million budget, a ten-year investment programme is transforming the Royal Horticultural Society's buildings and landscapes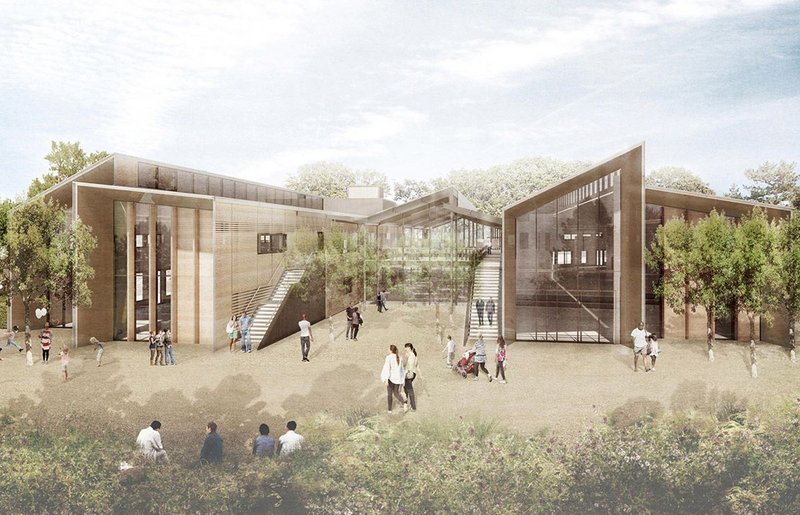 WilkinsonEyre's new library, cafe and educational building at RHS Wisley.
The Royal Horticultural Society (RHS) needed someone with extensive experience in managing a complex and geographically wide ranging portfolio to oversee its current £167 million strategic investment programme. When David Alexander took on the job of director of estates 11 years ago, the charity was gearing up for a ten-year programme of spending which would see all corners of its four sites across England transformed or significantly upgraded, as well as a whole other site added.
In this case Alexander came from head of conservation at the Landmark Trust, where his most prominent achievements included the acquisition of Peter Aldington's Anderton House – the first modern property the trust took on – and the revival of Astley Castle by Witherford Watson Mann, which became a Stirling Prize winner. High-level personnel shuffle between such organisations, but Alexander's experience in construction and historical sites must have been welcome, as a phenomenal £130 million of the RHS's £167 million investment is being spent on buildings and landscapes.
With this, the equivalent of the new Stansted airport terminal budget, Alexander – with his 12-strong estates team – is administering 13 projects of between £1 million and £20 million, alongside as many as 60 smaller projects at RHS Wisley alone, the charity's 162ha flagship garden in Surrey. It will alter the character of the organisation drastically, from one mainly oriented around early to mid-20th century infrastructure to one very much focused on contemporary practices and design. The timeframe is short – the programme was launched in 2013 and all the projects will have been fundraised, designed, tendered and built by 2023, although in practice the RHS is on track to open most of the buildings by 2020.
'The society is funding the programme through its reserves,' explains Alexander, 'and we have been able to use those reserves to leverage a fundraising campaign.'
As part of this work, the RHS has reconsidered all its gardens from three perspectives: culture, placemaking and sustainability. Its long-term goals are to increase visitor numbers – at Wisley from 1.1 million per year to 1.4 million – and, as the press officer Hannah Dolby points out, 'enrich everyone's lives through gardening'. On one level this means making arrival facilities more accessible, with level floors, wider entrance ways and more WCs; on another, more academic, level it means new libraries and auditoriums, as well as reorganising transport possibilities for visitors.
What is certain is that Alexander's interest in modern architecture and design has informed the organisation's approach. Whereas the early RHS commissioned its first buildings at Wisley in the beautiful but deceptive and nostalgic Arts & Crafts style, these new structures and the landscapes they sit in will be very much representative of contemporary thinking and design, opening up space and working off ideas about how buildings can emerge from the landscape. The architects already recruited include, for example, WilkinsonEyre, selected on the basis of its high-tech Gardens by the Bay project in Singapore.
The backbone of this investment programme is a series of masterplans designed by both architectural and landscape-based firms, which the society had commissioned prior to 2013. It is using these masterplans to inform the programme of works, with architectural commissions first, followed by garden commissions that work around and through the new buildings.
'The society has always been very good at masterplanning,' says Alexander. 'All of the gardens have been masterplanned by significant names ever since they were acquired… and in many ways it is a good example of when masterplanning works really well. It's a really good tool for managing the estate, the built fabric and infrastructure, but where you are interested in horticulture, it's a fantastic tool for marrying the two.'
With such a large programme of building, the society has developed a honed process of selecting its architects, which surprisingly doesn't involve frameworks or competitions. Rather it has relied on an iterative process led by its in-house estates team for anything from feasibility studies to individual building proposals. In the first instance it longlists 15-20 architecture practices, which are then shortlisted to three or four through a rigorous invitation to tender process, with pre-qualification managed by professional consultees. In the second phase, practices are invited to submit concept schemes and the ultimate design is selected with guidance through to the end by the RHS trustees. In almost all the significant architectural appointments, the trustees are the ultimate client body and decision-maker, based on criteria such as response to site, resourcing and previous work.
'This could never have been a framework because this has been an iterative process,' says Alexander. 'Things have come forward at different times. And also we are very keen to use local teams so a framework wouldn't really work for us.'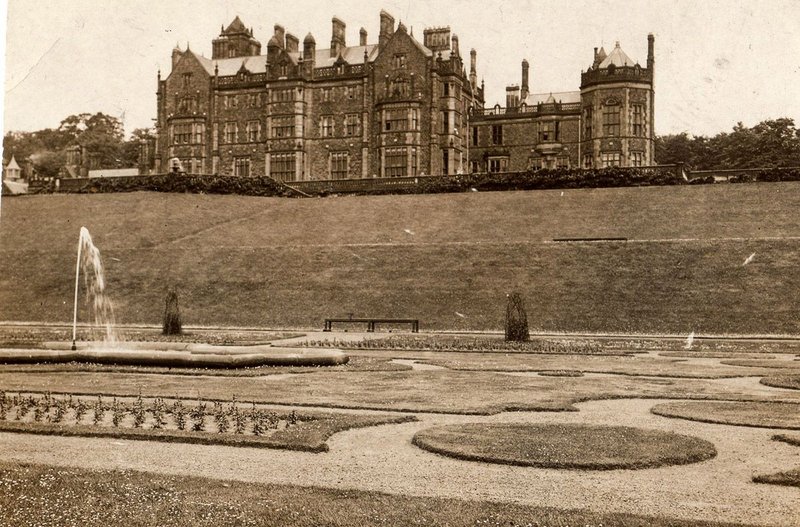 The original Victorian Worsley New Hall, demolished during the 20th century.

Credit: Mullineux Photographic Collection, Chetham Library, Manchester.
The RHS sees this longlisting and shortlisting process as allowing the organisation to have more control over its appointments. For example, in the same way that its four gardens in Surrey, Essex, Devon and Yorkshire are characterised by very location-specific landscapes, from hilltop garden to riverine and valley garden, it is very keen to use local architects to create regional variety in the architecture. Every site has its own professional programme manager, who tends to be a quantity surveyor and programme manager, and they have helped guide the charity through this process. The society feels that it has a duty to use architects with specialist experience in the particular genre of building it is looking to commission, whether visitor centres or learning centres.
'As a charity,' says Alexander, 'we want to spend our money wisely so we want people who have experience. 'From the estate's perspective it becomes a construction and infrastructure project – but with lots of gardens. And we all know that in construction projects, landscaping tends to be one of the areas where savings are made if you are a bit over budget. As a horticultural society, we can't really do that – we have to overcompensate and make sure that visitors who come to the estate get what they want to see.'
Interestingly, and perhaps understandably, the RHS does use competitions when it comes to the appointment of garden designers. There it is keen to acquire the very best and is possibly willing to take more risk. For example, some of the competitions as part of the 10-year strategic investment programme are specifically aimed at Chelsea Gold winners, while others are for students.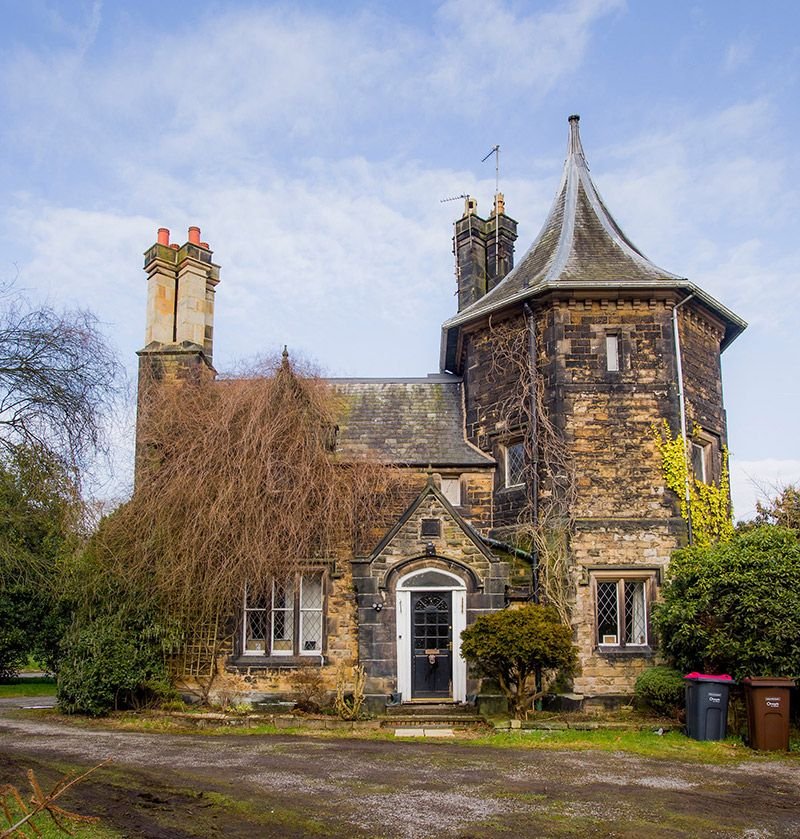 Existing building at RHS Garden Bridgewater.

Credit: RHS and Mark Waugh
In terms of the strategic investment programme, most work is taking place at RHS Wisley and at the organisation's new site RHS Bridgewater in Salford. At RHS Wisley, a masterplan designed by Feilden Clegg Bradley Studios (FCBS) is being carried through to demolish the existing 1970s arrival building, shop and garden centre to open up views of the 1898 Arts & Crafts laboratory lodge from the car park and surround the building once more by gardens. The new entrance is being relocated to the north of the original building and is being designed as a series of single-storey interlinked pitched roof boxes, strongly influenced by the Hauser & Wirth Gallery in Somerset. In a sign of how seriously it takes its masterplans, the RHS consulted its four previous masterplans for Wisley, dating through the last century, to help FCBS conceive the design.
Elsewhere on the site, the RHS has commissioned a new café, library, laboratory and educational building by WilkinsonEyre to draw increased visitor numbers through the site, eventually culminating on its rooftop terrace to enjoy views over the garden, neighbouring village and woodland.
At the same time, Dan Pearson has revisited the garden masterplan to underpin the plans for the architecture, and Christopher Bradley-Hole has been invited to design the plot of land surrounding the new welcome buildings. His scheme bridges both sides of the entrance so that the garden experience for visitors begins in the car park, which includes an avenue of cherry trees.
At Bridgewater in Salford, on the other hand, the RHS is starting from scratch, with the ambition of extending its reach into the north of England. It acquired the lease for the site – previously the setting of Worsley New Hall, a Victorian country house – officially in June, with the council and landowner the Peel Group as head lessee. While the landscape, with its existing terraces and boating lake, had been abandoned for some time, the RHS's focus at the moment is on the remaining 4.5ha walled garden, which is thought to be the biggest of its kind.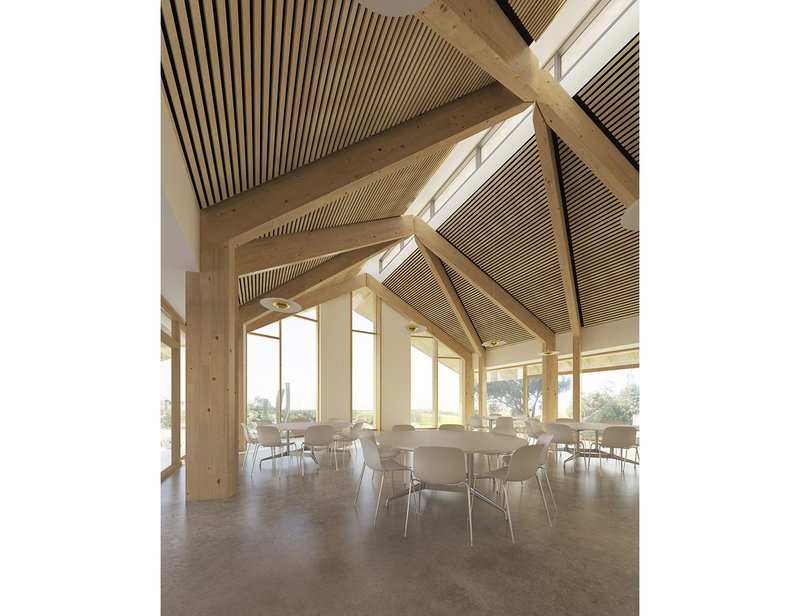 Interior view of Cullinan Studio's new restaurant for RHS Hyde Hall in Chelmsford, Essex.

Credit: Cullinan Studio
At Bridgewater, Cullinan Studio set out potential plans through an early feasibility study, yet now the new visitor centre is being designed by Manchester practice Hodder + Partners – the studio's 2001 National Wildflower Centre in Knowsley was an important precedent.
'We see RHS Bridgewater as a regeneration focus for Manchester,' explains Alexander. 'It is located next to the Bridgewater Canal and is very much connected to the city's industrial landscape.' As the landscape is developed ahead of its planned opening in 2020, building plans will spread across the site.
So, with an eclectic range of architects on board and working in a variety of styles, it's clear the RHS is continuing its patronage of good architecture – as it did from its outset. It could perhaps lean less to the exposed timber frame, vaulted vernacular and embrace architectural competitions to provide even more variety and to give new names a chance, but what is certain is that the society's gardens will be thoroughly transformed by 2023. With six years still to run and the possibility always of more money, there are almost certainly more opportunities to come. In the meanwhile, back at Wisley, revealing again his love for all things modern, Alexander has restored the underappreciated futuristic 1964 Bowes-Lyon Memorial Pavilion by Derrick Lees to its original glory – pineapple finials and all.