Ten pounds looked like a small price to pay for the work that launched Lyndon Goode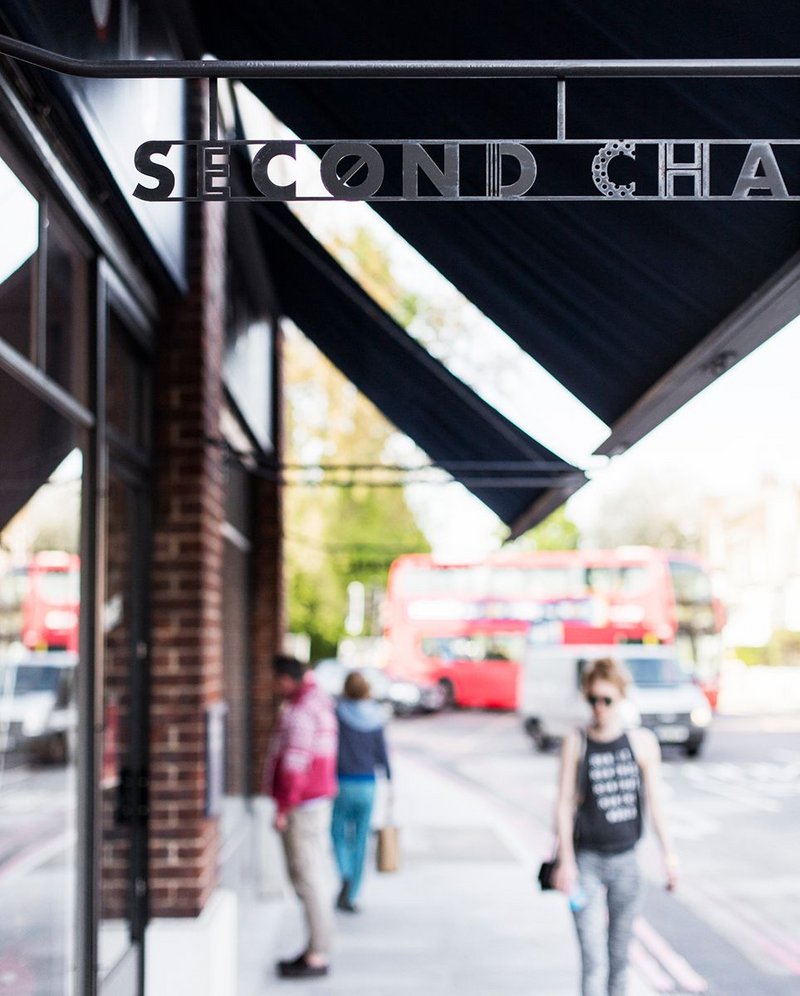 A Second Chance for this shop and the Holloway streetscape
A ten pound note secured young practice Lyndon Goode Architects its first tranche of work.
Starting out in practice, Simon Goode and David Lyndon overheard a conversation in a local shop: Islington Council was offering seed funding for improving shopfronts around Archway in north London.
The practice contacted the council to be put on its preferred list of architects, from which the shopkeepers could choose.
But it bolstered its chances with a more direct approach too: printing promotional flyers like £10 notes and suggesting shopkeepers stash them in their till. The practice then went from door to door explaining what it had to offer and what was possible. It became architect of choice for nine of the properties.
Some of the discussions on fee proposals were done on the spot. Lyndon Goode had experience in shop design – 15 Hackett stores and a Chloe – clearly a rather different order to Archway Kebab. Perhaps more important was being able to offer graphics without engaging another expert consultant. Now sharper shopfronts signal better business along the parade, while at Map Gift Shop a reorientation improves access to ensure it doesn't lose valuable custom from parents with buggies.
The biggest single project was for Second Chance. This charity shop was known locally for its imaginative window displays and in manager Barry Brundage the practice found a really receptive client. The outlet was also able to invest some of its own money in a refurbishment.
Project architect Michael Clarke explains how the huge basement was 'crammed to the brim with interesting things'. Clarke surveyed and numbered the scaffolding poles (and more) he found there, and they eventually became poles for hanging items. Pub bar panelling seemed a little dark for the walls but cut into 'tiles' it gives great character to the point of sale. 'It was really exciting,' says Clarke. 'Suddenly you would think: "We can us that piece."' Scaffolding planks become shoe racks, vintage apple crates bookshelves. One ladder and theatrical lighting was not quite enough so Gum Tree was scoured for more ladders.
Outside, the existing – probably 1930s – brass frames and mullions were cleaned up and bronze panels inserted along the base of the frontage to give it an extra shine, an uplift.
Will this make a lasting improvement? Perhaps. The empty Archway Tower, which once fed the area with lunchtime office workers, will soon be filled with young professionals in rented flats. And the enormous gyratory carrying the traffic of the A1, which cuts off many of the shops from custom, is to become a more pedestrian friendly one-way system. For Lyndon Goode it was a great opportunity to connect very visibly with the local community.
So giving away tenners works? Leaflets apart, it didn't bring in much of a fee for the amount of hand holding. But David Lyndon thinks it was worth it: 'Putting aside the money, it was fantastically successful for us.'