Sustainability goes beyond energy efficiency. One London borough has come up with a funding initiative – and the architect a robust design – that omits any hostages to fortune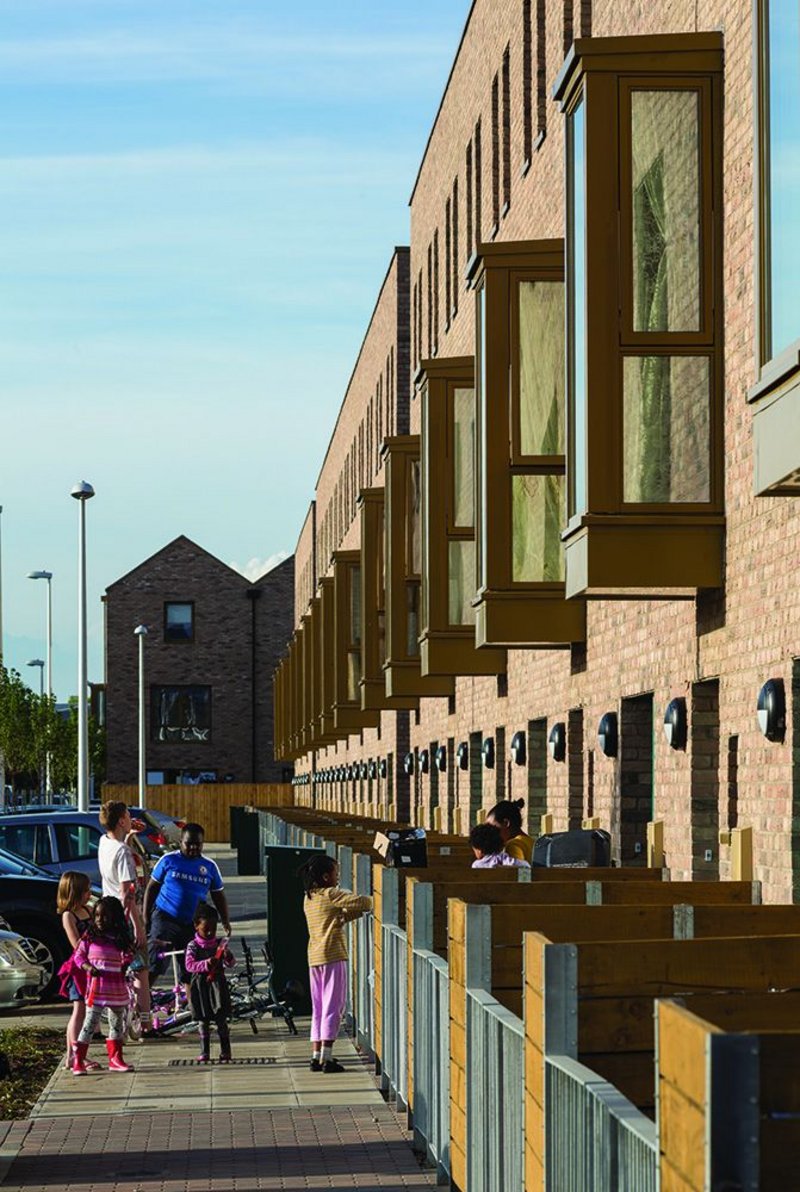 Attention to the streetscape is important. Here, PTE creates semi-public entrances that separate private homes from the public realm of the pavement – a protected space.
At a time when local authorities across the UK are struggling to find the money to build new affordable homes and reduce their expanding waiting lists, the London Borough of Barking & Dagenham is showing how it can be done without any grant funding or cross-subsidy from market housing.
The council has two schemes on site, designed to deliver a total of 477 affordable and social housing units for its most hard-up residents. Close to Barking town centre, William Street Quarter, designed by Allford Hall Monaghan Morris (AHMM), will provide 201 dwellings spread across three large concrete apartment blocks and several rows of pre-fabricated terraced housing. The eastern end of Thames View Estate, designed by Pollard Thomas Edwards (PTE) and located at the gateway to Barking Riverside, will provide 276 homes, comprising 151 family homes, 35 duplex flats and 90 one and two-bed flats, built in traditional brick and block.
Both projects are being developed by Explore Investments, a Laing O'Rourke company, for a total cost of £75m, split roughly equally between the two. Together they are the first social housing in the UK to be funded entirely by private investment.
William Street Quarter is being built by Laing O'Rourke's contracting arm using primarily off-site manufacturing techniques, while Jerram Falkus Construction is building Thames View's five town house-style blocks in traditional brick and block.
'We were looking visually to do something good, ordinary and recognisable as a home,' says Andrew Beharrell, executive director at PTE. 'What particularly excited us was chance to build an entire neighbourhood of houses with gardens and apartments, many of them garden maisonettes. Since mid-90s, rising property values in inner London – and therefore the density and height of development – means we very seldom get to build family neighbourhoods like this.'
Long gestation

Plans to transform the two sites date back several years. They were originally conceived in 2007 as a pilot project under the Labour government's Local Housing Companies (LHC) initiative, set up to help councils meet their housing targets. This would have seen Barking & Dagenham put in the land for free, matched by equal investment from a private developer to build the homes. The sites were previously occupied by notorious high-rise housing estates, built in the 1950s, which were demolished and cleared in 2007.
A masterplan and detailed first phase were developed for William Street Quarter, but the LHC pilot projects were disbanded soon after due to funding complications, and the council could only together scrape enough money – from the Homes and Communities Agency – to build 31 terraced homes there. They were completed in 2011.
'We were left scratching our heads as to how to fund the remaining properties,' says Jeremy Grint, head of regeneration at Barking & Dagenham Council: 'The land at Thames View wasn't worth anything, and the land at Williams Street Quarter wasn't worth as much as it had been four years earlier, due to the onset of the recession. What's more the private sector was showing little to no interest in housing development.'
With scant sign of a solution, the council called on Explore Investments to find an alternative vehicle to develop the sites. Explore was already a partner in the borough's Local Education Partnership, Thames Partnership for Learning, which was set up to deliver new BSF schools, but the LEP's wide remit also made it suitable to deliver regeneration projects and housing.
By demonstrating the credit quality of the borough, and putting together a detailed structure, we secured investment a lot more cheaply than normal bank finance
Institutional investors
'The two sites were not viable for development or sale, so we looked at other approaches. It was clear there was strong demand for affordable housing in the area, with many thousands of tenants on the council's waiting list and a significant under-supply of affordable homes,' says Andrew Shepherd, at Explore Investments. 'We developed a model based on the idea of seeking funding from institutional investors, including large pension funds who had money but were perhaps nervous of banks or other forms of investment. By demonstrating the credit quality of the borough, and putting together a detailed structure, we secured investment a lot more cheaply than normal bank finance, allowing us to unlock the sites and begin development.'
The funding package is being pulled together by asset management firm Long Harbour, which agreed to provide the money on the basis that Barking & Dagenham council will manage and rent the properties and pay it an annual sum equivalent to the total cost of raising and borrowing the money, over a 60-year lease. At the end of the lease, when the development costs have been repaid, full ownership of the properties will be transferred back to the council. The authority has also set up a separate company, Barking & Dagenham Reside, to manage rentals and maintain the buildings. Around three quarters of the properties across both schemes will be let out at 80% of market rent, the rest will be a mixture of homes for people in employment at 60-65% of market rent and homes for social housing at 50% of market rent.

'Of every £100 in rent collected by the council, between £50 and £70 will go to Long Harbour, with a significant proportion held by Reside to cover management, maintenance, and lifecycle costs,' says Shepherd. 'The properties are entirely self financing using the rent, and a major condition of investment was that they remain quality assets that are properly maintained and managed to a good standard throughout.'
Meanwhile, using the LEP as a vehicle for procurement removed the need to go through the lengthy OJEU pre-qualification process. As a result financial close on the schemes was reached in just 11 months.
As a model for affordable housing delivery, this arrangement is not without risk. Significantly, it is difficult for the council to guarantee that it can rent all the properties for the next six decades or at high enough rents to keep up repayments.
'It is certainly sustainable in the short to medium term, but rents fluctuate in relation to inflation, which makes it difficult to predict what might happen in the housing market over 50 to 60 years,' says Grint. 'However, the properties are in very accessible locations, they are built to a high standard with high energy efficiency designed to reduce tenants' bills, and they are all being let below market rent, which together should increase the likelihood we can rent them out in future.' The council also has some flexibility to increase the provision of affordable housing and reduce the social housing within the developments to increase rental income if required, although that isn't yet the plan.
Despite some uncertainties, the private investment model could provide a sustainable solution for other councils, provided they are in the right area, says Grint: 'Although the high land values in inner London would make this type of thing close to impossible, there may be other outer London boroughs with lower land values and property prices where it could work, Bexley being one example,' he concludes.