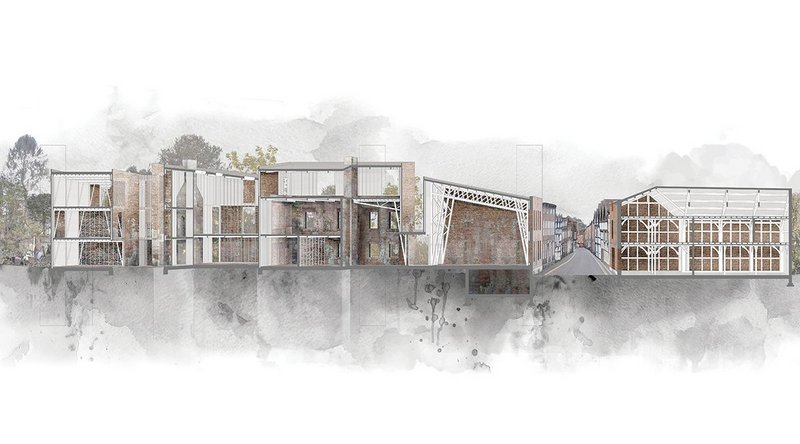 Section of the ­'re-storied' workhouse, which uses original brick with a new timber frame to create an adult education centre
Re-Storying the Workhouse: An alternative conservation strategy
Cardiff University
Tutor: Kate Darby
---
Gemma Wheeler's thesis proposes a radical conservation strategy for Bewdley workhouse in Worcestershire. Instead of preserving the grade II listed building as a heritage asset, she considers how such buildings should be allowed to flow and adapt to accommodate changing needs. Using this approach, she proposes turning the derelict, 18th century workhouse into an Adult Education Centre.
Her strategy is to 're-story' the workhouse by prioritising material, flow and narrative over form. She takes up Ruskin's reference to the use of 'unsightly aids' to shore up historic buildings but instead reinterprets these as devices which can enable the deconstruction of the building form and its subsequent adaptation.
The strategy requires all materials to be re-used. With the timbers rotten, this leaves 1392m2 of brickwork to appropriate for the new use. She proposes using a series of new oak frames over which the workhouse's existing brick can be stretched, supplemented by recycled brickwork from other buildings that are also being re-storied. In this way, she explores how the traditional relationship of brick and timber can be redefined to capture a sense of process and adaptation.
Despite the transformation, the narrative of the original workhouse building is retained through the scale, character and configuration of the new structures, with the original building's footprint marked out in brickwork on the ground floor.
---