The Digital Thinking, Smart Building conference explored new ways of thinking to improve our urban experience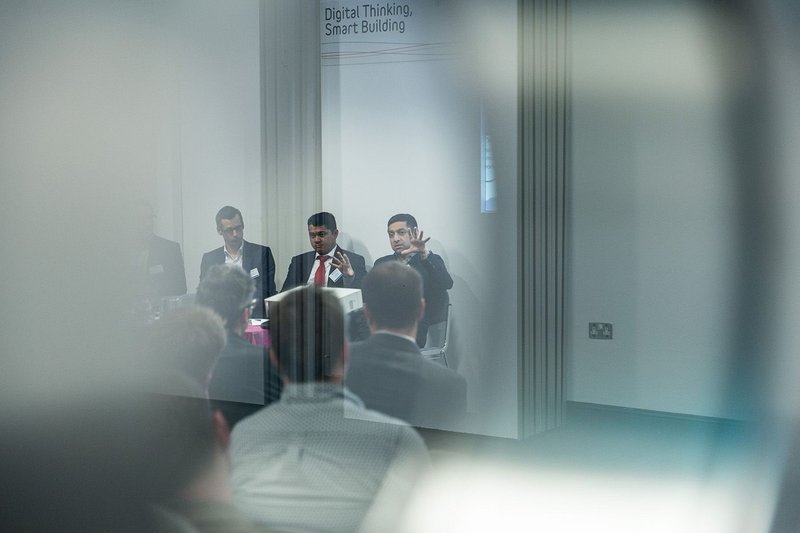 Harbinder Singh of HawkinsBrown explains.

Credit: Duncan Smith
'Every leaf modelled,' said Arup's Tristram Carfrae, showing a visualisation of the Garden Bridge as he opened Digital Thinking, Smart Building, NBSLive from the RIBA Journal and the NBS. But the issue the visualisation threw up was that designer Thomas Heatherwick was not happy with the paving. Here, in the most mundane aspects of an extraordinary project, lies some of the beauty of digital thinking – making decisions at the right time.
Carfrae's underlying theme was that smart is bigger than BIM, and he certainly showed its immense potential at all scales – from the modelling of human agents in emergency situations, as is already done, to the future of modelling based on human desires. He identified the brilliance of timber, not only as a CO2 sink but also as an entry point to computer controlled mechanised construction with structural capabilities undreamt of even 20 years ago. A flood of examples – soon to be encapsulated in the publication of Arup's Building Design 2020 – coalesced in an image of intelligent, interactive Segways (as seen in a sniper training video) with a robot arm attached taking on our construction sites. His question was how will they interact with humans? Mine is how will they climb ladders?
Plenty more questions arose as the different streams of the conference broke away to tackle specific aspects of the subject. For the design stream there was much reminding of the audience that people are at the heart of the city, and that technology is the enabler rather than the end product. Turning it into answers for consumers/citizens/voters was promoted as the only way to sell it. Space Syntax's Tim Stonor explained how analysis, as well as the mere gathering of data, allowed him to talk to real estate people as a designer and gave him genuine influence with those calculating returns on investment.
Big moves
Future Cities Catapult's Dan Hill addressed the big moves – the new spatial intelligence that is rapidly and radically changing the urban landscape (think airbnb) as against the slow pace of architecture – which nonetheless plays an important role in embedding this intelligence in the city. The new spatial contract has, he believes, changed the balance of power in the city – citizens want to be in control and they can be. They have 'weapons grade tools' now with Facebook, Twitter and apps: the example of people in Finland breaking the law by flouting licences en masse at a food festival is, as he showed, just the start. Ben Derbyshire, of architect and housing specialist HTA, was actually pushing (along with three other large housing practices) to give consumers the information about their houses, first standardising then presenting the information to make those metrics familiar and accessible.
A session with some of the big players in Smart Cities – Cisco, Siemens, IBM and Accenture – could have been dominated by commercial imperatives, but the projects shown and nuanced concerns expressed threw new light on the possibilities for places that used their information intelligently. A welter of such projects ranged from traffic jam forecasts broadcast on an inexpensive radio frequency in Dublin (IBM) to building in resilience through forecasting, preparation and recovery for disasters such as Hurricane Sandy (Siemens' work for the big 60 global cities). Cisco showed it doesn't all need to be big thinking with its idea of using wifi locations to create more local connections – eventually perhaps creating a system of local loyalty points powerful enough to become a de facto local currency.
Islands of smartness
The Greater London Authority has recently opened up numerous datasets to free online analysis, although Andrew Collinge, GLA assistant director, intelligence and analysis, admitted that there is still plenty more to do. In Bristol, building a city data platform is moving more slowly and the city is not planning to make it all open to everyone, just to those who will find it relevant. The ownership and trading of this valuable data source was something that Simon Giles of Accenture homed in on, stating categorically: 'There is a market failure.' If there wasn't, he argued, there would already be smart cities, not just islands of smartness. Meanwhile, government bodies are giving away valuable data: in Copenhagen Giles is working on a new platform that will be neither profit driven nor public. Instead it is a co-operative that is both neutral and embedded with trust – could this be a way forward?
BIM did not fundamentally change design thinking, nor should it, maintained Simon Allford of AHMM. But others showed how it had changed the potential for design.
After much on the more technical aspects of smart cities the conference regrouped to listen to Zaha Hadid Architects' Patrik Schumacher on his version of digital design parametricism: from masterplanning to people. This explication of the role of digital design looked at the flowing nature of ZHA's spaces and surfaces, exploring the importance of the integrity of the space and the single rather than the broken line as a coherent and 'lawful' design. Being lawful is important as, of course, the designs are driven by laws or parameters, as chosen by the architects: the engineering parameters Schumacher described as 'based on artistic choices of engineering logics'.
In the design stream discussions about BIM as a merely another tool continued into the afternoon. It did not fundamentally change design thinking, nor should it, maintained Simon Allford of AHMM. But others showed how it had changed the potential for design. Farrells' Peter Barbarlov extolled the value of being able to react quickly on options using its BIM model for the Royal Albert Docks. He had found that it can also produce a great variety of drawings and simplify the model making process. On HOK's Istanbul city extension, Ekaterina Lichtenstein discussed how a model applied masterplanning rule variations to the steep topography, meaning that initial options could be tested in half an hour instead of a month.
Delegates were left with a reminder from Innovate (previously the Technology Strategy Board) that there were direct funds of around £60m for digital design and engineering demonstration projects. Finally someone in the audience delivered a home truth from for the rest to take away with them: 'In chasing answers with technology we can forget the user experience. That is how it works for people.'
---
For presentations, background and more see thenbs.com/nbs-live