St John Bosco Arts College in Liverpool has been built to such a flexible design that it could be turned to a completely different purpose should the need arise. You wouldn't know it, but it's one big steel shed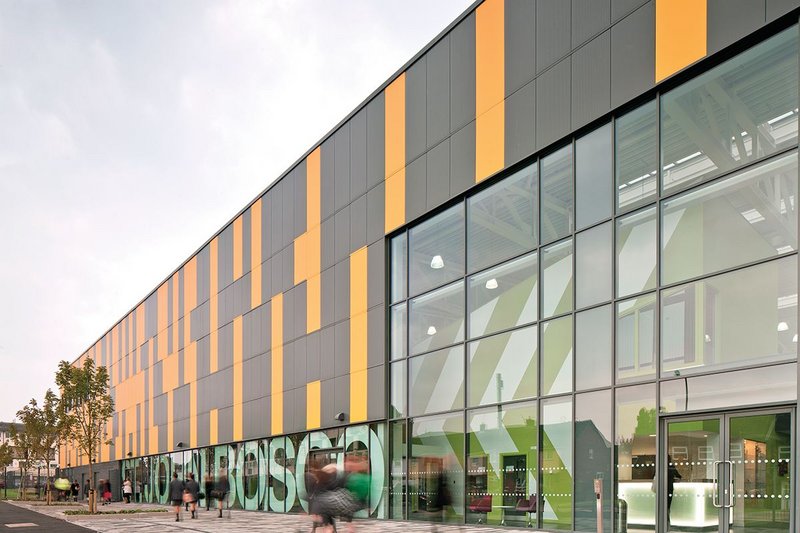 Exterior of St John Bosco Arts College, which delivered 15% more space through the use of its simple big box structural concept.

Credit: David Barbour
With its giant steel frame and column-free interior, BDP's design for St John Bosco Arts College in Liverpool is perhaps the ultimate in flexibility.
Normally when school designers talk of the need for flexibility they are referring to multiple use areas, such as circulation spaces wide enough to incorporate learning areas, or classrooms that can be reconfigured or expanded using movable partition walls.
But at St John Bosco, BDP has fulfilled client Liverpool City Council's desire for a building with an easily removable interior school configuration that could be put to a completely different use if it ever ceased to be needed as a school.
Located in the suburb of Croxteth, the 1100-student Catholic girls' school is part of a programme of four new 'big box'-style schools, conceived following the scrapping of earlier Building Schools for the Future plans.
'The client came to us with the idea of a very simple building, effectively a shed, giving it a longer-term life should the school ever cease to be viable, since it could easily be gutted for different uses,' says BDP architect director Mark Braund. Glulam was considered for the main trusses at an early stage but discounted on cost grounds in favour of steel. Having rejected a dual span option on the grounds of future inflexibility, a single-span portal frame was swiftly identified as the most spatially efficient structural solution. After trying different square and rectangular configurations, the design team settled on a 55m wide by 91m long footprint rising three storeys with roof lights to bring daylight into the heart of the column-free space.
Four permanent staircases in precast concrete are incorporated as part of the perimeter walls, delivered by main frame steelwork contractor James Killelea & Co as part of its steelwork package, which included the concrete floor slabs and lift shafts.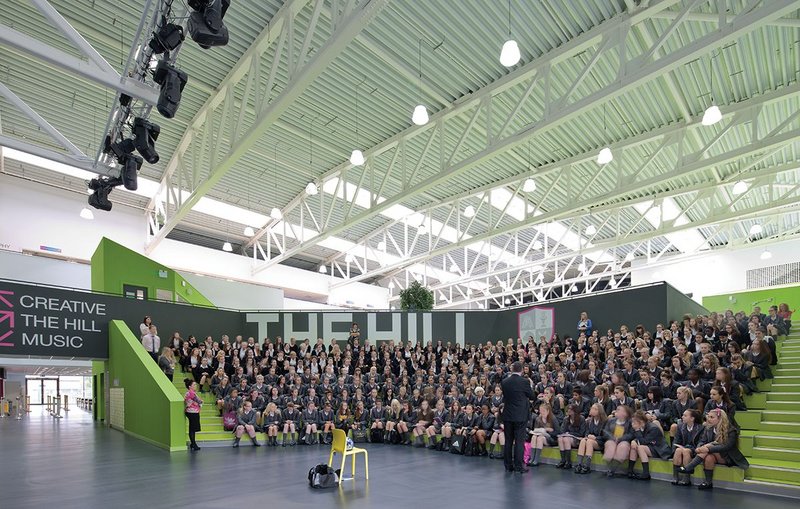 The column-free interior space gives maximum flexibility for configuration of school space and future alternative uses.

Credit: David Barbour
'The challenge was the frame stability during the three conditions of steelwork erection, semi-permanent education use and final shell and core arrangement. We worked hand in hand with Killelea to ensure all conditions were suitably designed and detailed,' says Danny Sinclair, associate partner at structural engineer The Alan Johnston Partnership.
Within the huge 11,100m2 structure, a 'landscape' of school accommodation is inserted arranged around 'The Hill', a large multi-functional assembly space. This forms a device to split the ground floor into key areas, including a Learning Resource Centre, informal and formal dining area, and an amphitheatre with a seating terrace. BDP's aim was to create an exciting mix of learning and social environments suitable for different pedagogic approaches. Around the perimeter are two floors of classrooms with 2.7m floor to ceiling heights. Further in, most of the accommodation is open plan with no corridors, increasing the level of visual interest and views across the school.
Crucially, the academic frame – an interior structure of columns and precast hollow core floor planks – is fully demountable and separate to the main frame.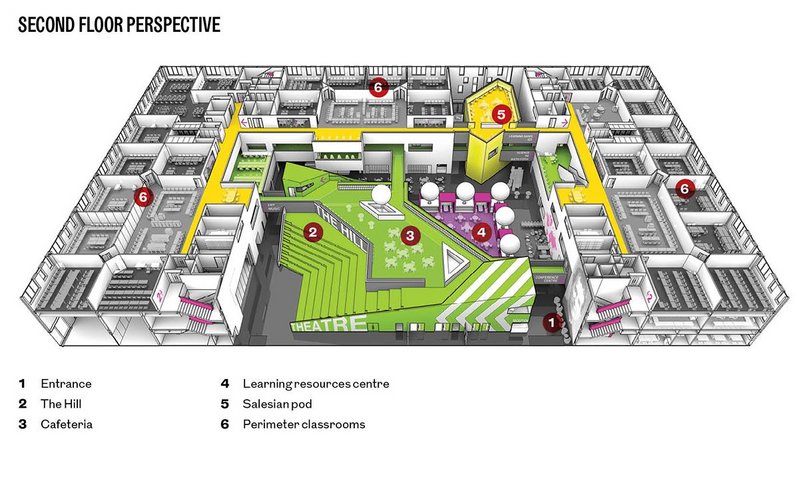 This cold-rolled steel framing system was delivered by steelwork contractor Hadley Group, who also provided the terrace steps.
'The design of the structure allows the flexibility to remove/dismantle the internal semi-permanent education elements while retaining the external cladding and inner leaf construction,' says Sinclair.
Rooflights and areas of triple height curtain walling make the space feel well lit by daylight, according to the architect.
'It's a really impressive building to be in – a large, highly detailed structure with an industrial nature juxtaposed with the aesthetic of clean sharp lines and a creative mix of open plan and cellular teaching and social spaces,' he said. 'There was a concern that it could look too functional but the structure adds to the tapestry of the building which with the lighting creates a visual datum, with colour and supergraphics knitting it all together into a cohesive whole.'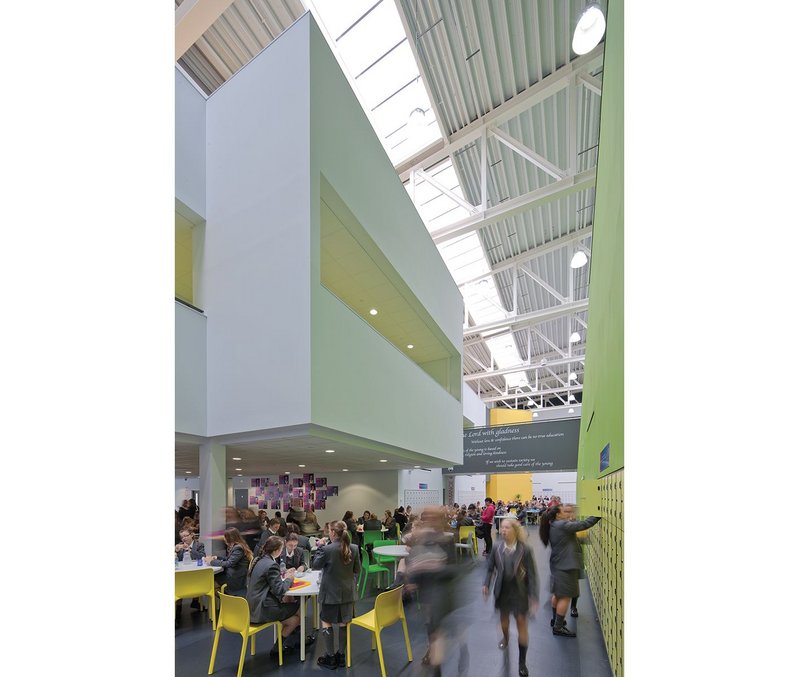 BDP's Liverpool school-in-a-shed is column-free space for maximum flexibility.

Credit: David Barbour
While there are a few overseas precedents for this kind of approach to school design, BDP found that workplace and retail rather than education spaces were more useful reference points when designing such a flexible building.
Delivered for £18 million, the school has 15% more area than a traditional BB98 compliant school, according to the architect, thanks largely to its simple building format. Costs came in at £11.91/m2 compared with the £17.50/m2 BSF funding model. The school has won an RIBA Regional Award.
'It's clearly a very useful building typology that delivers something extraordinary for the budget we had,' says Braund.
He sees it as a 'fantastic' model that suited the client school's desire to engage more directly with the surrounding community.
'It grabs people's attention. The big box concept would not be right everywhere, but for a school with a vision to change the way it interfaces with the community, this approach does the job in a really exciting and engaging way,' he says.
'Fundamentally it's an envelope that contains a function. That's what gives it life.'
---
Credits
Client Liverpool City Council
Architect and landscape BDP
Structural engineer The Alan Johnston Partnership
M&E engineer A&B Engineering
Steelwork contractors James Killelea & Co (main structural frame); Hadley Group (internal steel framing system and terrace)
---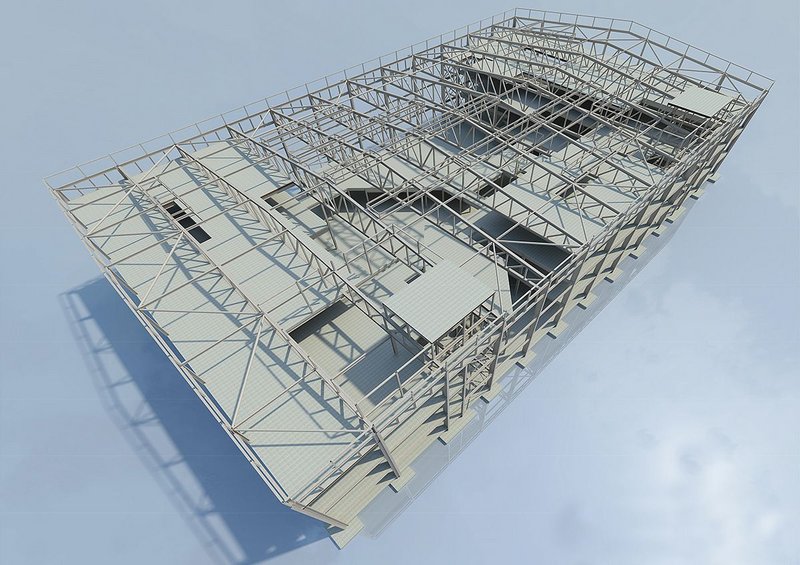 Render from The Alan Johnston Partnership Revit mode
How huge trusses made wide spans work
Eleven huge trusses create the 55m wide column-free spaces that are so crucial to the future flexibility of the school building. These flat bottomed steel trusses are set on a 7.65m grid with consistent falls on either side of the roof ridge, rising from a depth of 1.7m at either end to 4m in the middle.
Such huge spans meant each truss was assembled from three sections. These were set out and bolted together on the ground and then hauled into position using a double crane lift, each truss supported by a 686mm deep column.
On top of the trusses is a structural steel roof deck, with a perforated internal face for acoustic damping.
'The main challenge was the logistics involved in building up the main roof trusses on such a restricted site, while at the same time erecting the support steelwork and installing the precast concrete elements,' said Killelea contracts director Bob Allan.
'As the trusses were too big to transport we had to deliver them in pieces and build them up on site just in time for erection with the rest of the steelwork and concrete.'
In total, Killelea's main structure comprised 900 tonnes of steelwork with 3,500 separate components put together with more than 38,000 bolts.
---