Remote learning has reduced student satisfaction by 58%, according to a survey of studio teaching by Bath University. Without action, Coronavirus has more devastation to wreak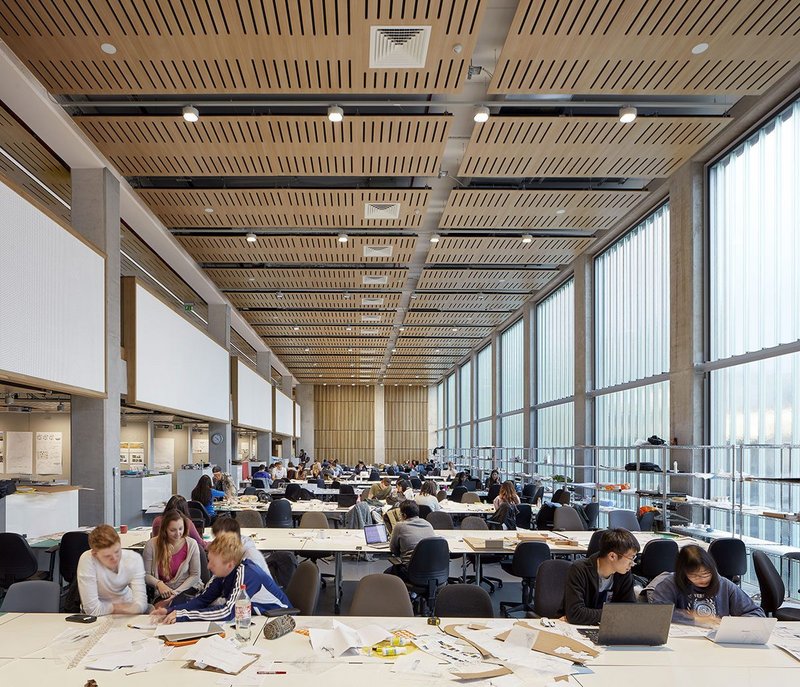 Live architecture studios at the University of Bath, before the 2020 lockdown.

Credit: Daniel Hopkinson
Covid-19 has had a devastating impact on studio teaching in architecture schools across the UK. This is the inescapable message from the results of the National Design Studio Survey, research by the University of Bath on the operation of studio teaching during the last year. Preliminary results published this week show a negative impact from the move to remote teaching for every metric measured. Overall student satisfaction fell by 58% following the move to remote teaching, 79% of students said the sense of studio community had been negatively affected and only 7% of students preferred remote delivery to its face-to-face equivalent.
All UK schools of architecture had access to the survey during May and June following the end of the academic year. Responses from 798 students and 121 design tutors at 25 universities were received, making the survey the largest of its kind ever undertaken.
It was sponsored and supported by the Standing Conference of Heads of Schools of Architecture (SCHOSA) with the preliminary results being presented at the SCHOSA summer conference on 10 June. Professor Lorraine Farrelly, SCHOSA chair, welcomed the results, saying: 'At SCHOSA we have been concerned about the impact of the pandemic on our staff and student community – our students and colleagues have had to adapt quickly to online teaching learning and assessment. As we plan for the next academic year we need information from students and staff to inform our planning. This important survey will help us adapt our approaches appropriately.'
Studio pedagogy has been under pressure for many years, with universities aware that traditional architecture studio teaching requires considerable space and other resources to support it. While the costs associated with providing a successful studio environment are relatively simple to calculate, the benefits of a thriving studio culture are less easily quantified. Those that teach or learn in a studio setting understand the range of benefits and added value it offers. Unfortunately, in many universities, studio-based teaching is the exception rather than the rule. Within their universities, schools of architecture often struggle to articulate the value of studio to their institutions' senior managers, who frequently have no direct experience of it.
The shutdown of studios in mid-March provided a research opportunity, as the class of 2019-20 had their studio experience split between their usual studios and remote studios. This year's students and staff were therefore in a unique position to provide their views and assessment of both forms of teaching delivery in a comparative survey.
The preliminary results are perhaps even starker in their contrast that many in architectural education might have imagined. The results clearly set out the key challenges for the schools in how they adapt their courses over the summer to be ready to accept students back to university environments that will be very different to those staff and students have previously known. Many forms of blended delivery (face-to-face combined with remote teaching) are being developed. A vast variety of online resources are being prepared and project briefs are being written to be relevant to the changed world we now know, and to explore what role architects should have in shaping our response to post Covid-19.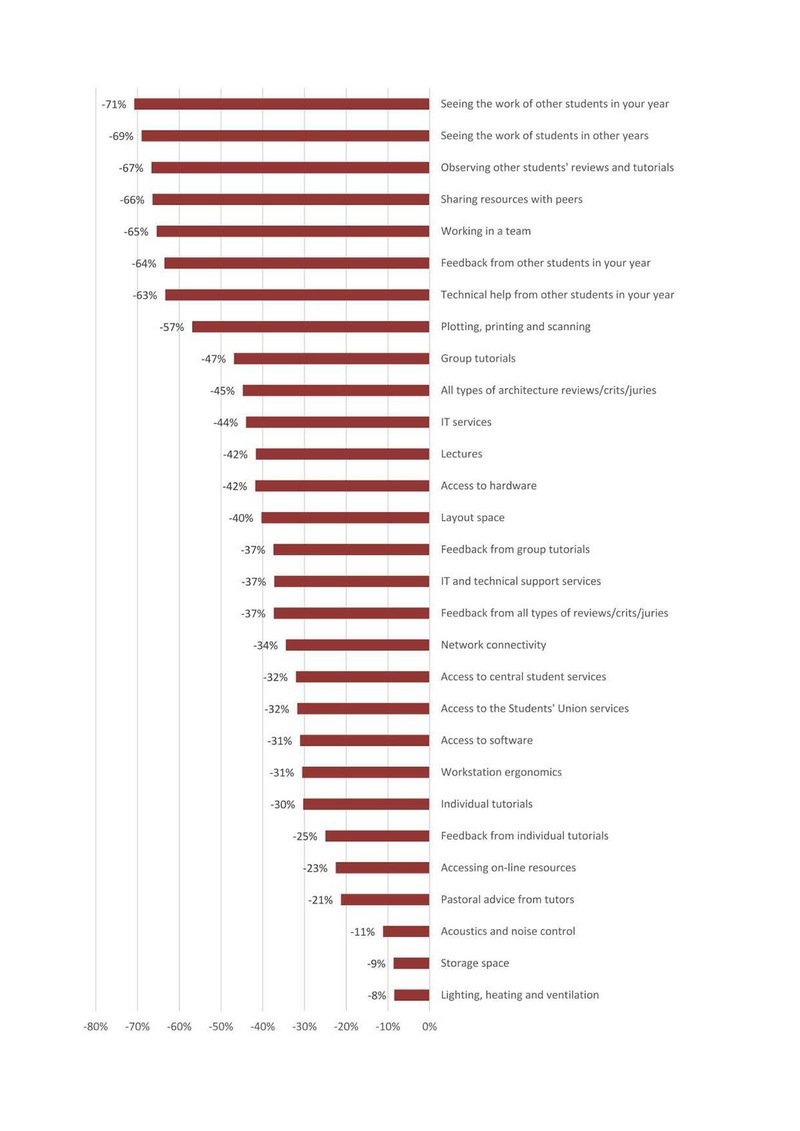 Change in student satisfaction of all metrics after moving from the physical architecture studio to remote working
As ever, the curiosity, imagination and energy in our schools of architecture will respond to the challenge. Nevertheless, in a changed world this survey highlights the value of what we lost during lockdown. The social infrastructure of the studio, the mutual support, peer-to-peer learning and sense of community, that all characterise a vibrant studio culture, took a terrible beating from Covid-19.
As a result, some schools still find their studio culture vulnerable and in need of intensive care. The RIBA is looking to support its validated schools, accepting in the short-term that things will have to be done differently. At the same time the RIBA's expressed aim is that no changes should have a significant detrimental impact on the student experience. These results suggest that squaring that circle maybe no easy task.
As universities across the UK decide where to apply cuts next year, perhaps it's now timely for the RIBA to strengthen its message to universities of the need to meet their obligations to architecture students implicit in the validation process. If not, when the smoke clears from the current crisis, the landscape of architectural education may reflect the bleakness, sadness and degradation audible in the survey's heartfelt open comments from students. One Part I second year student commented: 'My mental health has massively deteriorated, my understanding of what I'm doing has dropped and I am in a constant state of confusion', while a Part I first year explained how difficult it was to work away from the studio context: 'I don't want to work remotely from home, honestly it's the worst experience anyone can have. It's too distracting, there's no motivation and I can't see other people's work… How am I supposed to learn like this? … I fear this will be the main reason I will drop out of architecture.'
Particularly worrying is the effect revealed in the survey that the move to remote teaching had in widening the divide in educational opportunity. The physical studio provides a relatively equal baseline of resources for all students. With this removed, students without access to resources found their working environment impoverished and struggled with access to hardware, software and online resources. 'It is unfair to assume we all have the resources to do this,' said one Part II first year student. 'The difference in access to resources creates inequality in terms of the work we are able to produce.'
As universities struggle to meet the financial, technical and social challenges of Covid-19, these results should help schools demonstrate the value of studio pedagogy. Hopefully the powers that be will listen sympathetically. If not, the UK's world-leading architectural pedagogy, developed over generations, could become yet one more victim of this awful pandemic.
Read the initial findings of the National Design Studio Survey