With limited data and regulations building with second-hand materials is still risky, but it can be done, as LYN Atelier's Hub 67 shows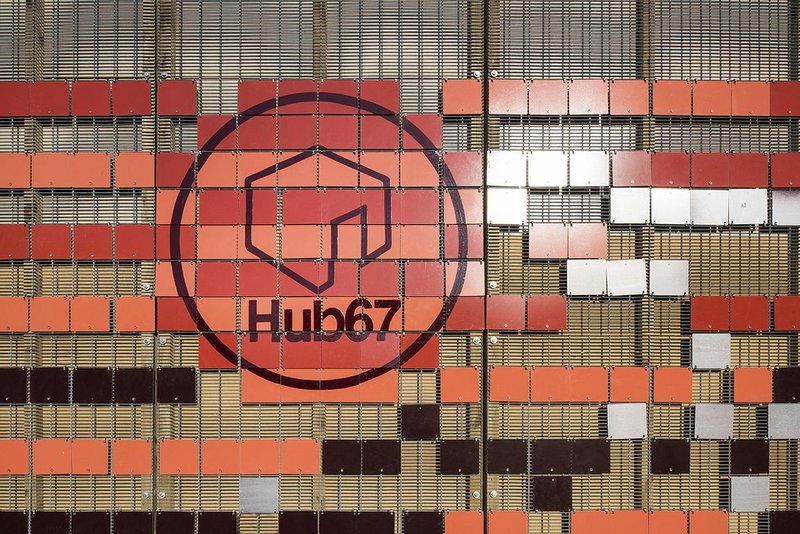 LYN Atelier's HUB 67. Cladding came in the form of the external finishing for the Olympic Training Centre.

Credit: Jill Tate
Re-use applies to either synthetic or organic material that would normally be thrown away. These products require inventive designers that see potential in things that others discard. The best re-use projects do not reprocess waste material and therefore do not have the large carbon footprints associated with recycling. This is a big leap forward from recycling as the value of the 'waste' resource can stay the same or, on occasion, increase.
This therefore is the second step towards a 'closed loop' systems, as exemplified by Hub 67, by LYN Atelier. The project tests the potential to construct a building using second-hand material, while simultaneously addressing the challenging constraints of both the Building Regulations and standard NEC Construction Contracts.
Andrew Lock founded LYN Atelier, a London-based architecture, interiors, exhibition and theatre design practice, in 2009, after winning a design competition. Fairly soon LYN was getting commissions for temporary buildings such as The Festival Village below the Queen Elizabeth Hall on London's South Bank. This project gave the practice the opportunity to explore collaborative design processes (in this case involving up to 200 artists).
In 2011, LYN Atelier was invited to bid for what became the Hub 67 project: a temporary community centre made from material collected in shipping containers after the Olympics closed in 2012. The Olympic Delivery Authority (ODA) had a huge site in the Lea Valley (over 10 football pitches in area, according to Lock), where structures such as temporary food kiosks and banks etc were being deconstructed, as well as running track, seating, concrete barriers and lots of other valuable material. The ODA was keen to prove that it could create something meaningful for one of the communities near to the Olympic site. Initially, Lock says, it was really difficult to assess the potential of the resources, as his team was only allowed an hour or so on site. Instead of providing a detailed design proposal for their winning bid, the team produced what Lock called a 'statement of intent: a working methodology'.
Even when LYN got the commission, Lock says access to the site was limited: the contractors were busy doing other tasks for the ODA. Also, the ODA's bureaucracy was huge and cumbersome, set in place for multi-million-pound stadium and infrastructure projects. Even though Hub 67 was only a £350,000 temporary community building, the ODA procurement route started off being the same as for these much larger projects. Whenever Lock and his colleagues needed to visit the material site, they had to complete a risk assessment, and then would have only about an hour there.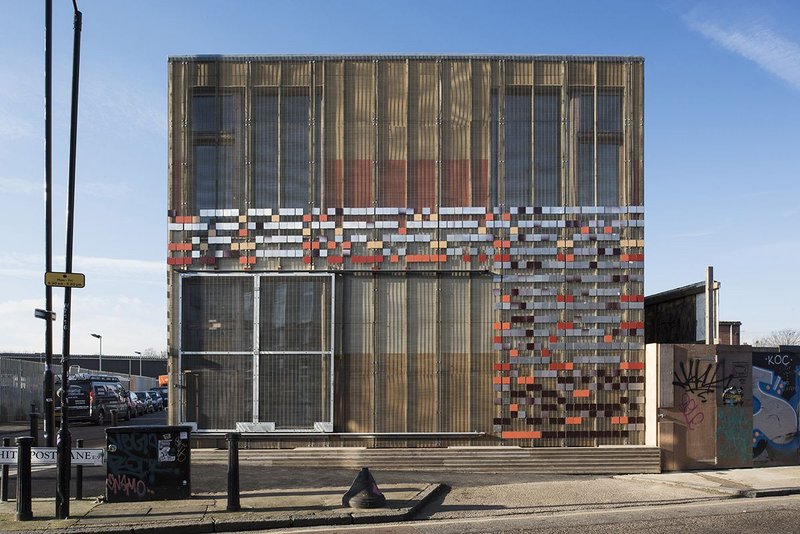 Hub 67 by LYN Atelier was made up of elements used on Olympic Development.

Credit: Jill Tate
As a consequence, Lock developed a keen eye to spot potential building material. He soon noticed that there were a lot of steel frames with glazed and insulated composite metal panels, the remains of the banks and food vending machines. Lock secured nine of these to create the structure of Hub 67. Cladding came in the form of the external finishing for the Olympic Training Centre. Lock states that they only had to get one roof element built from new, as there wasn't a correctly falling existing roof element to re-use.
The original supplier of this material supported Lock's re-use of their product, as it was keen to demonstrate how it was indeed designed for 'remanufacture'. Nevertheless, the acquisition of this second-hand material was very time-consuming and stressful. The client (the ODA) had not had the time to think through the implications of constructing a building out of second-hand material.
The contractual set-up was also not appropriate for a small construction project made of second-hand material. The main contractor for the project was a small building company not used to working with 500-page contracts such as the type the ODA normally issued. It successfully negotiated the contract size down to a mere 75 pages. However it was still a 'standard' NEC contract, obliging the building contractor to guarantee the proper performance of the resulting construction. This immediately raised the question: How does one guarantee the performance of a building made from second-hand materials without the data that proves the quality or standards of these materials? This issue reinforces the need for 'material passports' pioneered by Turntoo and Rau Architects.
The contractor took an informed risk. It assumed that as the structure would only be used for three years, it would probably not test this issue of building fabric performance. The main challenge that Lock and his colleagues at LYN Atelier had to overcome was that the definition of a 'temporary building' as far as the Building Regulations is concerned is one that is occupied for up to two years. Hub 67 needed to be occupied for over three years. The consequences of this were profound. The external fabric of Hub 67 had to meet the airtightness and insulation levels described in 'Part L2 2013', which was brand new legislation at that time. Thanks to the team pulling together (and somebody finding a gadget that can measure the U-value of the different materials as they were reassembled on site) they were able to meet this additional challenge. The project was built to budget and on time (constructed in a little over 12 weeks), which considering the unusual constraints and challenges was a real achievement.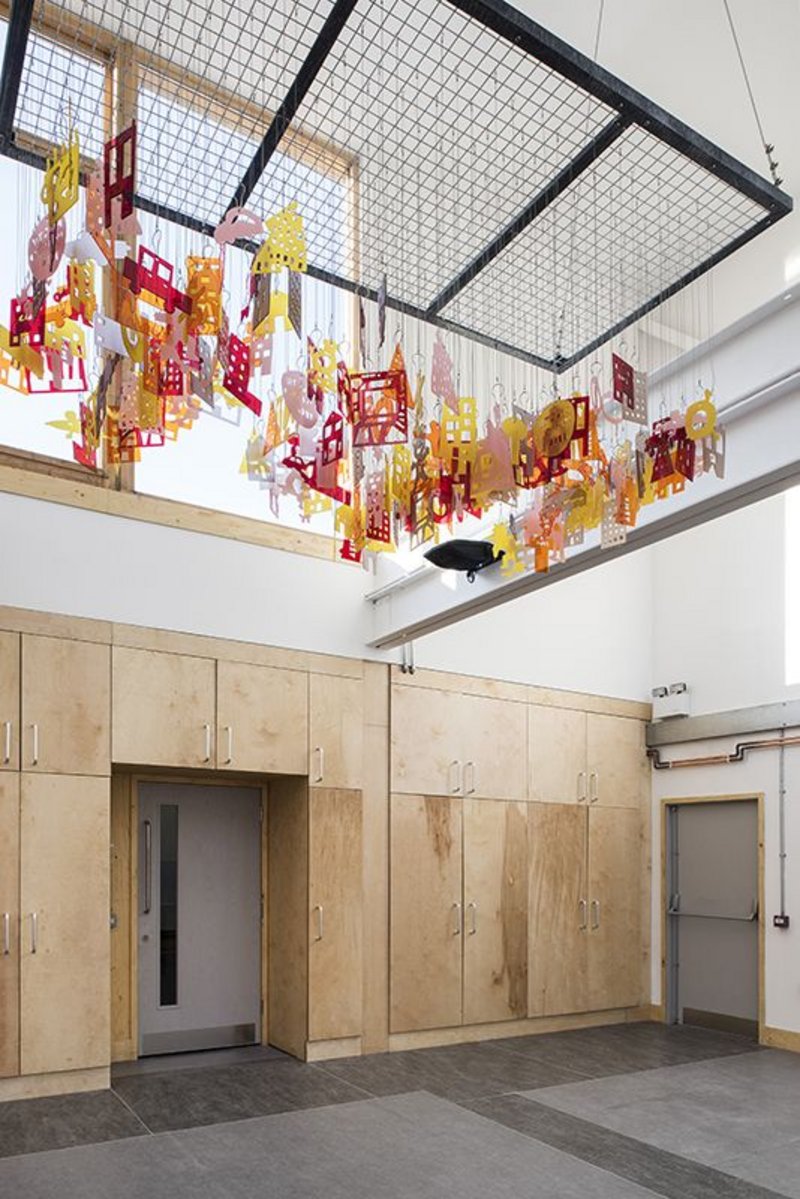 The community centre of Hub 67 was designed for three years, too long to qualify as a temporary building so meeting regulations was still critical.

Credit: Jill Tate
LYN Atelier had to overcome an almost complete lack of information on the type of material it was using, as well as limited data on its performance (thermal and other) once it arrived on site. The construction contract made little, if any, allowance for the fact that this building was made out of second-hand materials. As a consequence the main contractors had to assume normal responsibilities, as far as the structural integrity of the building was concerned. This included, in effect, stating that second-hand materials and construction systems were 'fit for purpose', when there were no written performance specifications, certificates, guarantees or evidence of any sort. That relied on the experience and expertise of the design and construction.
This project proves that if there is a clear objective and desire to deliver an innovative product, designers and makers can overcome huge obstacles to work things out. However, in this case it has been done at risk to the designer's professional indemnity insurance and the contractor's building insurance. This project was designed and delivered – without any legislation or any systems or networks in place to assist in their vision – to prove that a perfectly functioning new building could be constructed out of the second-hand remains of other buildings.
Architect Duncan Baker-Brown is author of The Re-Use Atlas: A Designer's Guide Towards a Circular Economy
---