Bloomberg recently estimated the market to be worth $800bn. But what is the metaverse and why is it becoming a new frontier for architects? Pamela Buxton reports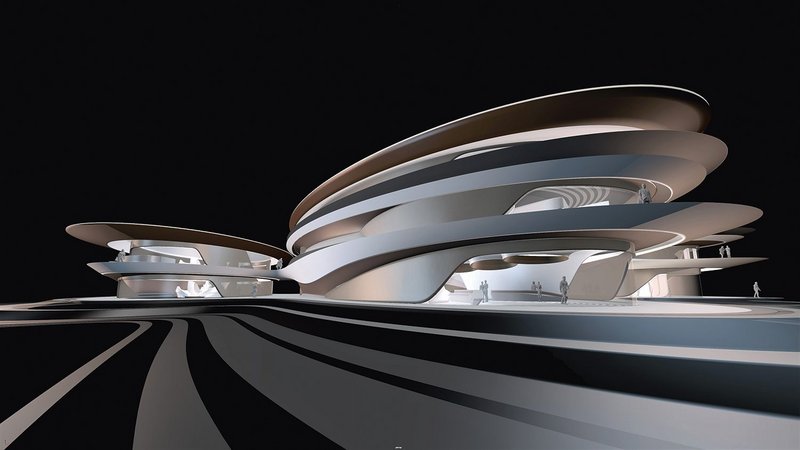 Medical Center for PUBG Mobile.

Credit: Zaha Hadid Architects
Is the metaverse a land of opportunity for architects? Can practices afford not to engage in a world where an NFT (a non-fungible token validated through blockchain technology) of a house design recently sold for $500,000 and where a new NFT marketplace is being set up specifically for architectural designs for the metaverse? Or is all this merely a fun distraction from the 'real' work of the physical world?
NFT art dealer and media artist Kenny Schachter, who last year commissioned Zaha Hadid Architects to design an NFT gallery, is in no doubt that the metaverse is 'one of greatest opportunities in history' as an expansion of the practice of architecture.
'It's a whole new category of architectural process. A million companies are building their metaverse environments. You have to be proactive and reach out to clients,' he says. 'Young architects would be remiss and foolish to overlook this vast opportunity to make money and a name for themselves.'
However the metaverse can be a baffling, fast-changing place, especially for those who aren't digital natives. This isn't helped by the terminology. Metaverse is in essence an umbrella term for a vast range of platforms – among them open-source realms with their own digital economies such as Decentraland - and activities in the virtual world. Perhaps it's easiest thinking of it as a spatial next generation internet or, as Space Popular prefers, a practice which has pioneered virtual architecture, the immersive internet.
Young architects would be remiss and foolish to overlook this vast opportunity to make money and a name for themselves
There's no doubting that more and more companies are exploring how they can extend their activities into the virtual world – whether it be art galleries selling NFTs (despite concerns about their energy hungry processes), venues for games, entertainment or business networking, or brands building social communities or establishing retail outlets. Bloomberg recently estimated that the metaverse represents an $800bn market opportunity.
So what are the design opportunities for architects in a realm where they are competing with game designers and others from outside architecture?
Baldly put, there is the potential to win real commissions to create virtual environments, and also the chance to sell ready-made designs that perhaps originated as speculative projects, to buyers who may have purchased land on one of the many platforms. Co-branding opportunities may exist for the biggest names and there may in future be potential for monetising digital twins of real-world buildings. Schachter sees huge scope for practices to promote themselves to clients in both real and virtual worlds by digitalising their portfolio 'in a way that resembles experience of navigating space' and, in doing so, turning it into their own metaverse.
Several leading practices are already active. Zaha Hadid Architects has been busy, designing a medical centre for the PUBG Mobile video game as well as the Schachter NFTism virtual art gallery at Art Basel Miami Beach and the virtual city of Liberland Metaverse. BIG recently unveiled a Decentraland metaverse office for VICE Media Group, conceived as a virtual innovation lab for the group's creatives to work with collaborators and clients. But architects without extensive track records can also promote their designs – and get paid for their work – according to Adonis Zachariades, co-founder of Renovi. He is on a mission to set up a niche NFT marketplace for architects and designers to sell and promote their work, and expects this to be launched later this year. Potential clients will be those buying digital land and wanting to either commission a design for their venture, or buy something ready made.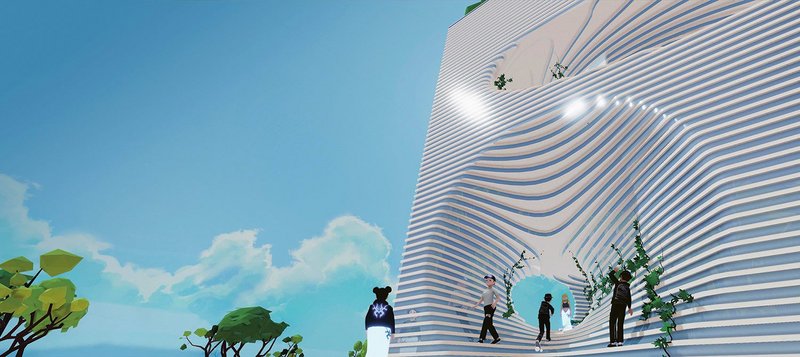 Bjarke Ingels Group (BIG) has created a virtual metaverse headquarters for VICE Media Group. Located in Decentraland, the office will be open to the group's businesses as a virtual innovation lab where teams can experiment with NFTs, Decentralized Autonomous Organizations and Web 3.0.

Credit: BIG for VMG
Renovi has launched a competition for architectural designs for different typologies for this marketplace, which has attracted hundreds of entries so far. It is currently fine-tuning how the marketplace will work and is in close contact about technical requirements with interested architects and designers. Designs will need to be files that can be navigated through – Renovi says currently the most common file format is gltf or glb which most programs such as Rhino and Blender can handle.
Renovi will take 8% commission from any sales, with the rest going to the creators. While price levels are yet to be set, there is likely to be a sharp contrast between off-the-shelf creations and premium level custom designs.
Zachariades advises architects to 'dip their toes in a bit' and explore the potential, rather than leaving it to game developers and other designers. He's already noticed that some youngsters leaving university are opting to set up their own studios for metaverse work straightaway rather than looking for a job with a practice.
Through their training and sensitivity to the enfilade of how space unfolds, architects are naturally well-placed to create virtual environments for the metaverse realm, according to Renovi architectural advisor Stavros Zachariades, an associate at Squire and Partners.
'We definitely hold the key to doing that more than anyone. We do it in the real world and can do it in the virtual world.'
Without needing to be an expert, a working knowledge of coding is also an asset for anyone designing in this space, according to Luca Arrigo, founder of Decentraland Architects, a practice entirely focused on 3D design and game development projects in Decentraland, with work including the tallest building on that platform.
'Get educated and start trying. There's a lot of opportunities out there,' he says.
For ZHA, creating environments for the spatial web of the metaverse wasn't 'that much of a leap for us' because of its track record in spatial user-experience focused design, according to associate director Shajay Bhooshan, who leads a research team at the practice with backgrounds in architecture, computer programming and robotics. ZHA has been undertaking research and pilot projects 'to grapple with the medium' according to Bhooshan, who describes this area as 'definitely integral to our design practice, but not yet to our commercial business.
It's a huge opportunity to experiment. It will help us develop our craft in the real world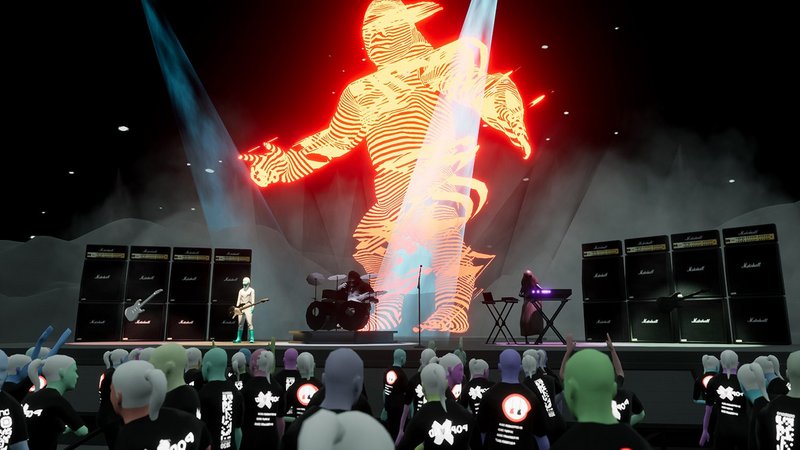 Populous self-initiated multi-user gig experience shows how an a metaverse project can build communities within the entertainment/sports industry. Created during lockdown in 2021, the gig included a band of Populous staff playing in real time to an audience of 72 people, who were able to create a custom outfit, dance and interact.

Credit: Populous
ZHA typically uses Maya for 3D geometries and Epic Unreal game engine to convert spaces designed in Maya into multi-player environments with audio-visual communication capacities.
While liberated from real world practical concerns, Bhooshan says there are new constraints including the amount of 'triangles' that determine scene complexity including level of detail and photorealism. Certain dimensions need to be exaggerated and others diminished to help people navigate through space.
'It's a huge opportunity to experiment. We are interested not only as a virtual online opportunity. It will help us develop our craft and develop opportunities in the real world. '
Architects and teachers Space Popular has been designing virtual immersive spaces for nearly a decade, creating the spatial design as well as the 'back-end' build including coding. It thinks of all its work, whether physical or virtual spaces, as built work.
'For us, it's the same job – creating spaces for whatever is needed to happen within them. They both inform one another,' says co-founder Lara Lesmes. 'Virtual architecture is not a game. It's an architectural assignment.'
They have recently seen a pandemic-driven boom in virtual spaces that bring people together to communicate, with commercial projects including training spaces and events.
While not currently working on clients on metaverse-based projects, Grimshaw design technology director Andy Watts expects it to be 'only a matter of time' before meta-projects become more prevalent. As well as demonstrating real life architecture in a virtual environment, the practice expects to help to communicate to clients the value of the metaverse as a tool in a wider architectural design process.
'Our involvement would be to create designs that are grounded in real world architectural principles: while others are using it to explore designs that won't, or physically can't, be built in the real world,' he says. Another aspect to consider is how to protect the intellectual property of built work in metaverse applications.
Populous is setting up a new department to bring designs to life within VR/the metaverse and support the practice's real-world projects. This may potentially, for example, lead to virtual counterparts to physical designs for sporting and esports venues, with the potential also for shared communal virtual spaces that might become hubs for all sports fans.
The department is led by associate Nayan Patel, who combines his architectural training with a keen interest in 3D animation and video game design. He believes the ability to combine real-world architectural experience with virtual design techniques can give architects the edge over gaming designers in this realm.
'You can think in ways a game designer might not think,' he says.
'A lot of people who've grown up in architecture became interested in the first place through games, such as Minecraft. They're now coming full circle.'
But while metaverse opportunities are emerging for architects, it is still a realm of flux as well as potential.
'Currently, we wait for the market to evolve,' says ZHA's Bhooshan. 'Everyone is in experimental mode.'
Zaha Hadid Architects – Medical Center for PUBG Mobile
Design: Zaha Hadid Architects
Developed by LightSpeed & Quantum, Tencent Games, KRAFTON
This game design project evolved from the practice's research into spatial user-experience (UX) focussed parametric design. Located within the unranked mode of PUBG Mobile's Erangel map, the medical centre is designed as three interlocking buildings. Each relates to a possible discipline within a hospital of the future, including robotic surgery and anti-ageing/longevity. A central open atrium is designed to help players navigate the building.
Space Popular - Arquia/Próxima
Design: Space Popular
Client: Arquia Foundation
Space Popular created a virtual event for the 2020 Arquia/Próxima architecture festival. With the theme of Punto de inflexión (Turning Point), the festival consisted of nine virtual rooms organised on a grid reminiscent of the original physical site plan for Barcelona's Ensanche district.
According to the practice, 'each room takes the shape of a urban block of the Ensanche at half of its original size, with the outside forming a street featuring abstracted versions of building typologies common in the area and the inside displaying exhibition content in elements inspired by digital rather than physical space.' An arena hosted events and acted as a main gathering space for avatars. The festival was built in Mozilla HUBS.