A mentoring scheme that puts students into practices bridges the gap between academia and work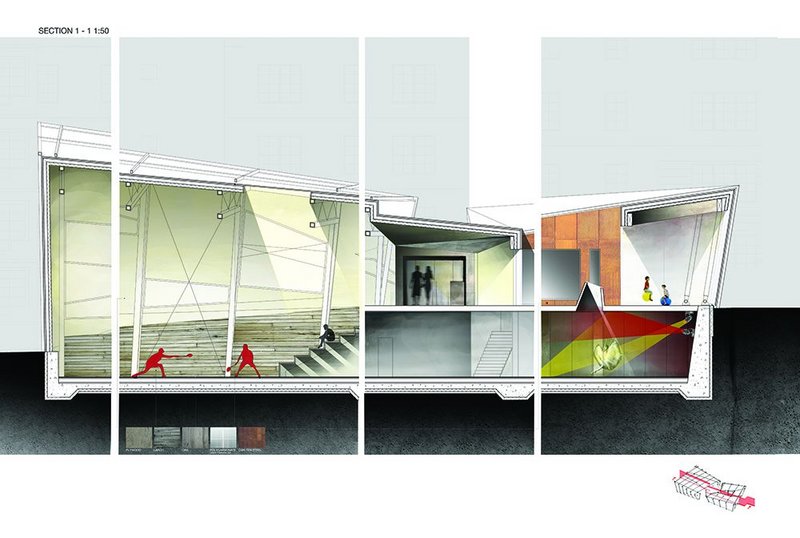 A Beautiful Box designed by Part 1 student Aivita Mateika gets to grips with some of the reality of design.
A long standing complaint from practices is that students arrive without the knowledge needed for the office. At the end of their degree, making applications to practise for their year out, is a formative experience. Over the last 10 years the RIBA's South/South East regional office has been organising mentoring with practices in the critical autumn term of the third year. Schools across the region including Canterbury, Portsmouth and Oxford Brookes are taking part. Last year RIBA London began a similar scheme, based on the south east model, at Central Saint Martins which this year is running both there and at South Bank University.
At Portsmouth School of Architecture Colin Stansfield Smith's building is being run down, awaiting a transfer to a new home by Penoyre and Prasad. But the old building hums as students and practitioners arrive for an informal meet and greet session. On the top floor head of school Pamela Cole, who brought mentoring to Portsmouth three years ago, and Paula Craft-Pegg, in charge of the professional practice course, are ensuring that tables and chairs are comfortably arranged, cafe-style, for Meet Your Mentor.
'There was a gap in our students' experience,' says Cole. 'They have no work experience, but that's where they are heading.' Some groups in particular concern her. 'Lots of women are in this position. There is a lack of self-confidence in female students' ability to apply their skills in the workplace compared to males. It is a noticeable trend.' Given the way the percentage of women in architecture drops between university and practice from around 50% of the total to below 40%, this is a live concern. Portsmouth tries to bridge the gap with mentoring, CV reviews and mock interviews, often involving many of the same practices.
'Our employment statistics are very good: 82% in a recession,' explains Cole. But she knows that giving students a firm grounding in practice can increase their chances of a good job. The different values between academia and practice become clear quite quickly, which is important later when taking a project to a practice and getting an idea of what it might find interesting. 'People develop understanding through applying their knowledge; with mentoring they see a different point of view and different ideas. Otherwise they often respond with what they think we want.' Having an idea of the aspirations of practice is essential, she says.
The influence of a different set of value systems has noticeable effects, particularly on CVs. Interestingly, for architecture as a discipline that already relies on practitioners for studios in particular, practice concerns are often parked at the door as studio leaders teach for the pleasure of a different level of engagement. 'Mentoring allows practitioners to talk in a realistic and enlightened way,' says Cole, 'and bring their values to the school.'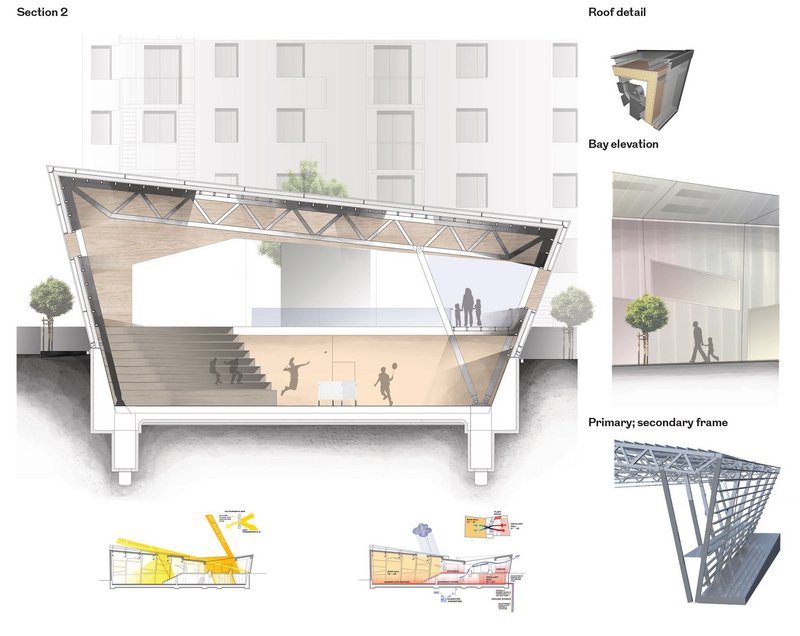 A Beautiful Box designed by Part 1 student Aivita Mateika gets to grips with some of the reality of design.
Jenny Petersen, of RIBA South/South East, explains that mentors' reasons for taking part vary. Some are keen to have a practical link to the school where they studied; others like a sense of giving back, or enjoy students' perspectives on their work, or even want insight into current education practice. She has also noticed, in recent years, firms simply wanting to give practical help. And of course there is a small element of enlightened self-interest: 'We might get a student in over the holidays and it would be good if they knew us already'.
The ideal of a more intimate ratio that mentoring attempts to give students – two or three students to a practice is recommended – means it is not just the vocal one in the group that does the talking. There is little hierarchy, although some is inevitably implied by the practitioner/student relationship. 'They will be tested by their mentors, asked their opinion. And architects need to be able to give their opinion: it's all about developing confidence,' say Cole. Since the downturn in 2008 students' attitudes have changed and mentoring is seen as important on their CV.
In terms of the professional practice course many students bring their experiences back to the studio. 'I hear students talking to each other about fee bids and clients,' says Craft-Pegg. The mentors come from many local practices – there are 27 working with Portsmouth, from sole practitioners to more corporate practices.
Not all students can get on the programme – there simply aren't enough mentors. But that means those students who are there are pretty motivated. And they have to be professional too. Even thinking about the three days that architects devote to showing students their business brings home the reality of practice to them. 'Suddenly students start to understand time costs,' says Cole. At the end students complete a diary of the experience which is signed off by the mentor and forms part of the course. And the knowledge of teamwork and how practices are structured puts the professional course in perspective.
After a brief introduction to the scheme students and practices are ready to be paired off. I follow Edmund Ellert, architectural services manager property and infrastructure at Capita, down a corridor to a little room trailing a group of four students. Ellert is very aware of the disconnect between students and commercial awareness and that architecture is more of a vocation than any other construction profession. 'No primary school student wants to be a quantity surveyor,' he says. 'And how many other students would have all-nighters?' he asks. But this mentoring scheme is where the 'output of the undergraduate system meets the business of architecture, which is basically there to provide the built environment.'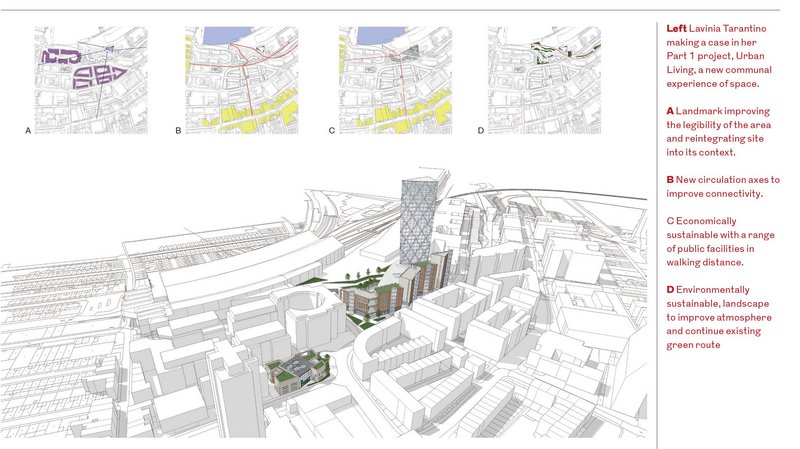 Lavinia Tarantino making a case in her Part 1 project, Urban Living, a new communal experience of space.
With his colleague Claire Williams and a mentee from last year, Zane Putne, who is now employed by Capita, Ellert will give students an inside view on Capita over the next programmed mentoring days, taking them on site, and to a progress meeting with client and engineer. They will also sit in on a design meeting and spend time next to an architect at their work station. 'It will give them a positive idea of why they are doing their CV,' he says. 'The working environment can vary so much, and with a diverse workload you have to ask what's in it for me,' he says. 'I hope it opens up that line of thought.'
Putne shares her experience as a mentor. Not only the value of having the mentoring on her CV but also the sense of reality it gave her. 'Even buildings that are your topic at university do not feel definite, it is like touching them in the dark,' she says. Her previous work with a four person practice was at the other end of the scale to work at Capita. And her Capita work did influence her academic work, if not feeding in directly. Her employment shows that the relationships do extend beyond the necessarily constrained limits of the scheme. Mentors are encouraged to support their students beyond the basic schemes with crits and CV overviews, and students are encouraged to invite mentors to their end of year show.
Ellert has some big messages he wants to get across, about the business itself but first about being an architect. 'Your drawing is going to become a contract document; once you are qualified it is a demanding role as you are lead consultant in pre-construction phase and often after while on site,' he reminds students. In the mix are words like 'framework' and 'business plan' and a reminder that architects have to move ­towards an objective: 'You can't do without the Plan of Work, it stands you in such good stead getting from A to B.' And finally a message about clients. 'What are clients like?' he asks. 'Human like us, mostly.' Atim, Ayodeji, Bruna and Bruce listen with rapt attention – though hesitating a little when the questions are turned to them. It is a long way from their dreams of architecture, the passion and ­interest in drawing and making things that they all say brought them to this school. But it is the meat of what will make them into architects.

---
PORTSMOUTH PROJECTS
Portsmouth's Project Office gives students access to clients and live projects – a chance to gain real hands-on experience. In the past it has overseen or managed major building or design works in the city including the Hilsea Lido, the Isle of Wight Zoo, the University's own 3rd Space and the Bursledon Brickworks. It is now working on public consultations in Gosport (above) and running design charrettes for clients in isolated Hampshire villages.