Brexit hasn't dimmed the UK's appeal for multidisciplinary Hong Kong practice Lead 8, or its clients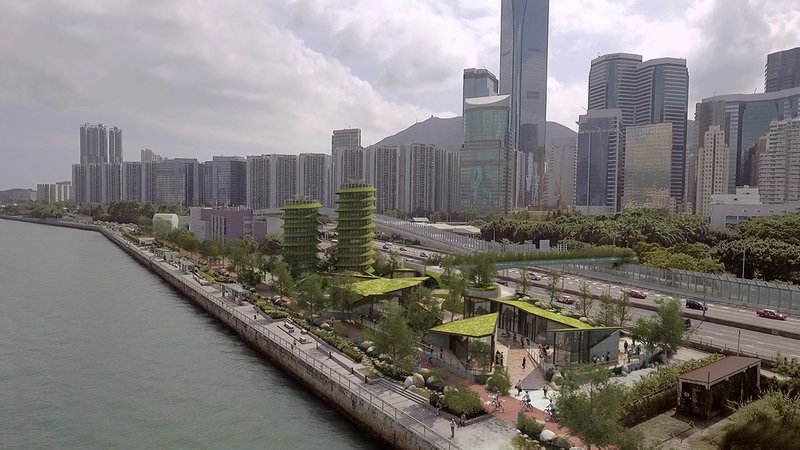 Lead 8's proposal for a zero carbon HarbourLoop at Quarry Bay in Hong Kong.
Brexit is changing the economic, commercial and political landscape. The UK's place in the world is being reconfigured, forcing it to adapt. While UK and EU politicians and technocrats argue over the detail of the divorce settlements, the fear of what the future might hold looms heavily over the business skylines of British cities.
Whatever personal views we at Lead 8 may have about Brexit, as a multidisciplinary firm of architects, designers and masterplanners with three offices in Asia, we chose London as we look to grow our global practice of 170 specialists westward to the UK and the rest of Europe. With the UK potentially creating new channels of trade with Asia and the rest of the world, this is a good time to explore opportunities and increase collaboration. For example, the Belt and Road Summit held in September is a part of an immensely ambitious development campaign to increase regional trade and encourage economic cooperation across Asia and beyond. It's a unique opportunity for the international community to engage with the Silk Road Economic Belt, a project which covers about 60 countries stretching from Asia to Europe and includes the new Silk Road freight network connecting China to the UK.
This country is a highly appealing place, both geographically and economically, combining finance, industry, government and the creative arts. London is an important capital city which has been a hub of trade for centuries. The start-up scene is booming, with London ranked as the top European city for tech start-ups, as well as other sectors including leisure, commercial and consumer goods.
The UK acts as a magnet to many industries. We are drawn to its diversity and dynamism; its buzzing creative industries and eclectic mix of architectural styles and projects has enabled it to thrive through change and adversity. This matches Lead 8's philosophy, which is based on the core values of collaboration, creativity and teamwork in designing and implementing award-winning projects in environmentally sensitive locations.
Our mission is to go global organically and some of our clients are already investigating growth opportunities in the UK. We are in talks with several Asian property developers to support their expansion plans and Brexit is doing little to stem those. And we are talking to UK developers looking to invest in Asia. Additionally, the UK has many urban regeneration proposals that play to our strengths and we can bring new thinking to these schemes.
Our British connection is strong; several of our co-founders have worked in the UK and a number of our key staff are RIBA members and UK trained. We see this as a great opportunity to combine our UK and international expertise. Our award-winning projects in high-density cities are transferrable across major conurbations such as London. We can bring the lessons and the best of Asian working methods, architecture and design.
Asia's bold and innovative ideas of the last few years now inform how we design, plan and build connectivity and efficiency into small and large-scale projects. Our expertise in creating living environments in high-density areas has finessed our understanding of effective use of space so the public realm can be street or rooftop. Active roofs are an innovative way to create public open spaces in what can be dense urban environments, and so many Lead 8 projects have variations on this theme.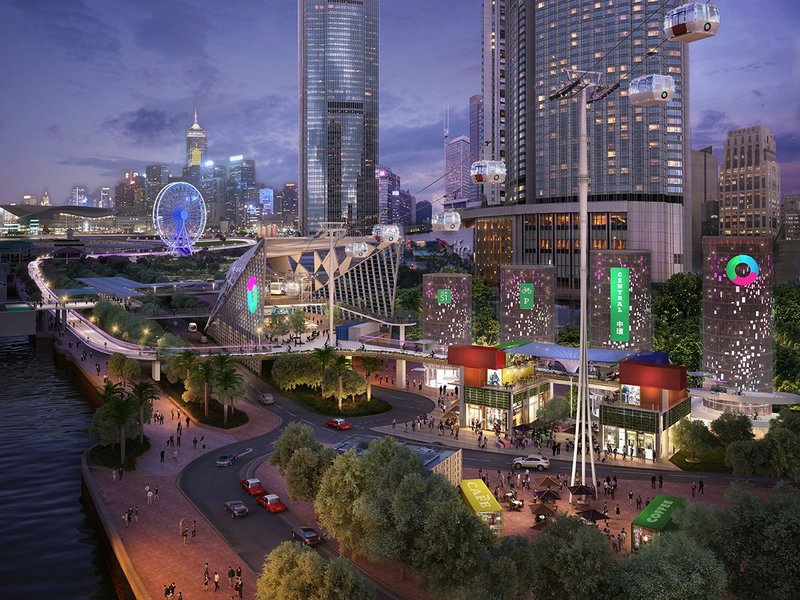 Lively 'hub' at Central Harbour.
It's no longer about building a shopping centre or an office but how to create liveable, sustainable, sharable and connected places. We also need to adapt to changing behaviours, lifestyles and our environment. For example, our award-winning HarbourLoop design project is a vision to transform Hong Kong's world-famous waterfront and underutilised coastal geography, connecting Hong Kong Island to Kowloon, in a continuous loop. The scheme was shortlisted at the World Architecture Festival Berlin, 2016 and has been shortlisted for the German Design Awards 2018, organised by the German Design Council.
Like many UK architects and designers, we remain cautiously optimistic about the country's prospects. The latest RIBA Future Trends survey points to confidence recovering after nosediving post-referendum.
The UK will weather the storm; it has an amazing heritage that can be built on. A good growth strategy for us is focusing on renovations to turn single-use into multi-purpose buildings, increasing adaptability and flexibility.
Architects have a role to play in designing out pollution and waste. It's not about saving the world, it's about pushing the boundaries and seeking solutions to the complex and intractable problems that we face.
---
Meeta Patel is co-founder and executive director of Lead 8