What will Brexit do to the UK's pool of talent? RIBAJ Rising Star 2017 Úna Breathnach-Hifearnáin shares an emigrant's story and compares the numbers of foreign architects working in different countries across Europe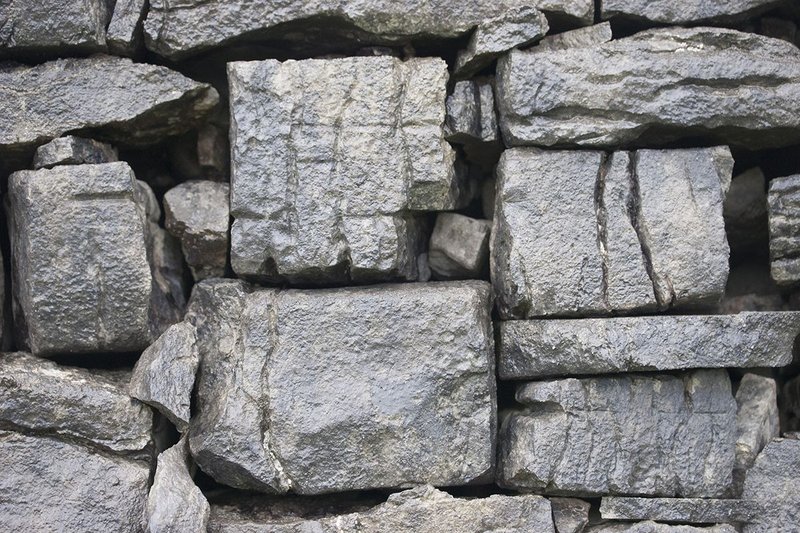 The west coast of Ireland, Úna Breathnach-Hifearnáin's childhood home.

Credit: Úna Breathnach-Hifearnáin
I was always curious as a child growing up on the west coast of Ireland. I enjoyed stories and nature equally. I loved imagining places and drawing or making models of these spaces. I loved exploring the buildings around me – the impressive Moore Hall, Ashford Castle and The Linenhall as well as the more ordinary, like my grandfather's traditional cottage – and considering how they might have been put together. I ended up studying architecture at the University of Limerick following a first degree in interior architecture, and graduated from my part II course in 2012.
I had always assumed I would work in Ireland, but at that time it was still struggling from the 2008 financial crisis and following recession. Architecture jobs were few, poorly paid and not guaranteed long-term. I had worked and studied in Germany over the course of my architecture degrees and so considered returning there. In the meantime, I had also applied for a job in the Cotswolds at Millar + Howard Workshop, where I subsequently worked for two and half years.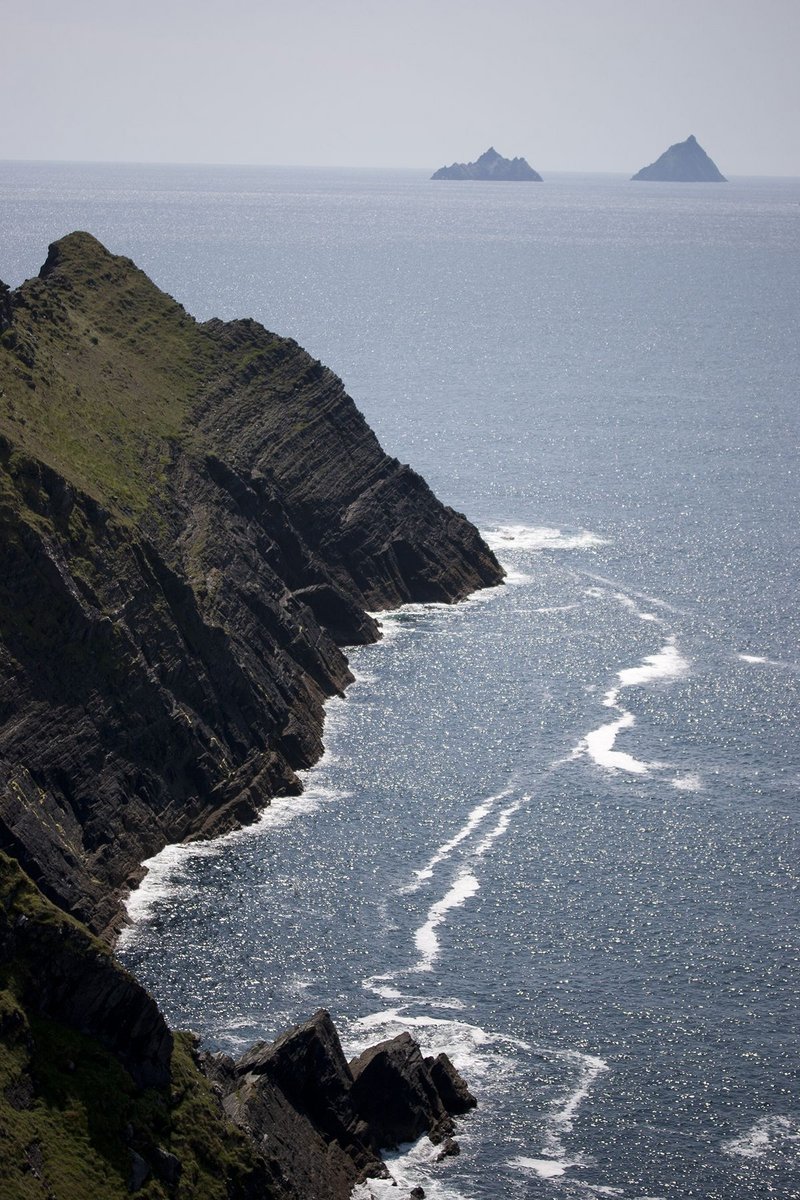 The west coast of Ireland.

Credit: Úna Breathnach-Hifearnáin
My emigration was in many ways simply for economic reasons and the choice of the UK over Germany was for the ease in translation of qualifications, given that the system of part I to III is common to both Ireland and the UK. I imagined that I could come to the UK, spend a couple of years working, complete my part III and then head back 'home' for the rest of my career. Emigration is not such a straightforward path, however. At the end of two years in the UK I had completed my part III at the University of Bath and considered returning to Ireland. But the economy there was still struggling; I had made a life here and was happy. One of the fascinating things about emigration is that the desire to settle makes your host country feel like home, although an ever-present part of you longs for your maternal one.
My experience of leaving Ireland to look for a brighter future elsewhere was quite commonplace at that time. In 2008 there were 3,500 architects on the register in Ireland, but by 2012 this had dropped to 2,500; the architectural market earned €409 million in 2008 but depreciated to €112m in 2012. In my graduating class of 25 students some interesting statistics unfold: roughly 50% emigrated to the UK, the US and elsewhere, and the remainder largely worked outside the architectural profession – a trend that applied to all those completing part II in Ireland in 2012. This picture was reflected at a macro scale too. In the general population that year, at total of 87,100 people left Ireland, almost 2% of the population – more people than since new records began in 1987. Ninety-two percent of the emigrants were under 45 years old; 41% between the ages of 15 and 25. The most popular destination was Britain, with 19,000 settling there in the year to April.
Proportion of architects on the ARB register.
In contrast, the UK, which I now call home, is a melting pot of architects from all over the world. Ideas from various cultures mix to produce fascinating manifestations. Discussion and debate are varied, and the schools are full of talent from many differing backgrounds, pointing to an inspiring future. The current proportion of registered architects from other countries in the UK is 21% of a total of 40,754 registrants. The range of nationalities is broad; the most common represented (other than British) are Spanish (3.8%), Italian (3.8%), Irish (2%), German (1.6%) and Greek (1.2%). It isn't possible to understand how this proportion has risen and fallen over time as this is not something architect registration boards have tracked until now. Like me, those who emigrate from other EU countries may come due to free movement and curiosity and, in looking for a new place to settle, find a rich architectural industry that is welcoming and will allow them to thrive. The RIBA's position on the benefits of a diverse workforce is that: 'International architects, many with highly specialised skills, help British practices fill domestic skill gaps and enrich the practices they work for.'
Roll forward to 2018, however, and 60% of EU architects in the UK, according to the RIBA's own Global by Design report, said they would consider leaving because of Brexit, and practices have been reporting that talented architects are now either leaving or seriously considering doing so because of the continued uncertainty over their status. Brexit means that after April 2019 no further EU nationals will be able to come to live in the UK without a visa, and those who have been here for fewer than five years will need to leave or apply to live here on a visa. This process may prove complicated and costly.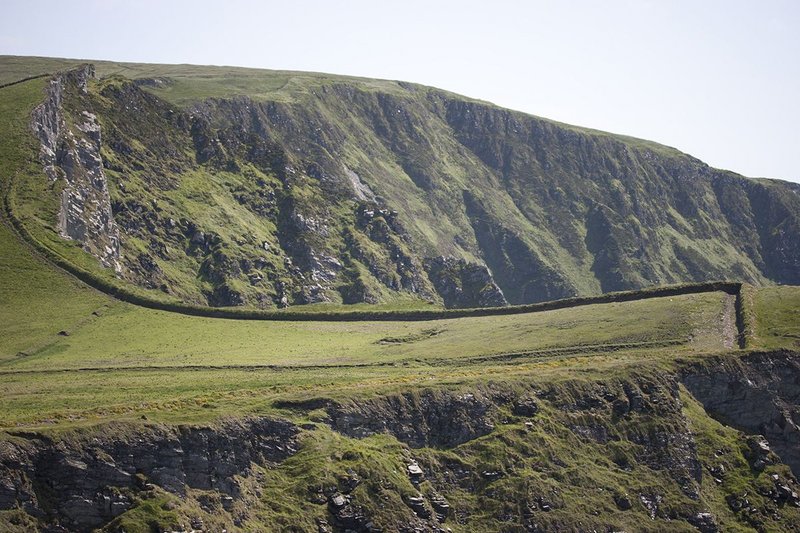 The west coast of Ireland.

Credit: Úna Breathnach-Hifearnáin
There are 600,000 architects in the EU, which translates to 1 per 1,000 inhabitants. Yet in the UK there are 0.6 architects per 1,000 inhabitants and in Ireland even fewer at 0.5 per 1,000. In Ireland, registered architects amount to 2,763 individuals of whom 15% are foreign nationals. The mix of nationalities represented is vast but the largest concentrations are British (5.2%), Polish (2.5%) and German (1.1%). In France, there are 30,000 registered architects of whom 4.6% are foreign nationals. The largest concentration of the latter come from Italy (1.4%). Italy has the largest number of registered architects in the EU with 157,000 individuals, representing one quarter of all Europe's architects and 2.6 architects per 1,000 inhabitants. Germany has 109,000 architects, of whom 7.1% are foreign nationals. Spain has 54,000 architects, and the Netherlands has 13,805 architects, 24% of whom are foreign nationals. At 21% Britain seems to have the second largest percentage of foreign architects on its register, and when it becomes a more difficult emigration option after Brexit, these other countries may benefit from an increased influx of architectural talent.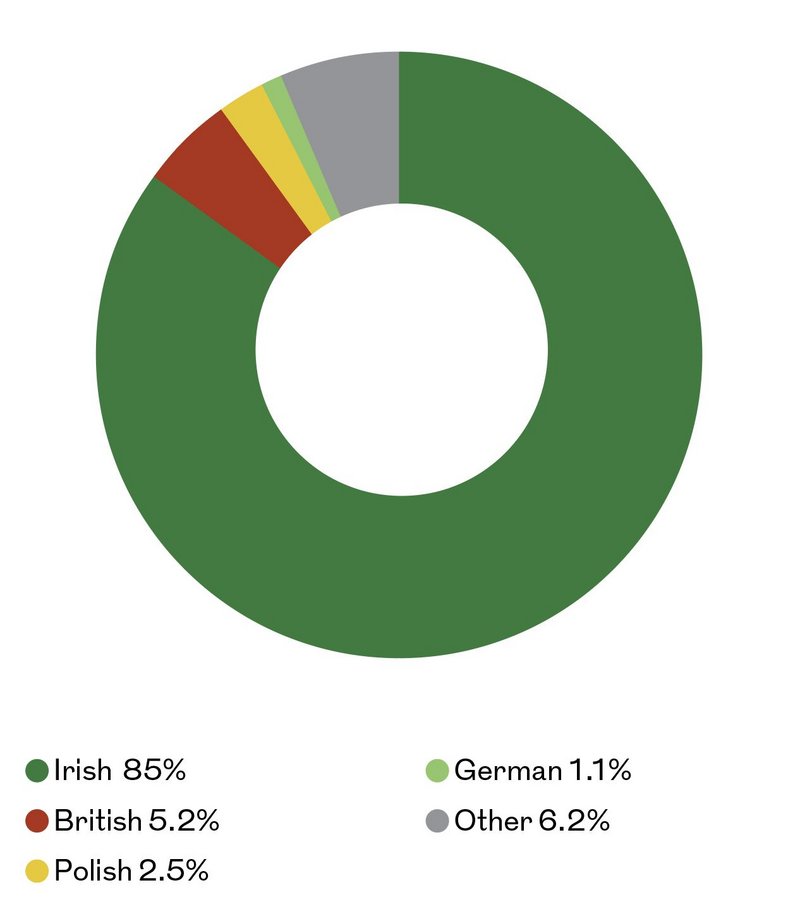 Proportion of architects on the RIAI register.
Nevertheless, the Common Travel Area and the rights of an Irish citizen to settle and work in the UK without restriction predates the EU and so Brexit has no effect on immigration laws for us. Naturally, we feared that during Brexit talks this agreement could have been changed or regressed, but this anxiety was quashed in June 2017 when the UK government's policy paper on the position of EU citizens in the UK stated a desire to 'protect the Common Travel Area arrangements', saying that 'Irish citizens residing in the UK will not need to apply for "settled status" to protect their entitlements'. The Irish are in a unique position given that although we will remain EU citizens, we will not have to leave, and so Brexit will not have any direct effect on us. The indirect effects, however, will be felt by all architects: concerns have been shared over work drying up and projects being put on hold indefinitely. When I consider these things I again find myself toying with the idea of returning home to Ireland. With that consideration comes the anxiety of the unknown and of returning somewhere I haven't worked since qualification.
Brexit does mean architects will leave the UK. Some will be forced to by the complicated and costly visa process; others will choose to because they feel unwelcome after the goings on in the two years since the leave vote. And the final group of leavers will be UK citizens who feel alienated by their own country as it pushes out their friends. Brexit will undoubtedly cause employment difficulties, with foreign architecture students being unable to get visas to work here, and the debacle of visa application may mean the UK will struggle to attract talent.
More than 80% of RIBA members have identified access to skilled international talent as being vital to the profession's future. I foresee that Brexit may also require us as architects to diversify the sectors we work in, and to potentially reinvent what architects actually do. It may mean some need to retrain or move into other sectors where our skill sets may be needed. The coming years will certainly be a challenge for architects in the UK.
At the moment, it is quite difficult to imagine what the post-Brexit UK will be like and how great those challenges will be. The amount of societal change is also hard to predict and so I find it hard to judge whether it will be a place I will still want to call home. For me, this may mean exploring options elsewhere, possibly trying to move back to Ireland and facing whatever career implications that may hold.
---
Úna Breathnach-Hifearnáin is a RIBAJ Rising Star 2017 and an architect at Purcell's Bristol office.