Can SimpsonHaugh's towers create an identity that shapes communities with form and materiality?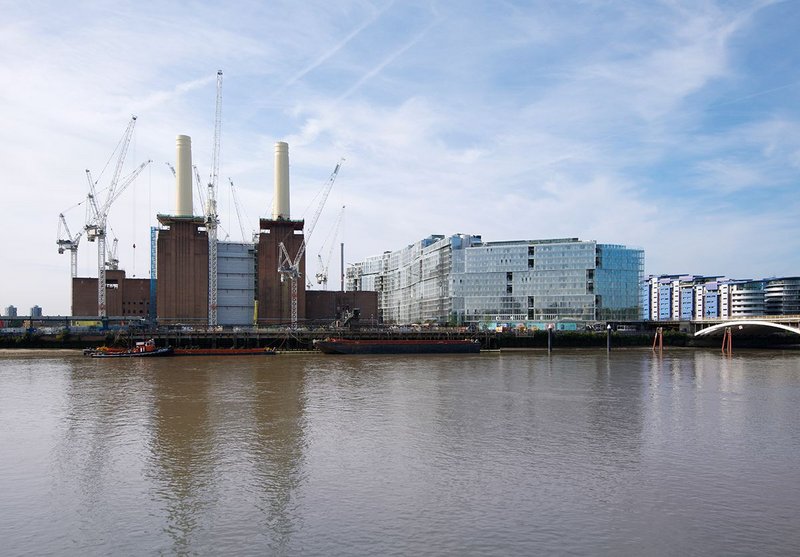 Circus West Village, Battersea Power Station: two buildings linked by a private garden. This building comes complete with 'village hall' designed by SimpsonHaugh.

Credit: Karen Fuchs
Communities are created when there is a shared sense of belonging, a passion for the collective, a belief that the whole can be greater than the sum of the parts. It is fundamental that the buildings and spaces we design and create nurture, support and excite these new communities as our cities evolve and expand and the urban population continues to grow.
Contemporary apartment living in UK cities will not in itself generate a sense of community. It is naïve to think that gathering people together in one development creates a community. Singular-use urban buildings, particularly skyscrapers, are not 'villages in the sky' and nor should they be. The village is at ground level. The apartment is a sanctuary, an oasis away from the noise and bustle the street.
A community can, however, be drawn together and established around the design and detail of a building, supported by shared facilities and shared values. It is important that the building engenders that sense of community and belonging through its identity. People make a conscious decision about where they want to live – to be part of that building, part of that brand, part of that design, part of that community.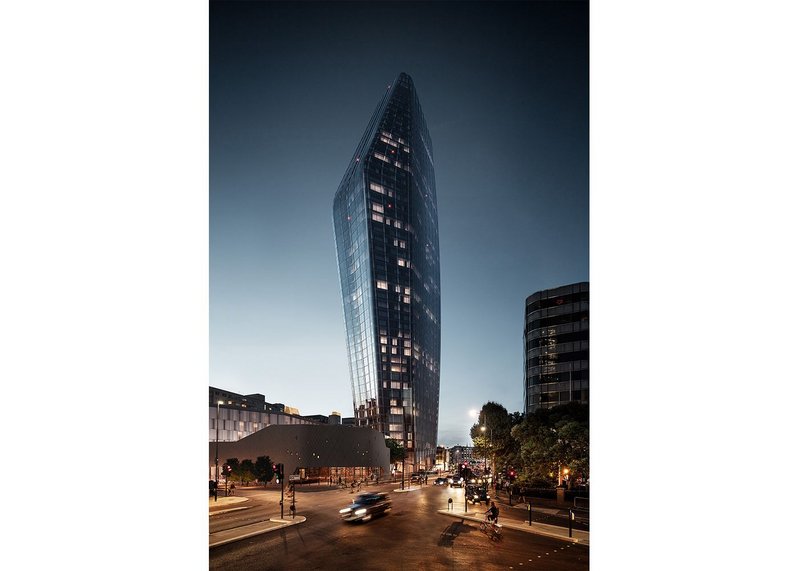 Skyscrapers such as SimpsonHaugh's One Blackfriars make no claim to be 'villages in the sky'.
As a practice, we've made it our goal to use design and detail to engender that sense of community within three current London schemes: Circus West Village at Battersea Power Station; One Blackfriars, adjacent to the southern bridgehead of Blackfriars Bridge; and Dollar Bay, at the head of South Dock on the Isle of Dogs. Three groups of people living in the same place, sharing attitudes and interests: three communities engaging with architecture and space.
Our approach to each proposition is bespoke and embedded in place. However, common themes underpin the spatial and formal response of all three projects: daylight, space, aspect and materiality, as well as explored opportunities to embed shared common space, address social aspects of communal living and reinforce a sense of community.
Communal amenities can of course support a new community. At Battersea, two residential buildings providing 865 new homes are linked by a private garden above a mixed-use podium of shops, cafés, restaurants and offices. Communal facilities include a gym, swimming pool, health spa, private residents' club, lounge with bar, library, screening room and a 'village hall' within the adjacent converted railway arches. One Blackfriars and Dollar Bay offer their residents variations on these amenities. Such physical spaces gather together people with shared or common interests and allow the opportunity for passive interaction. However, the choice to partake in this is secondary and follows the initial decision to engage with the building.
For each of the three schemes, we believe that a strong overriding form and singular materiality will help to create and define a cohesive community. The formal proposition of all three buildings responds to water. The layered, dynamic, overlapping horizontals of Battersea, the sculptural fluid form of Blackfriars and the rippling elevation of Dollar Bay capture the movement of the river and the reflective quality of the dock respectively.
In addition, at Battersea the undulating glazed ribbons contrast with the static, impenetrable monumentality of the brick power station, in complete deference to the historic building. At One Blackfriars, the form of the building rises from a tapered base and arches towards the City of London, presenting its slenderest profile to St Paul's, the canted surfaces capturing the landscape of the street and the sky. At Dollar Bay, the undulating vertical ribbon of the west elevation reflects alternating slices of water and sky.
By day, the glass facades of each building are alive with the reflections of the sun, sky, water, and surrounding buildings. These curved and faceted panels, fissures, overhangs and planar surfaces create a play of light, shadow, geometry and void, together with richness, depth and animation that offer constantly changing vignettes from every viewpoint around the buildings. In this way, the formal geometry and surface texture are what define a building's identity, what individuals, and ultimately a community, are drawn to.
Form and materiality also mediate between two scales: the distant and the intimate. Viewed from across the water, the three forms offer distinctive and identifiable profiles – each unique, beautiful, intriguing and inviting. As you move closer to the buildings, a rich layering and depth emerges, offering a more intimate and legible experience. The individual apartments can be read through the fully glazed twin-skin envelope and winter garden.
Similarly, by night, as the subtle layering of the double skin facade dissolves, each home, each room and each individual is defined within the building grid as lights switch on and off against the sky. So while strong, bold forms and graphic expression provide the overriding identity for the residential community, the variety, richness, colour and texture that's visible closer to signals the more intimate choices people make and reinforce that identity.
Fully glazed winter gardens provided across each building create a sense of openness and connection with the outside. These indoor/outdoor spaces, into which residents can extend their living areas through floor-to-ceiling sliding glass doors, also provide a veil of privacy to the apartments and in inclement weather act as a buffer against the elements.
The fully glazed double-skin facade not only brings maximum natural light into the apartments, it allows spectacular views out from deep within each apartment, maximising the sense of space and anchoring the home within context. In this way, the application of winter gardens and layered transparency between inside and out draws the wider community into the private home, and vice versa, blurring the threshold between public and private, collective and individual.
At the base of and within these buildings are new parks, landscaped courtyards, public squares and gardens, communal space for rest, relaxation, contemplation, transaction and interaction, beautiful green spaces created from derelict private sites, important additions to a city's amenity and assets for the community. Beautiful buildings and spaces with originality, identity and amenity engender a sense of community, a pride in belonging, a desire to engage with, or be part of, a community with shared attitudes and interests, like-minded people gathered together: a celebration of the individual within the community.