The Urchin Café was conceived and built as a sculpture for use as a café by Matthew Sanderson. It sits beside a 19th century gothic mansion, home to the Plas-Glyn-y-Weddw arts centre, close to Wales' Llanbedrog beach. The sculptor teamed up with Mark Wray Architects and structural engineer Fold to realise the scheme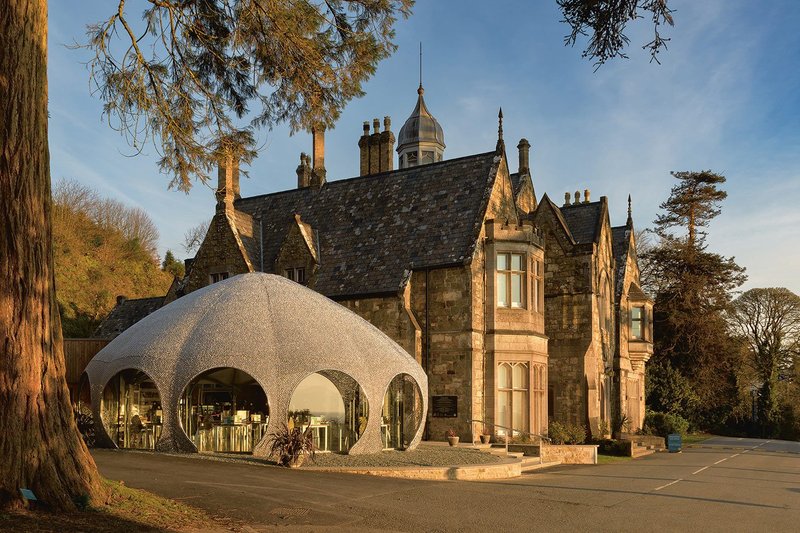 The radical form came out of the knowledge that planners would not accept pastiche proposals for the café.

Credit: Gareth Jenkins
Matthew Sanderson, sculptor
Austen Cook, Fold Engineers
Seb Walker, Mark Wray Architects
How did this project come about?
Matthew Sanderson A chance meeting with gallery director Gwyn Jones led to me being given a brief to replace the gallery's failing 1980s conservatory cafe.
I based my design on a sea urchin to contrast with the Gothic mansion, because I knew the CADW [listed building agency] and planners wouldn't accept anything pastiche. Urchins are found on nearby Llanbedrog beach, so I took the shell and adapted it into an 11m wide, self-supporting structure. Sea urchins normally possess spines, but this structure is covered with 80,000 stainless steel barnacles, as randomly configured as the living colony that inspired them.
Austen is my go-to engineer. On day two I phoned and told him: 'I want to do this'. I sent him my felt-tip sketches and he said 'Ok, that's a really strong shape'.
Why involve an architect?
Austen Cook Once Matt had had a favourable response to his idea, he came back with a more formal approach, saying he was going to build this café and asking me to help. I quite quickly realised that he was thinking he would deliver the whole building, but I knew we'd need an architect to help with the technical details. We share a building with Mark Wray, so Mark and Seb joined the team and we worked on it together.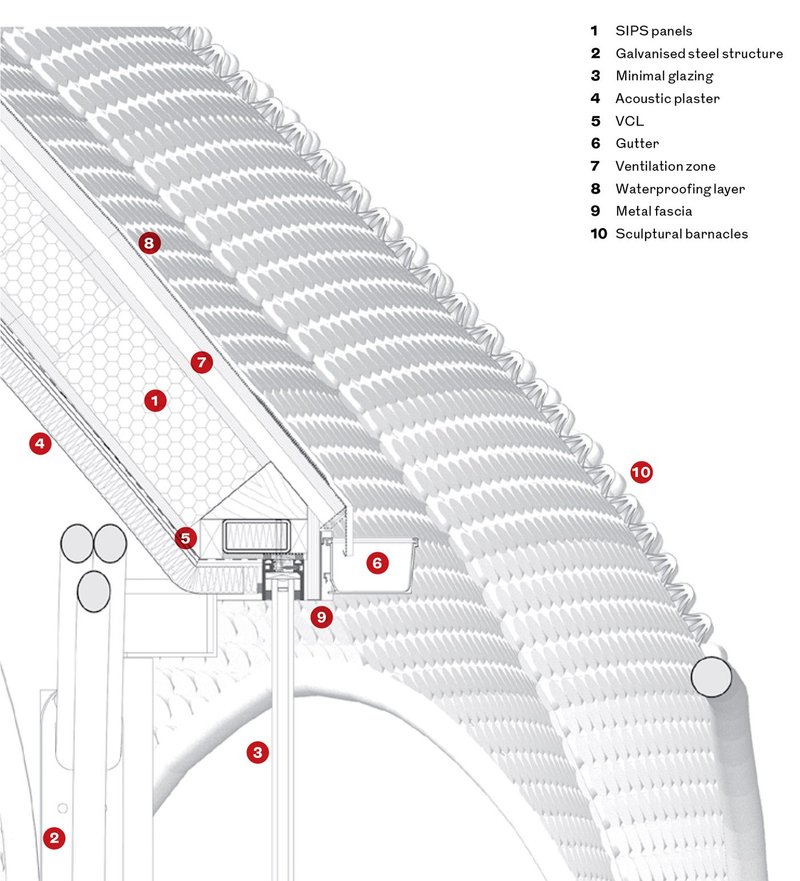 What does an architect bring to this project?
Seb Walker We came on board to develop Matt's concept. We were dealing with a listed building so one of the challenges was to get the scheme approved and through planning. Originally the urchin was attached to the listed building but we separated it with a link to create a space between the two. Moving the urchin created a circulation route and transition between the new building and the historic fabric, and provides level access across the whole ground floor. To the rear of the dining area is a new kitchen and servery contained in a simple larch-clad volume.
The three of us started talking properly once planning and listed building consent had been granted and funding was in place to start the technical design phase. What was exciting was that architect, artist, engineer and steel fabricator and erector were all working together – because Matt is not just an artist, he is also a bona fide steelwork specialist.
How did you develop the design for the steel structure?
AC Every bit of steel in this building is bespoke. The structure is a series of steel elements, tapering and curving along their length, sending us back to first principles to work out what was possible.
SW The building is split into 12 segments, with a larger one over the cuspate door that goes into the main building. We took its five-pointed gothic arch and referenced that in the structure as it goes around the building's perimeter. It was one of the details that gave a nod to the gothic architecture of the original building.
AC The gothic arch acts as the tie around the edge of the dome. It springs from quite low down and has a tall rise, so in discussion with Matt we changed the line of the top chord to get a flatter profile at the ends to make the structure stiffer. We also made the top chord a paired 'shotgun' profile to help resist buckling.
SW We modelled the structure in 3D and exported it into 2D planes, then sent it to the engineer to turn into fabrication drawings for laser cutting to produce the kit of parts for Matt to weld together.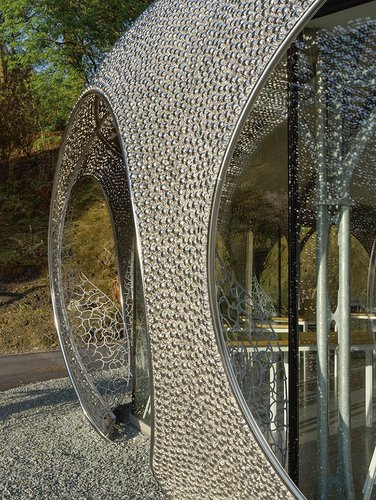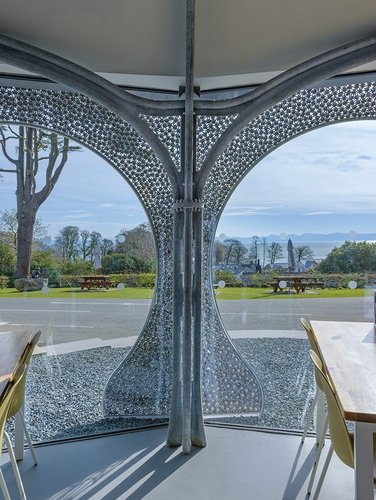 What was the impact of having the steel fabricator in the design team?
AC Matt fabricates everything from plate and tube. He's an instinctive engineer; we suggest a structural solution, he adjusts it to make it more sculptural and then it goes back and forth until we arrive at the solution. If Matt wants to make the structure in his workshop we're limited to using fairly small diameter tubes. For example, each column is four slender pieces rather than a single, chunkier column.
The roof beams taper from the columns towards the central oculus following a Fibonacci curve. There is a continuing negotiation with Matt around the shape of structure to make it look right in the space. It is a very fluid process where we try lots of ideas and make lots of suggestions until we find one that works structurally and architecturally. It's a process of negotiation in making it beautiful well as doing the job structurally
Where is the thermal envelope?
SW We wanted to expose the steel internally so we designed a warm roof, which is assembled from trapezium-shaped SIPs that combine to form the secondary structure and thermal envelope. SIPs form a faceted surface between the curved radial beams; there is a ventilated zone and a waterproofing layer on top of the SIPs, with Matt's curved barnacle layer above.
We wouldn't normally speak directly to the steelwork fabricator and erector, but working as a team we were able to refine lots of little details including how to prevent the glazing intruding on the beautiful steel detailing. We didn't want curved glass because it would make people feel as if they were in a bowl – and it's expensive. So we faceted the glass and hid the silicon joint behind the columns so you don't read it, just the curved barnacle layer behind.
Externally, we backlit the barnacle layer on the roofline: the barnacles on the roof merge with those in front of the glazing so it looks like one continuous sculptural form when the lights are on.
How is the barnacle skin formed?
SW So Matt could set out the curvature of the external barnacle layer, I used the 3D model to produce a surface curved in three directions, like an upturned boat, for each segment. I gave Matt sections cut though this surface so he could build a carcass on which to weld the barnacles.
MS Each barnacle is formed from 316 grade stainless steel using a press, they are then all hand welded in my workshop. Each has a minimum of five welds to secure it to the colony. We could have created the café in standing seam zinc but instead we've created something that makes people look at it; a landmark piece of functional art.
How are occupants kept comfortable?
SW The barnacles filter natural light to minimise solar gain. We wanted to use natural ventilation as much as possible so the oculus opens to let stale air out while fresh air can enter through two opening side windows. A mechanical ventilation system keeps the space comfortable in summer.
Internally, the domed ceiling meant acoustics was a concern so we specified a 40mm-thick acoustic plaster finish. It looks like quilt insulation but is harder and can curve in both plan and section.
To light the space, we've recessed LED strips within the plaster either side of the radiating beams. We didn't want spotlights cluttering the curved roof because we've got Matt's diatom sculpture hanging beneath the oculus.
There is a continuing negotiation with Matt around the shape of structure to make it look right in the space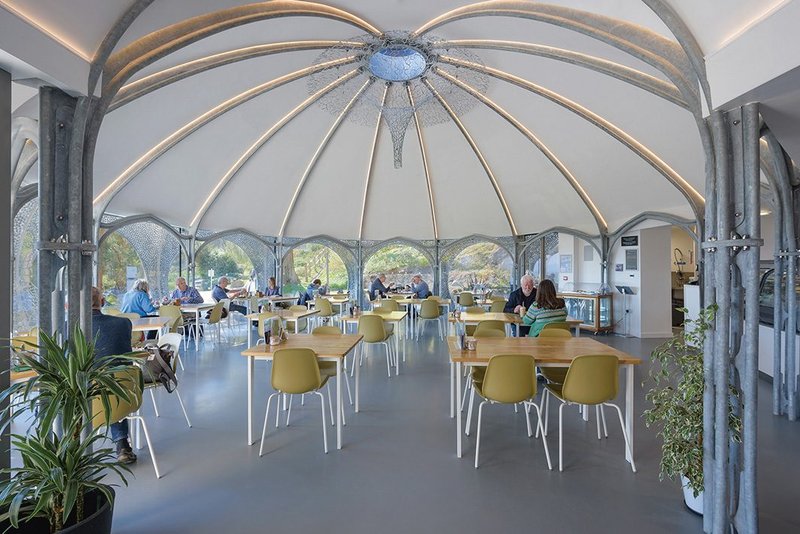 Lighting is discreet to maintain focus on the sculptor's central diatom sculpture below the oculus.

Credit: Gareth Jenkins
What's a diatom?
MS The diatom is the central focus of the whole building. I wanted to create a chandelier but didn't want a Louis XIV statement of wealth so I picked the microscopic zooplankton, 'Litharachnium Tentorium', specifically because it is one of the many creatures that are almost invisibly responsible for carbon capture on Earth. Artistically, the funnel-shaped chandelier is made of the same steel as the building but it's doing a very different thing, which shows that steel can also be pretty and delicate.
Now the café is open, what did you learn from this unorthodox approach?
MS This project has reinforced my relationship with the structural engineer and extended my respect for architects and what they do. It has made me want to work with architects like Mark and Seb more closely in the future.