Design and construction work in the United Arab Emirates is not ceasing. With coronavirus restrictions in place, architects and clients are adapting fast and working out what's next.
When Peter Jackson, architect advisor in HH Ruler's Office, Sharjah, talks to me on a Sunday morning via Zoom, he has just pressed the send button on a unified construction site protocols document. Building work in Sharjah, like other emirates in the United Arab Emirates (UAE), continues throughout the coronavirus lockdown, but with strict measures in place for the safety of workers, contractors and consultants on site. Construction is one of a few sectors exempted from the Emirates' extensive restrictions on outdoor movement.
This year was set to be one of intense activity in UAE, with Expo 2020 Dubai due to open in October. The 2020 exhibition was to be the first World Expo ever hosted in the Middle East or Africa. Though coronavirus has been relatively successfully controlled in UAE compared to Europe – at the time of writing fatalities remain in the low hundreds – by April it was increasingly apparent that a world fair dependent on international travel, with 190 nations participating, could not take place. In early May, the official announcement came that Expo 2020 Dubai would be deferred until October 2021. Retaining the 2020 date in its name, the authorities 'remain committed to hosting the event that will celebrate humanity's resilience, creativity, culture and innovation'. Despite its postponement, construction carries on at Expo, and elsewhere in UAE, decelerated only by health and social distancing measures and a shortage of imported building materials.
A commercial, tourism and cultural hub, UAE is one of the most significant economic centres in the Middle East. Formed of seven member states – Abu Dhabi, Dubai, Sharjah, Fujairah, Ras al Khaimah, Ajman and Umm al Quwain – it is governed by a Supreme Council of Rulers from the seven emirates. Each emirate maintains a degree of autonomy, with its own distinct cultural identity and economic base.
Here, Peter Jackson in Sharjah, Mercedes Gargallo in Dubai and Mark Powell Kyffin in Abu Dhabi convey the range of experiences that working across the Emirates provides as they continue to deliver a rich range of architectural projects amid the Covid-19 crisis.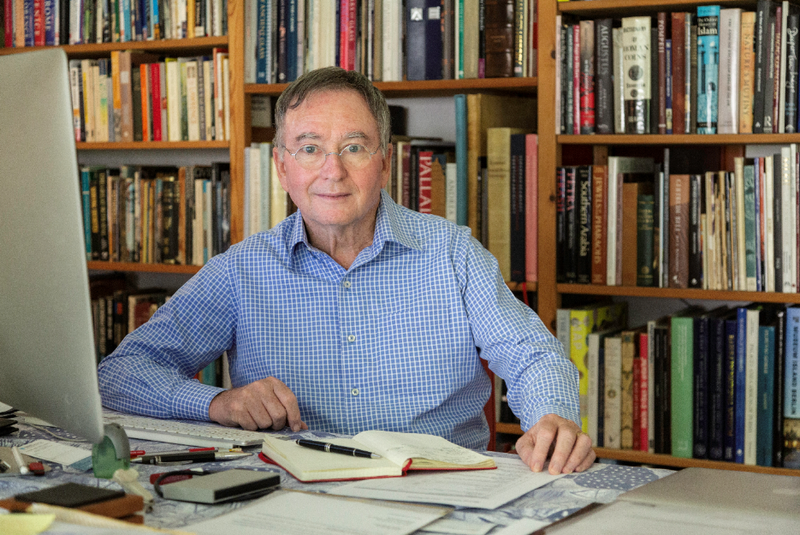 Peter Jackson, architect advisor in HH Ruler's Office, Sharjah, working remotely from home
Peter Jackson, Sharjah
Peter Jackson has an extraordinary job. In his own words, he has 'the privilege' to oversee the development and delivery of special projects for His Highness Dr Sheikh Sultan bin Muhammad Al Qasimi, Ruler of Sharjah. This puts him in the enviable position of working both as an architect and a client, often alongside 'excellent architects'.
At the start of his career in the early 1970s, he worked with John R Harris Architects. He only returned to the UAE in 2002 after three decades in Africa, having established a practice in Zimbabwe. Jackson joined HH Ruler's Office in 2007 as an advisor, with practice experience in the heritage sector and museums. Throughout his career, he has had a deep interest in vernacular architecture, which started with a measured survey of a windtower house, while qualifying, that eventually resulted in the publication of a detailed book on the subject co-authored with Dr Anne Coles in 2007.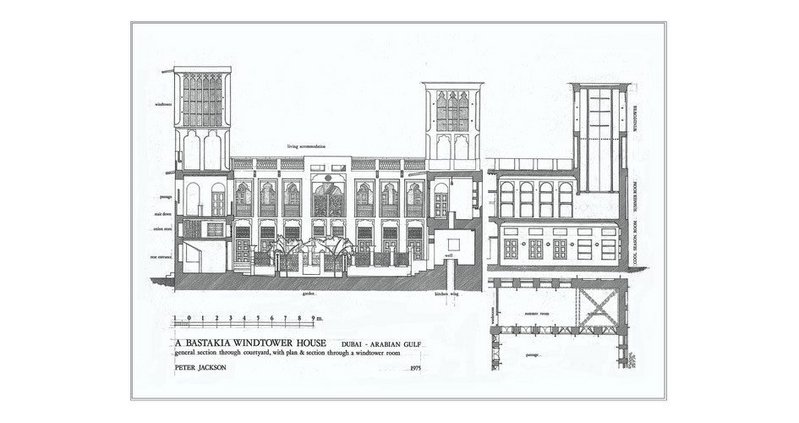 Peter Jackson, section through a windtower house in the historic Al Faheidi quarter of Dubai, 1975.
In the last few years, however, Jackson's work has shifted towards projects focusing on environmental protection, education and interpretation, as retaining the rich biodiversity of Sharjah has become an increasing priority. Located in the north of UAE, Sharjah is the third largest emirate with a population of 1.4 million people. It is known for its culture and heritage: the ruling Al Qasimi royal family have governed since the 18th century. It is also renowned for the beauty of its natural scenery. It is the only emirate to benefit from a coastline on both the Arabian Gulf and the Gulf of Oman. It has attractive sandy beaches, mangroves, salt marshes and acacia forests, in addition to the dramatic mountains and extensive areas of desert, which are characterised by red sand dunes rich in fauna and flora.
The Ruler's architectural projects that bring Sharjah's natural environment to the fore have received international recognition. In 2019, the Wasit Wetland Centre, initiated with Sharjah's Environment and Protected Areas Authority, designed by local practice X-Architects, won the Aga Khan Award for Architecture – the first ever awarded in UAE.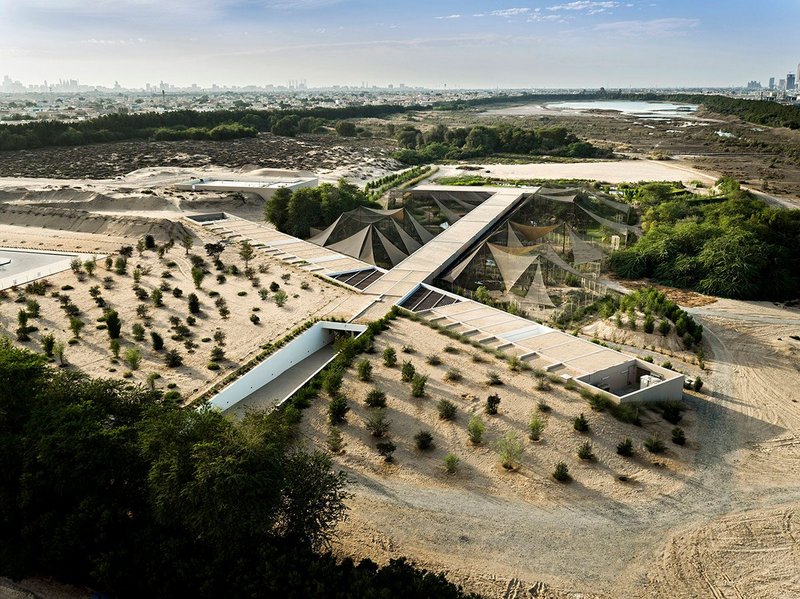 X-Architects, Wasit Wetland Centre, Sharjah, 2012. This innovative interpretative centre by a local, Dubai-based practice was part of a larger initiative to rehabilitate an extensive area of derelict wasteland. Photo: X-Architects.
The most recent of Jackson's projects to open, in January 2020, is the Buhais Geology Park Interpretive Centre, designed by Simon Fraser of Hopkins Architects. Located at the base of Jebel Buhais, a rocky outcrop in the central region, it is located on an ancient sea bed and also possesses two prehistoric burial site from the 2nd millennium BC. The five interconnected pods that form the spectacular visitor centre, reflect the surrounding space-like landscape in their unworldliness, taking their geometry from fossilised urchins found in rocks in the area.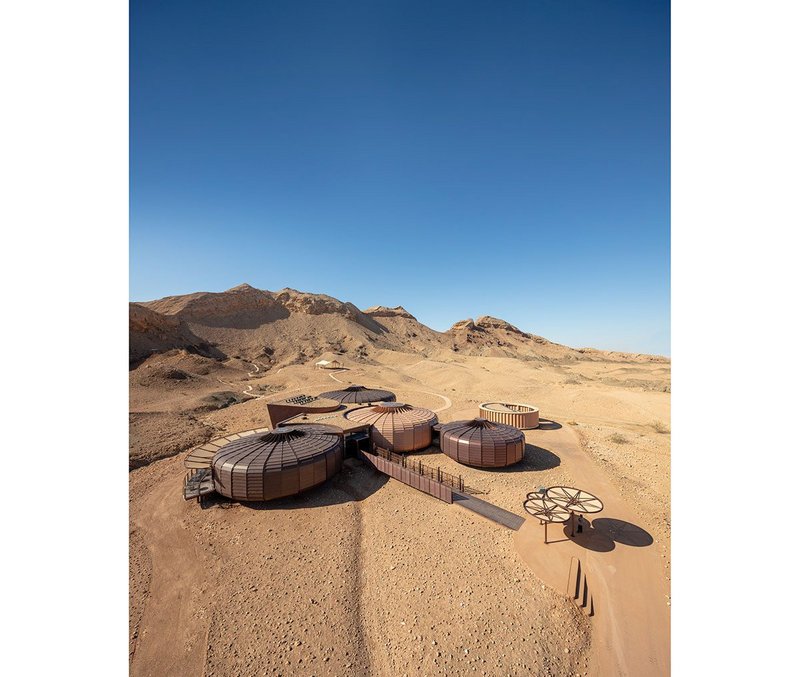 Aerial photo of Buhais Geology Park Interpretive Centre by Hopkins Architects. Photo: Marc Goodwin.
Currently, Jackson has two projects on site: the Al Qurum Mangroves and Turtles Interpretive Centre, also designed with Fraser and Hopkins; and the Sharjah Safari, a wildlife park, intended to create a sustainable tourism destination, contributing to conservation efforts in Sharjah's interior. The park has been master-planned by specialists based in Spain, and implemented through an extensive team of local architects, engineers and landscapers, all coordinated by the Ruler's Office, working alongside the Sharjah Environment and Protection Areas Authority (EPAA) as the client.
For Jackson, 'Very quickly the UAE provided an early and effective lockdown response to coronavirus. Construction was from the start an exempted industry. The continuation of building work has been beneficial for the economy, but also for thousands of construction workers, who have remained in employment.'
In early March, Jackson initially relocated his workspace from the Ruler's Office to a client office on a site, before shortly shifting to remote working at home, except for undertaking regular weekly site inspections. The lower density of Sharjah has meant that it has not had the 24-hour lockdown measures that occurred in Dubai in April. Initially lockdown ran between 8.00 pm and 6.00 am, which was shortened to commence at 10.00 pm through Ramadan.
Jackson himself has transitioned smoothly to remote working. Since early March, the majority of project meetings with contractors and consultants for all projects have moved online. It has proved 'an efficient use of time, as everyone has got used to discussing drawings on screen'.
Site inspections are undertaken with strict protocols in place. The various contractors worked responsibly for the first six weeks, independently with their own guidelines in place. He has collaborated closely with EPAA, for their projects on site, to compile Standardised Preventive and Response Measures in a single document. This ensures that everyone is 'singing from the same hymn sheet'. It contains protocols for site access, disinfecting of site accommodation, and when you do have to meet face to face, retaining a minimum distance and a maximum of 4 people in a room at one time, or a maximum 5 people together outside – all wearing masks. Personal hygiene, particularly washing of hands is strictly enforced.
Inevitably the speed of construction work has slowed due to the broader lockdown restrictions and health measures. The closure of international borders also mean that construction materials are not readily flowing. There have been delays, for example, in obtaining white stone for precast cladding, specialist equipment from Italy, and insulated metal wall and roof cladding. The knock-on impact could be that buildings that were due to complete at the end of summer may not finish until towards the year end.
Jackson is uncertain what the long-term economic implications will be for UAE of the current slowdown: 'In my own projects, there has so far been considerable efforts to resist slowing down, and all signs are of a continued commitment to these investments.' Some new projects continue to be initiated by government stakeholders, even over the last few days. 'Sharjah maintains a strong cultural and educational ethos. While our projects need to pay their way, they remain special, and different – without being blatantly commercial.'
For Simon Fraser, managing director at Hopkins Architects in Dubai and the Middle East, who was lead designer and architect on the Buhais Geology Park and is now working in the same capacity with Jackson on the Al Qurum Mangroves Centre at Kalba on the east coast, Sharjah represents 'a steady pace, which is less rushed than Dubai'.
A big dangling question mark, though, remains for architects in the region over the prolongation of contracts, which were geared up for the completion of Expo in October 2020, but are now being deferred to 2021.
New work and business opportunities, however, are currently perhaps the biggest challenge for architects, needing to retain a pipeline of work to sustain their offices in UAE – Hopkins have a staff of 50. The fast-changing global emergency makes it difficult for the authorities to be turning their attention to long-term investment: 'Government is currently focusing on the issues at hand, finishing work and stabilising the situation.' Fraser calculates, 'it will take 6-9 months to fully understand how business is going to play out'.
After a hectic period, delivering the Thematic Districts for Expo 2020, Fraser is also seeing the benefit for the practice of operating at a slower pace: 'It has enabled Hopkins to commit more time to the early conceptual stages of projects, concentrating efforts. There have been positive benefits to pausing and gestating design.'
For Jackson, the crisis is also an opportunity for architects to exercise their creative and problem-solving skills: 'The global pandemic may have enormous implications for the design of public space: one of our new projects is a park, where people want to interact, but stay safe and feel safe. The same would apply to our souks or contemporary museums. Architects have the opportunity to respond positively to the implications of this. In Sharjah, where there is an onus on the community, engaging in a dialogue with architects about health and use of public space seems especially relevant at this time.'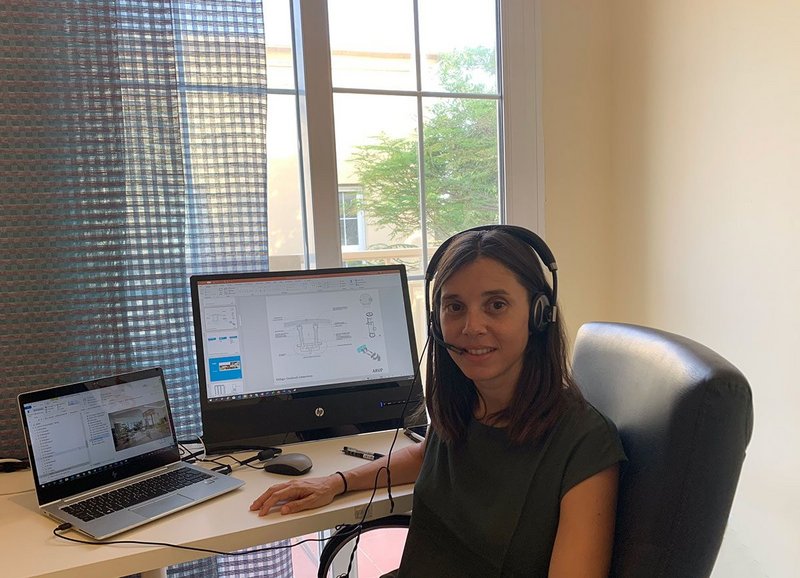 Mercedes Gargallo, associate at Arup in Dubai, working from home.
Mercedes Gargallo, Dubai
On 22 March when the Emirates announced that in a matter of days it was cancelling all passenger flights, Mercedes Gargallo was one of the many expats who chose to stay in UAE rather than risk travelling back to Europe with no immediate prospect of returning. She has worked with Arup for over a decade as a façade consultant, designing building envelopes; she studied Architecture at the Universidad Politécnica de Madrid and has a Masters in Facade Engineering from the University of Bath. In 2013, she moved to Dubai for a two-year assignment with Arup and has remained there ever since.
In Dubai, the lockdown was absolute for a three-week period in April with a 24-hour curfew. An online permit was required to go to the supermarket, but construction sites remained open. With the beginning of Ramadan on 24 April, restrictions were reduced to a night time curfew between 10.00 pm and 6.00 am. Malls also started to be open for limited hours at 30 per cent capacity to retain social distancing.
For Gargallo, the transition to remote working from home has been seamless. The technology already being employed at Arup as part of their global operations. Gargallo was accustomed to spending her day with a head set on, working on international projects.
Throughout the period, Gargallo has been making site visits with precautions in place. She is engaged on several large-scale hospitality projects, all completing for the Expo 2020 opening. Work has, though, inevitably slowed down to accommodate social distancing; any coronavirus cases among construction workers also require a two-week quarantine period for all close contacts. Delays have been further exasperated by the slow delivery of building materials. The hours in which factories operate have been reduced and there is a shortage of containers importing construction products and materials from China and other countries.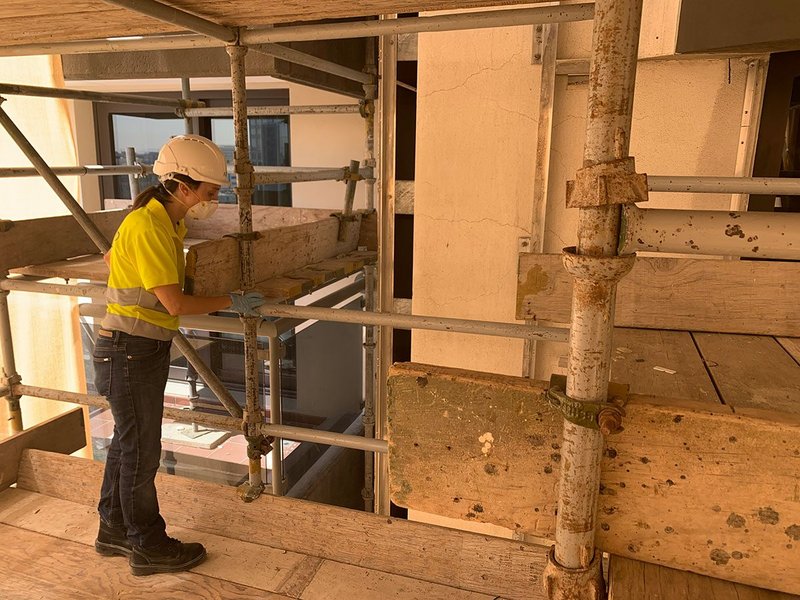 Mercedes Gargallo on a site inspection in Dubai.
It has been necessary to review every project that Arup is working on in the region to confirm jobs and assess the impact of delays and material shortages.
As a commercial hub and tourist destination, it is apparent that Dubai is going to take time to recuperate economically. According to a developer associate of Mercedes, 'it is unlikely to be a V-shaped recovery.' With no international tourism, the hospitality sector has immediately been hit hard. The postponement of Expo by a year has provided a period of grace. UAE's economy, though, remains reliant on the exhibition still happening at the end of 2021, and at scale. Mercedes is still seeing design proposals coming through at a good rate, but there are delays in projects getting started. With Ramadan underway, it is customarily a quieter period for the region, making it difficult to get a clear reading of the situation.
Amid the recent uncertainty, Mercedes has benefitted from sharing experiences at virtual monthly RIBA Gulf meetings with other members, as they encounter similar challenges. She has also made the most of the online CPD seminars now on offer with RIBA Academy. Arup's global reach has also meant that she has been able to learn from the experiences of colleagues in Hong Kong and southeast Asia, who are a couple of months ahead in handling the impact of the Covid-19 outbreak.
Ultimately, Mercedes is confident that clients in Dubai will adapt fast. Attuned to the impact of coronavirus and commercial drivers, they have an appreciation of new needs and markets. This should provide opportunities for architects to be creative and look more carefully at briefs to engage with social and business needs, addressing concerns around health; fundamentally, helping to generate new ways of attracting people to the region.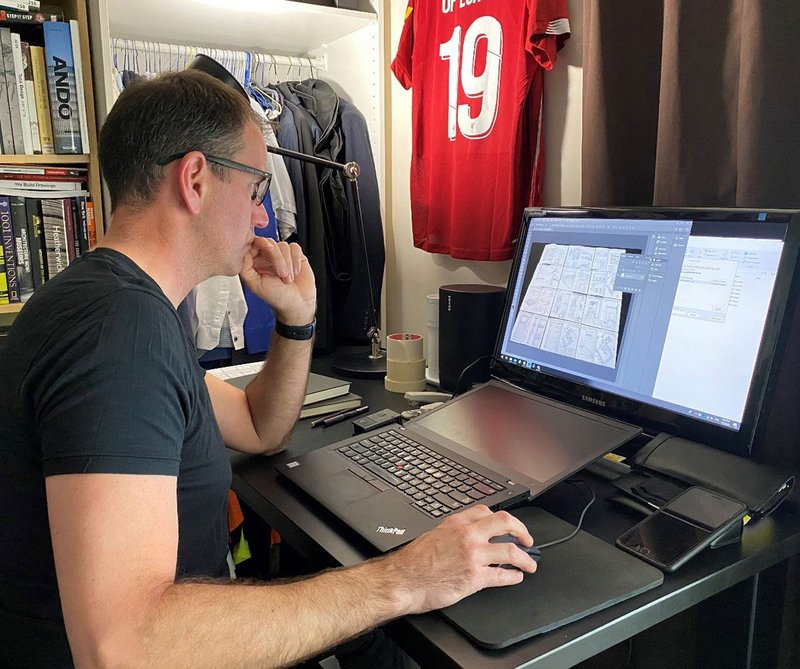 Mark Powell Kyffin, Architecture Head at Abu Dhabi's Department of Culture and Tourism, working remotely from home.
Mark Powell Kyffin, Abu Dhabi
As architecture head in the Project Management and Engineering division of Abu Dhabi's Department of Culture and Tourism, Mark Powell Kyffin is responsible for the design and oversight of high-profile cultural projects. The Department was established in 2012 with the aim of preserving and managing the rich artistic heritage of the emirate and encouraging tourism. The upshot of this has been an ambitious programme of international museum projects. These include Jean Nouvel's Louvre Abu Dhabi, Foster + Partner's Zayed National Museum and Gehry Partners' Guggenheim Abu Dhabi for Saadiyat Island Cultural District.
In addition to these prestigious museums, an important focus of Kyffin's work has been on the development of the Qasr Al Hosn Cultural Park in the city centre of Abu Dhabi, which includes the conservation of an 18th-century fort, one of the emirate's most treasured national monuments. As part of the masterplan for the fort's site, he worked on the Al Musalla Prayer Hall with Danish practice CEBRA, recently completed in December 2019.
High-level plans for schemes in Abu Dhabi's Department of Culture and Tourism are generated by stakeholders in the relevant sectors, but it is Kyffin's responsibility to deliver projects from an architectural point of view. This requires dialogue and the testing of ideas in-house by working up sketches, models, timescales and budgets, before going out to tender. Kyffin insists that 'consultants work with us rather than for us'. Having been on both sides of the design and construction industry, Kyffin regards himself as 'taking a consulting role client side'. As demonstrated by his rich sketch books of new and historic details, he relishes the creative collaborations that his position affords.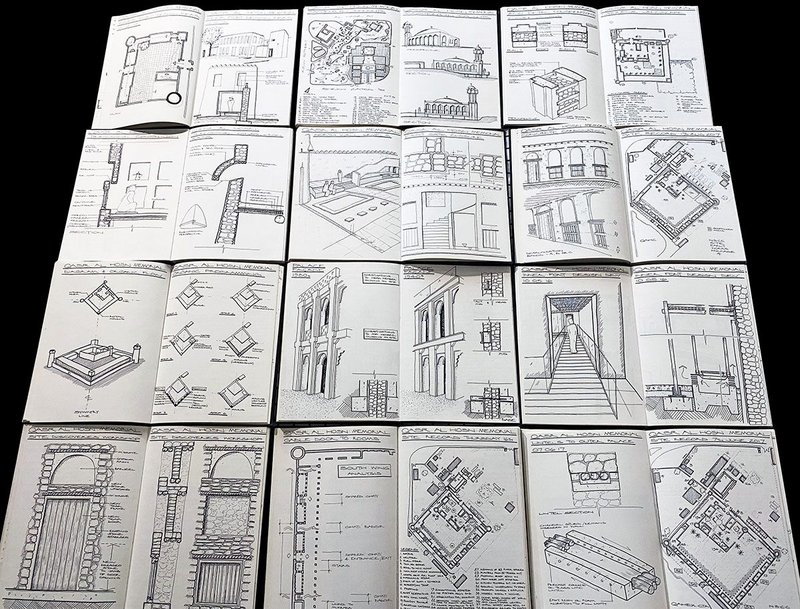 Mark Powell Kyffin's sketchbooks in which he works out ideas for projects and observes historical details.
The restrictions put in place by Abu Dhabi's authorities to combat Covid-19 have for Kyffin been 'strategic, well managed and controlled when compared to the UK'. It has been logically staged, so that at the beginning of March children were required to stay home from school and individuals were discouraged from congregating in malls. By the middle of the month, a curfew was introduced at night, which enabled cleaning teams and drones to be employed to disinfect the city.
Kyffin is not currently engaged with full work forces on site, as most of his projects are at tender and feasibility stages. The greatest impact on his everyday life has been the move from his office to home working. The virtual world he is inhabiting is saving him time, as he no longer has to commute or travel up in a lift from the car park to the department's offices on 13th floor and then down again for site meetings. This should have future benefits for everyone as thinking shifts around physical presence and travel.
Kyffin perceives the main draw to virtual working to be around dialogue. A video link does not allow the same level of social interaction as you are able to achieve in person. It is difficult to read body language and all too easy to talk over each other. There is not the same immediacy to sketching and sharing ideas. You have to go into a virtual meeting prepared, photographing drawings beforehand, disseminating them via WhatsApp.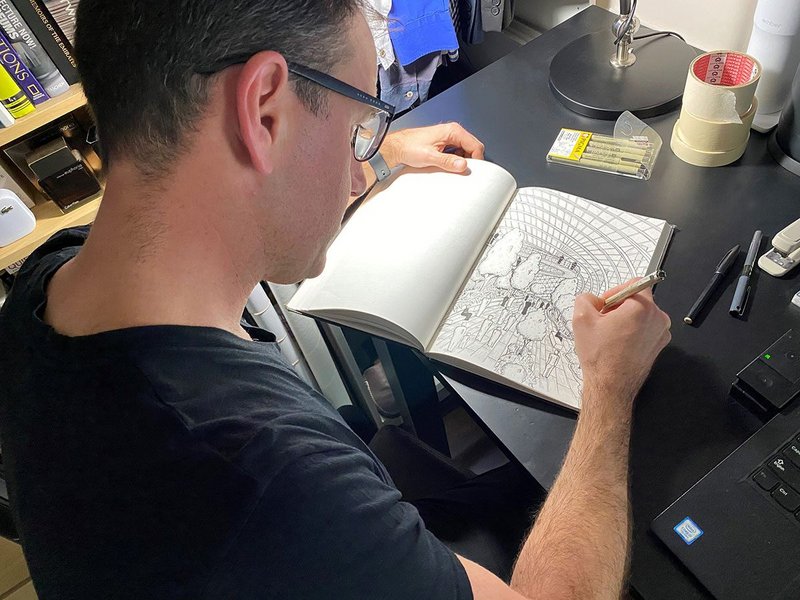 Mark Powell Kyffin sketching from home.
Part of the 'brotherhood of pen and ink', Mikkel Frost, founding partner of CEBRA, shares Kyffin's enthusiasm for the fluency of thinking afforded by analogue design processes. Working with Kyffin, he has benefitted from a client, who is a 'talented architect'. Learning not only about what is required from a stakeholder's point of view, but also about regional building traditions and how they can inform contemporary architecture.
From Kyffin's perspective, work on heritage projects in Abu Dhabi is 'going strong'. Schemes are not being impacted by the pandemic from a design point of view. There are no changes to briefs to meet new spatial requirements. It is a matter of 'waiting for sound guidance from government, before considering how to accommodate public gatherings and screenings'. In the immediate future, before a vaccine is rolled out, it may be necessary, for instance, to allow for temporary structures, such as pods in front of buildings for shielding. He remains 'optimistic that there is light at the end of the tunnel and there will be opportunities to learn from the experience globally'. Architects excel at invention – sharing and solving problems together – and adapting environments. 'It is a matter of designing for people's most pressing immediate needs – hospitals and sanitisation lobbies – but also creating spaces that uplift spirits.'
What the future holds
Architects in UAE, like in every region of the world, remain wistful. Global recession, triggered by the Covid -19 outbreak, seems inevitable – the question is how long and how deep. It is a matter of speculation whether the recovery from the global pandemic will be sufficient by the end of 2021 for confidence in international travel to resume and the Emirates to fully benefit from Expo 2020.
Mikkel Frost, who as an RIBA architect and Dane, acknowledges the mark of quality RIBA membership provides for clients in the region, has real concerns about his practice's immediate pipeline of work in the Middle East. He, however, stresses that CEBRA has faith in the country and are in UAE for the long term. Setting up an office in Abu Dhabi in 2015 has been transformational for the practice's design approach. Having to develop projects for such an extreme climate with an entirely different culture and heritage was like 'starting from scratch'. Just as they have begun to provide shade in their projects in UEA with the use of roof eaves and louvres, they are starting to adopt similar elements in Denmark with a greater awareness of 'local drivers'. The Emirates with its growing sensitivity to its built heritage and natural environment provides architects with rich opportunities 'to simultaneously look back and look forwards'.
Helen Castle is publishing director at RIBA
---