Creating workplaces that promote wellbeing and so raise productivity remains a hot topic. A RIBA Journal/Knauf seminar probed the next step for architects
Panel and chair, from left: Ben Channon (Assael Architecture), Ben Allen (Studio Ben Allen), Marcella Ucci (UCL) Holly Porter (Surface to Air) and Michel Mossessian (Mossessian Architecture).

Credit: Charlotte Collins
Make the workplace healthier and more pleasant and workers will feel better – and they might just be more productive for their employer. This is the argument that lies behind much of the present interest in health and wellbeing in office design. The contention has been founded on research into projects, notably the sustainable refurbishment of 500 Collins Street in Melbourne, Australia, where spruced up spaces with improved HVAC and lighting were found to reduce workers' incidence of colds and flu by more than 20% and prompt contented administrators to up their typing speeds by a pretty impressive 9%.
Such highly seductive arguments have helped add weight to certification schemes like the WELL standard, with its 10 concepts of the healthy building. These manifest architecturally as large windows, green walls or planting, and a focus on indoor air quality and lighting. But beyond that, designing the healthy office becomes harder to pin down, particularly as anything from a demanding boss to a World Cup loss can influence how we feel when we're at our desk on a Monday morning.
What can architects do to help?
A better understanding of the actions architects could be taking was the theme of a seminar earlier this month on health and wellbeing in the workplace. The seminar, hosted by RIBAJ in partnership with Knauf and chaired by the founding director of Surface-to-Air, Holly Porter, brought together architects and one of the field's key scientists before an invited audience at the Knauf showroom in Clerkenwell, London. The panel's scientific expert, Dr Marcella Ucci, senior lecturer in environmental and healthy buildings at UCL, pointed to research architects could use for guidance. 'The evidence is growing,' she said. 'We have a lot more evidence now in areas like lighting, in understanding circadian rhythms, for example. But you can't say that adding a green wall will deliver X in productivity or health and wellbeing.'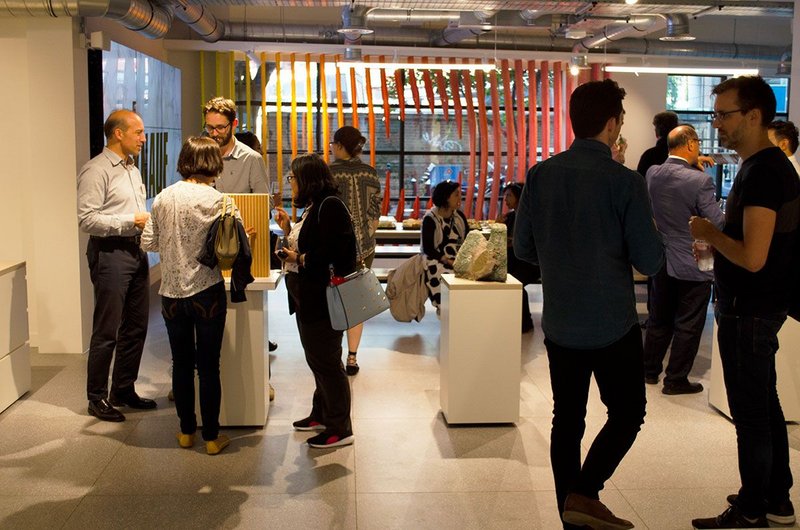 A refreshing break from the office ahead of the wellbeing seminar in the Knauf showroom in Clerkenwell.

Credit: Charlotte Collins
Get people moving
Another area where science has the potential to provide more detailed guidance is active design. Ucci is co-investigator in the active buildings research project, which is developing a model of physical activity in offices to help designers create workplaces that will encourage people to move around more. The research has included looking at the location of refreshment points in offices, and gives an indication of the complexity of human factors. 'You would have thought it would be beneficial to have a greater distance from desk to refreshment point to encourage workers to walk more,' she explained, 'but in fact that didn't turn out to be the case. It was counter-intuitive.'
Apps and simple monitoring devices are taking the understanding of air quality out of the research laboratory and into the home and workplace. 'Foobot tells when you should open the window,' reads the marketing strapline of an app being marketed for £179. Technology might inform the building user, but Ucci advised against over-reliance on it to manage indoor air quality and comfort. 'A building management system can have an optimized design to open and close windows, but we know in reality that's not going to happen. There is a need for a robust design. Technology is the enabler, not the solution.'
Specifying products and materials that are free from volatile organic compounds proved one of the most challenging aspects of the first workplace project in Europe to be certified to the WELL standard, the fit-out of consulting engineer Cundall's office at One Carter Lane, in London. As a result, Studio Ben Allen designed furniture specifically for the project, although manufacturers are now providing more information and security on compliance, added practice founder Ben Allen. The lesson from both Ucci and Allen was that architects must be prepared to interrogate everything, from what workers want in a new office to evidence emerging from health and wellbeing studies. 'It's important for architects to ask what we want buildings to do,' stressed Allen.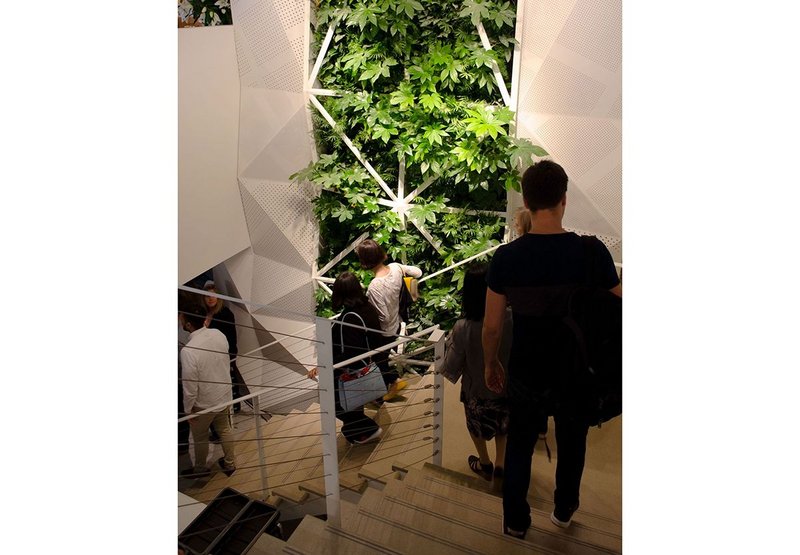 Arriving at the wellbeing seminar in the Knauf showroom in Clerkenwell.

Credit: Charlotte Collins
Offices that soothe
With its pot plants and bespoke desks, One Carter Lane showed how many elements of a design, no matter how small, can influence health and wellbeing. Panellist Ben Channon, senior architect at Assael Architecture, outlined how that applies to mental health and wellbeing, citing the example of his practice's design for Quebec Way, a mixed-use development in east London's Canada Water. 'Hit and miss brick panels allow users to interact with the fabric of the building and experience moments of joy,' he explained. 'There's a question of how we, as architects, can add value through wellbeing.'
This is an approach that Mossessian Architecture's Michel Mossessian has been exploring, including at twin buildings at King's Cross. Some city buildings can 'create stress, fear and annoyance' he said. 'They're designed for you to hate everybody else,' he said emphatically. By contrast, Mossessian has advocated the concept of what he calls spaces of immobility, where, 'you can have the capacity to stay still and not consume.' Mossessian's King's Cross buildings have voids, balconies and public realm – all space that could be considered unproductive by some clients – to allow for stillness and contemplation. They will also deliver long term value, Mossessian argued: 'If you can do three things in the same space, a building can adapt over time.'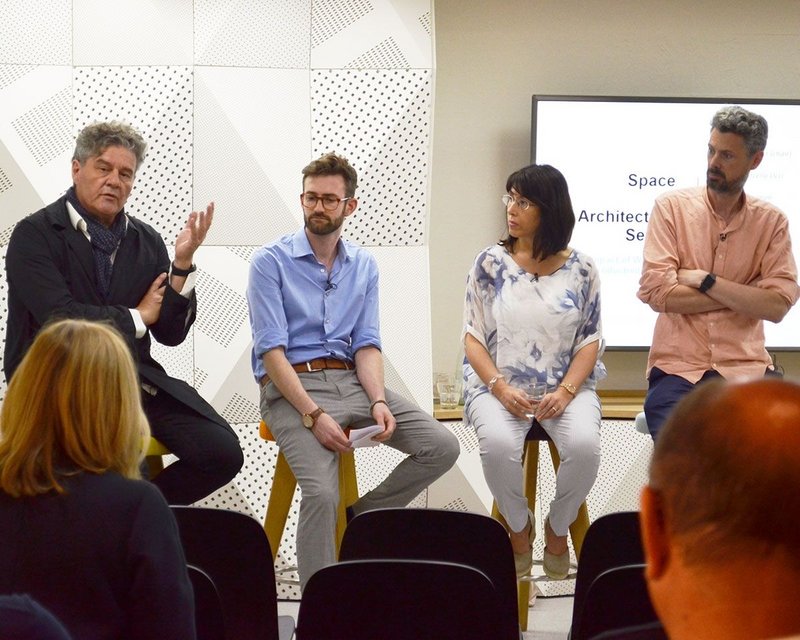 From left: Michel Mossessian (Mossessian Architecture) Ben Allen (Studio Ben Allen), Marcella Ucci (UCL) and Ben Channon (Assael Architecture).

Credit: Charlotte Collins
Such approaches are, however, far from the industry norm, as Ben Allen pointed out. 'The office environment is an increasingly alien place, where floorplates are getting bigger. Our workplaces are designed as if we're children, with office chairs designed so that we never stand up. We've built a counter-intuitive culture, when as designers we should have more common sense.'
Seminar chair Holly Porter had opened the debate with a question for the panel: 'Should architects be making a commitment, along the lines of the Hippocratic Oath?' The debate seemed to provide a strong affirmative response.
---
This RIBAJ Seminar was produced in association with Knauf