Brexit closes off a big source of regeneration funding
So Wales must bid hwyl fawr – that's goodbye – to the European Union. The UK electorate's vote to leave the EU means that the present round of EU structural funding for regeneration will be its last.
For more deprived areas of the UK, such as Wales and Cornwall, Brexit has raised serious concerns about future aid for physical regeneration, training, small businesses and more. The 2014-2020 funding round sees Wales receiving around £1.8 billion in structural funding, with the lion's share going to the 15 local authority areas that make up West Wales and the Valleys. This region, long ago devastated by the loss of mining and heavy industry, has received some of the highest levels of EU aid. It is classified by the European Commission as 'less developed', which means its per capita gross domestic product is less than 75% of the EU average.
All of this may have resonated little with Welsh voters living with the consequences of the region's decline, who were strongly for Brexit, but EU funding leaves its mark in the built environment. From the summit of Snowdon to Swansea Bay via the A465 Heads of the Valleys Road and Ebbw Vale, the products of its regeneration aid are visible.
In the initial years of structural funding, significant support was directed to smaller local initiatives such as restoration and conversion of local heritage assets and town centre improvements. But for the 2014-2020 programme the emphasis shifted to strategic infrastructure, or what the Welsh government calls backbone projects, like the proposed South Wales Metro integrated transport network.
'The learning indicated that the looser approach didn't maximise the benefit of the EU funding,' says Tim Peppin, director of regeneration and sustainable development at the Welsh Local Government Association. 'Even before the Brexit vote there was a feeling that funding was reducing and that community-based schemes weren't maximising gross value added. There's a greater emphasis now on using infrastructure to improve access to employment, on connecting areas of need and areas of opportunity.'
Peppin says it is not easy to gauge to what extent projects have succeeded in delivering the economic regeneration that was the EU's ultimate aim. He points out that major projects like Ebbw Vale take many years to develop and deliver transformation, and other influences can have an impact, for example the closure of high street retailers.'Town centres are in decline generally,' he says, 'so it is difficult to measure success in that context.'
Nonetheless there is much to celebrate in EU-supported projects, says Andy Sutton, associate director of BRE Wales and a past president of the Royal Society of Architects in Wales. 'The projects that have been funded leave a strong legacy in buildings and infrastructure. There has been the aspiration to produce good buildings.'
Sutton points out that as well as structural funds, EU innovation and research funds have helped produce a string of sustainable developments and research programmes. An example is the research on buildings as power stations being carried out by the industry-academia consortium at the SPECIFIC Innovation and Knowledge Centre in Port Talbot. 'The research funding has created hotspots of knowledge,' Sutton adds.
A key building project delivered through EU structural funding is Swansea University's Bay Campus and pro-vice-chancellor Professor Iwan Davies is fiercely proud of what has been achieved there. 'This is one of the top knowledge economy projects in Europe,' he says. 'It is one the best examples of delivering infrastructure to promote innovation, in the way we approached the co-location of academia and industry.'
The first phase of campus development was completed last year. A second phase, which includes AHR's Computational Foundry building, has its EU funding secured and is under construction. Davies says the first phase provided a lesson that may stand it in good stead in a Brexit future. 'It was conceived and matured during the very worst time. It started with 2008 as Lehman Brothers collapsed. We've seen construction under great strain and property prices challenged. But we've seen the campus pass a tipping point to where it can now grow in its own right. The fundamental learning for me from this is not to be overawed by the economic environment.'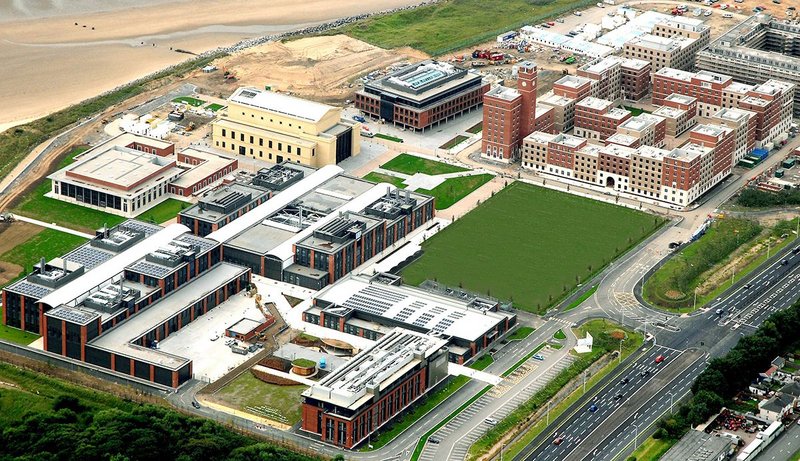 Bay Campus, Swansea University.
Bay Campus, Swansea University
The Bay Campus is a high profile development by high profile architects on a prominent site, beside the waters of Swansea Bay. Its first phase includes the 700-seater Great Hall, student accommodation, a library and research facilities. The project was masterplanned by Porphyrios Associates, which collaborated with Hopkins Architects, and the Princes Foundation for Building Community. The latter is now masterplan custodian. The university wanted to develop more than a set of buildings on the site, which had been a fuel distribution hub. Professor Iwan Davies, university pro-vice-chancellor, says: 'We set out to create an environment that would be inspiring to students, where the public realm would be as important as the buildings, and that reflected the Anglo-American idea of the campus.'
National Waterfront Museum, Swansea
The National Waterfront Museum in Swansea's maritime quarter opened in 2005. It now attracts more than 250,000 visitors and generates more than £7 million in tourist income annually. The design by Wilkinson Eyre combined renovation of a 1902 grade II warehouse with new galleries clad in glazing and Welsh slate. National Museum Wales and the City and County of Swansea drove development with a cocktail of funding from backers including the EU, the Heritage Lottery Fund and individual donors.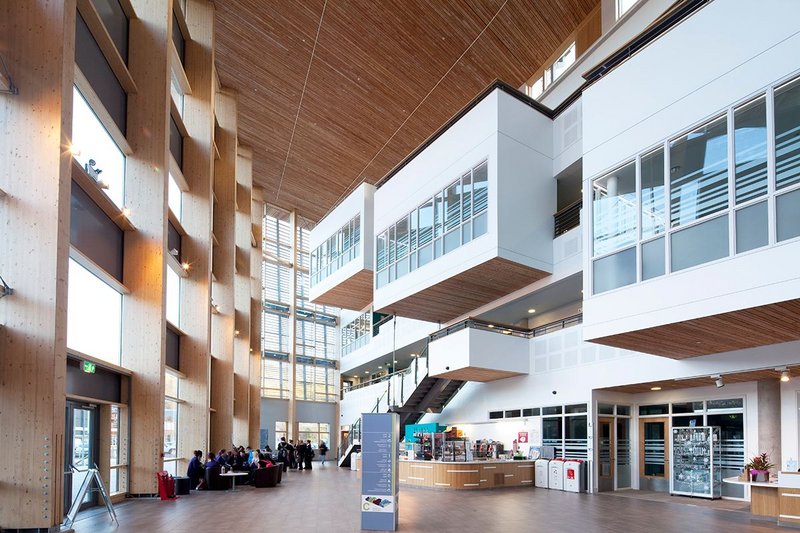 Ebbw Vale Learning Zone.
Ebbw Vale – The Learning Zone
Long before Tata Steel hit the headlines, there was Ebbw Vale. The South Wales works was once the largest steel mill in Europe, but by the 1990s it was shrinking and adapting to globalising industrial markets, with part of the site temporarily hosting a national garden festival. Since then the steelworks site, rechristened The Works, has been a target for regeneration development, including a learning campus and leisure facilities, homes, offices and retail. One of its new buildings is the Learning Zone, designed by BDP, which also produced the masterplan for The Works. The Learning Zone caters for 16-18-year-olds, providing A-level courses and vocational training. The development incorporates natural ventilation, rainwater harvesting and solar photovoltaic panels.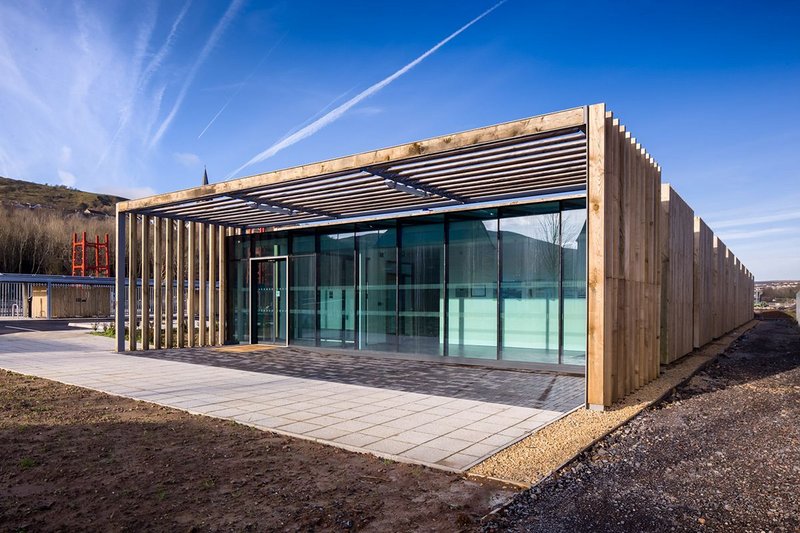 Ebbw Vale Regain Building.
Ebbw Vale – Regain Building
Regeneration and innovation have gone hand in hand to generate sustainable buildings and extend local expertise. The Regain Building, developed on the Ebbw Vale steelworks site in 2011 and funded with the help of the EU's Interreg programme, is a business incubator unit created using sustainable design approaches and materials. The design by Stride Treglown includes blocks from Newport company Durisol, locally sourced sweet chestnut timber cladding and a range of sustainable technologies. The client was Blaenau Gwent County Borough Council.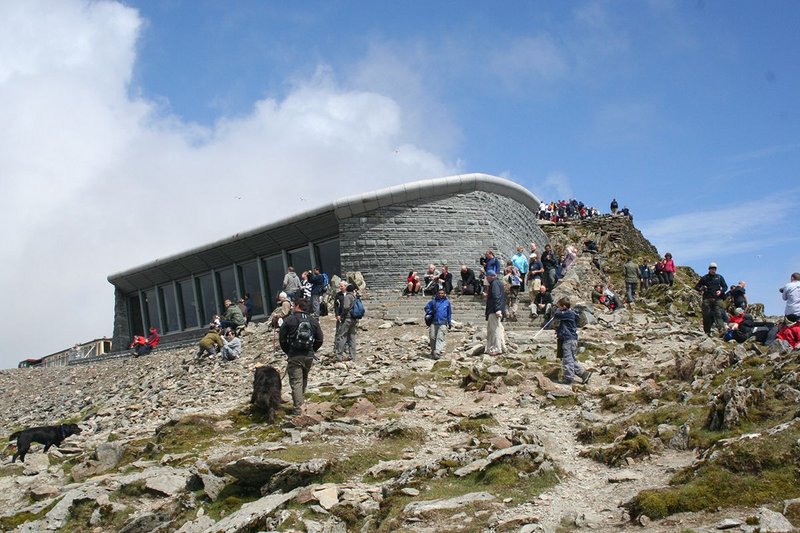 Snowdon Summit Visitor Centre.
Snowdon Summit Visitor Centre
Snowdon's visitor centre, Hafod Eryri, is the highest building in the UK and has been providing refreshment and shelter to ­climbers for seven years. Ray Hole Architects designed the building to withstand the extreme weather conditions of the summit, using local materials including granite and slate from Blaenau Ffestiniog and Welsh oak. The building was funded by the Welsh government, Snowdonia National Park, the Welsh Tourist Board, the EU, Snowdon Mountain Railway and public subscription.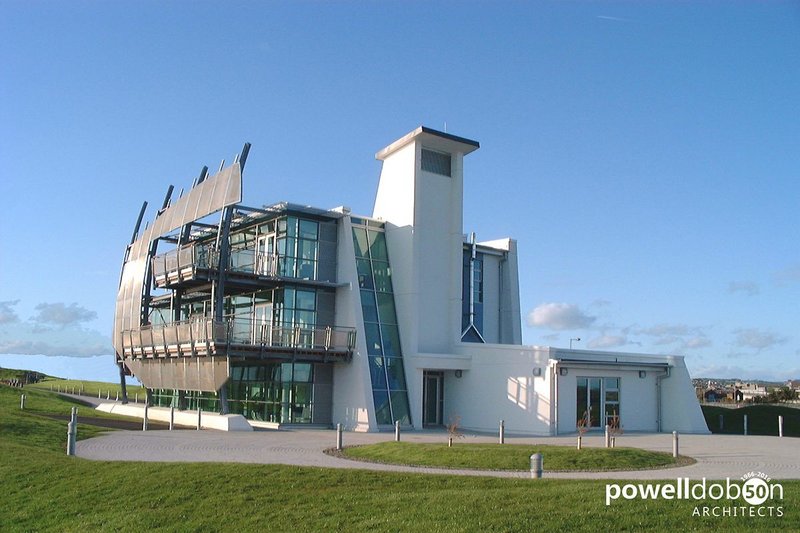 Discover Centre, Llanelli.
Discovery Visitor Centre, Llanelli
This building overlooking Llanelli beach is packed with nautical references, including stainless steel mesh 'sails'. The centre opened in 2004 with a dual mission – as a focal point along a coastal tourist trail and a flagship building for remaining development in the Millennium Coastal Park. Powell Dobson's design, for Carmarthenshire County Borough Council, runs the coastal path through the visitor centre, via an interior spine wall. The centre has delivered on its mission and the coastal park now has wildlife habitats and leisure facilities, as well as visitors.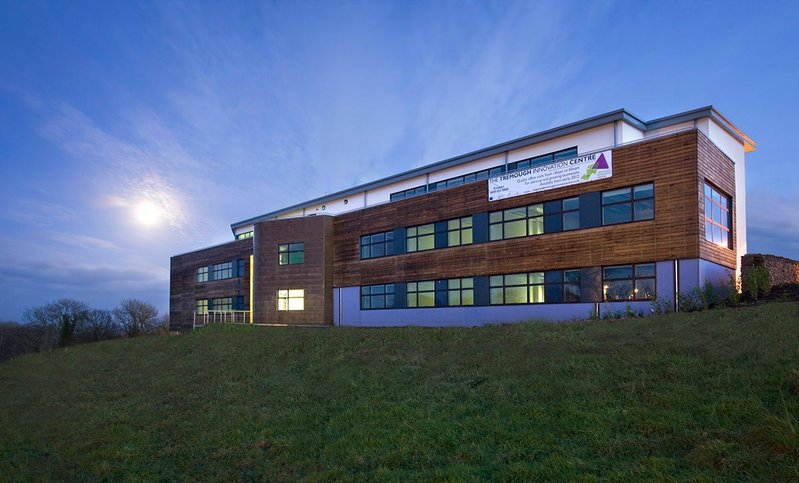 Tremough Innovation Centre, Penryn, Cornwall.
Cornwall
Like West Wales and the Valleys, Cornwall and the Isles of Scilly is classified as a less developed region, and therefore has benefited from the highest levels of EU funding, receiving some £1 billion of aid over the past 15 years.
Grimshaw's Eden Project is probably the best known EU-backed development in the region, but a wealth of buildings, roads and other infrastructure has also received aid. Those projects have included regeneration centred on breathing new life into former mining landscapes, such as the Heartlands Heritage Centre in Redruth and Wheal Jane Earth Science Park in Truro.
There have been new buildings intended to boost innovation, like the AHR-designed Tremough Innovation Centre in Penryn, which provides incubator business space, and to foster community, like Jubilee Wharf in Penryn, a Zedfactory designed scheme that combines artists' studios, nursery, offices, a community hall, café and homes.
The region has more than £500 million of structural funding allocated in the 2014-2020 programme.