Light-filled building challenges paradigm of unhealthy hospitals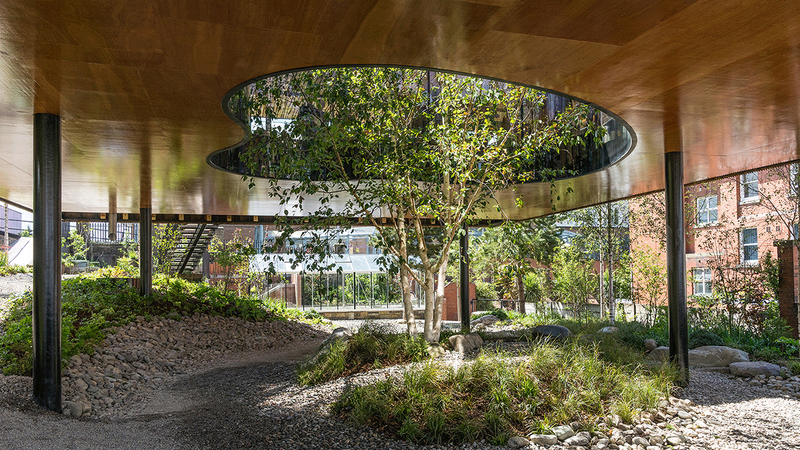 The building is raised above a garden and wraps itself around an established tree – an emblem of hope.

Credit: Jon Cardwell
Building: Maggie's Centre
Location: Oldham
Architect: dRMM
Building type: Medical / Counselling / Hospice
---
The inimitable Charles Jencks, who died only months ago, left an invaluable legacy – the 'Architecture of Hope' that are the Maggie's Centres. dRMM was engaged to design the one at the Royal Oldham Hospital, offering free practical and emotional support for cancer patients and families.
It was a simple brief with complex needs: a practical, anti-institutional, undaunting facility which would raise the spirits, yet situated in hospital grounds, with numerous stakeholders as well as budgetary and time constraints.
The form of the building, the materials palette and the detailing demonstrate considerable thoughtfulness. The building itself is a 260m2 timber structure, pioneering in its use of hardwood CLT and wood fibre insulation, which judge Dan Kerr found to be 'really forward-thinking'. This contributes to a breatheable, healthy environment; one of dRMM's main aims was to 'challenge the paradigm of unhealthy hospitals'.
Thermally modified tulipwood planks clad the exterior. Floor and furniture colours were chosen for their light-reflectiveness and their positive psychological impact. Metal door handles were eschewed in favour of oak, granting relief to chemotherapy patients who feel pain on touching cold objects.
The Oldham Maggie's Centre is raised on six columns that shelter a garden framed by pine, birch and tulip trees. At the centre of the light-filled building, with its view over the Pennines, a mature tree has been left in situ as a powerful 'emblematic presence'.
The centre has social benefit beyond its immediate function, including in the use of local supply chains during construction. As is the case with many Maggie's Centres, educational visits from schools, architecture students, NHS staff and overseas medical professionals directly help with advancements in cancer care, and inspire the improvement of hospital facilities at home and abroad. As judge Hana Loftus nicely puts it: 'They are an amazing organisation doing incredible things – such impact… part of the concept is that it's the architecture that makes the difference'.
---
Click here to see the longlist and other shortlisted schemes
Credits
Client: Maggie's Cancer Caring Trust
Funding: Stoller Charitable Trust
Architect: dRMM
Landscape: dRMM with Rupert Muldoon
Structural engineer: Booth King
Cost consultant: Robert Lombardelli Partnership
Building services engineer: Atelier Ten
Timber advice/research: AHEC
Main contractor: F Parkinson
Landscape subcontractor: Hultons
Structural timber subcontractor: Zublin Timber
Tulipwood supplier: Mid Tenessee Lumber
Machining of cladding: Morgan Timber
Timber framed windows: Aresi
Curved glass lightwell: IPIG
Wooden ironmongery: Allgood/Holt by Mowat & Co
Internal joinery: Uncommon Projects
Furniture: Coexistence
Artist (curtain): Petra Blaisse – Inside/Outside
Find out more about how to design better healthcare buildings for a rapidly changing context and climate in Future Healthcare Design, by Sumita Singha.