Grand Junction restores declining church's purpose with Dow Jones' recondition and modern extension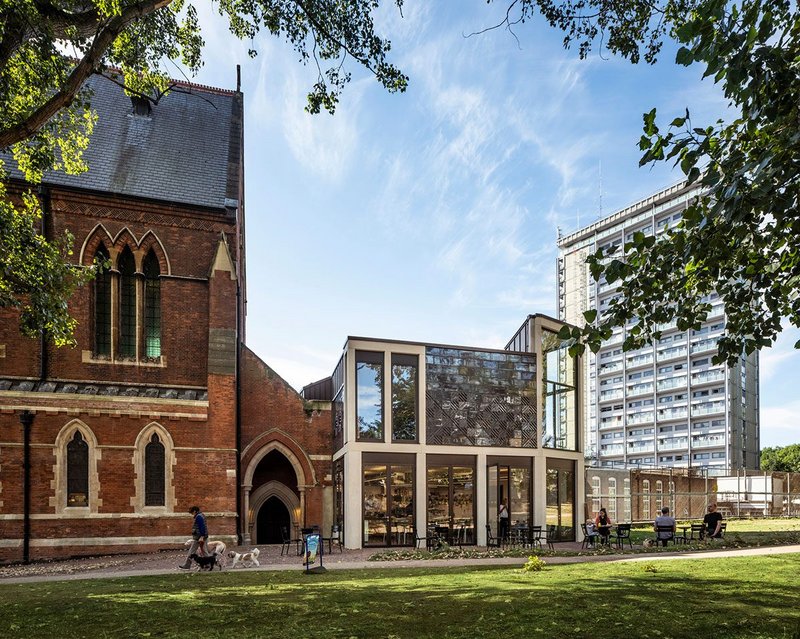 View from canalside park

Credit: Anthony Coleman
Building: Grand Junction, St Mary Paddington
Location: West London
Architect: Dow Jones Architects
Building type: Community Centre
St Mary Paddington, a poorly used grade 1 listed mission church on a deprived estate in west London, has been made accessible as a community centre with an extension by Dow Jones Architects.
Circulation and access issues to the refurbished church are resolved by the slim tower that butts up against it and also acts as an attractor in its own right. Glimmering fiaence plays with the light as a modern counterpoint to the polychromy of the church. A café overlooking a neglected area of local park offers a soft way in to the church, avoiding its potentially off-putting spiritual charge. It has already reduced anti-social behaviour in this outdoor space.
Judge Kathryn Tombling of BDP thought the project 'light and welcoming'. 'It shows a responsibility in design and function' added judge Cecilie Sachs Olsen.
Residents were involved throughout the process, from a regular working group to apprentices and creative workshops with artists to make objects that have been used in the building. These, like the high quality signage – also on tiles – draw out the sense of quality from the simple self-finishing materials of the building.
Regular events including yoga, dancing, after-school clubs and a youth music festival run by the Paddington Development Trust restore some of the church's original purpose. While the extension provides extra space it also gives access to a beautiful piece of uplifting Victorian architecture.
---
Click here to see the longlist and other shortlisted schemes
Credits
Architect: Dow Jones Architects
Client: Paddington Development Trust and the Vicar and Parochial Church Council of St Mary Magdalene, Paddington.
Structural engineer: Momentum
MEP engineer: Max Fordham
Quantity surveyor: William G Dick
Approved building inspector: Assent
Interpretation: Simon Leach and David Sudlow
Artist: Linda Florence
Access consultant: Access = Design
Catering consultant: Lynda Brewer
Main contractor: Lengard