A surreal quality of unexpected juxtaposition characterises Park Palace Ponies, an inner city riding school in a derelict theatre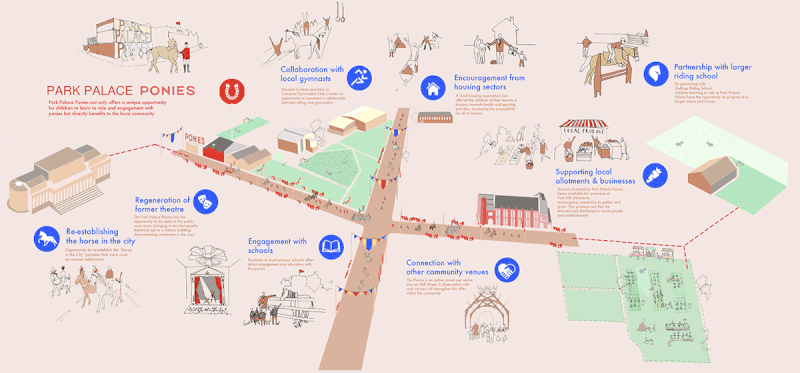 Not as ad-hoc as it seems - here is the plan.

Credit: HSA
Building: Park Palace Ponies
Location: Liverpool
Architect: Harrison Stringfellow
Building type: Equestrian centre
Park Palace Ponies is a riding school for the urban youth of south Liverpool – the Dingle area and beyond – which has a genuinely surreal quality of unexpected juxtaposition. It is inside a derelict music hall-turned-cinema.
It's not posh. The whole business of ponies – their welfare, their tackle, their grooming, the organisation of them as much as the riding and the companionship of them – together presents a varied proposition that urban kids seldom have a chance to experience.
The threatened 1893 theatre was just big enough to make a covered riding school for children, with stables and a shipping-container office placed in a yard outside: the theatre itself, complete with patch-repaired ornamental ceiling and proscenium arch of Corinthian columns and broken pediment, is unheated and draughty but dry. Harrison Stringfellow put together a strategy which includes five acres of grazing on wasteland sites nearby plus an arrangement with local allotment holders to use the manure produced.
Started as a 12-month trial funded by the British Equestrian Foundation, the venture has been a considerable success and could well become permanent and more formalised. But for now, as one of the MacEwen judges, Hana Loftus of HAT Projects, put it: 'They've done the minimum to the building to make it do what it needs to do – there's no gestural anything.' And all the better for that.
---
Click here to see the longlist and other shortlisted schemes