TP Bennett and Fore Partnership deliver Manchester's first BREEAM Outstanding multi-let office building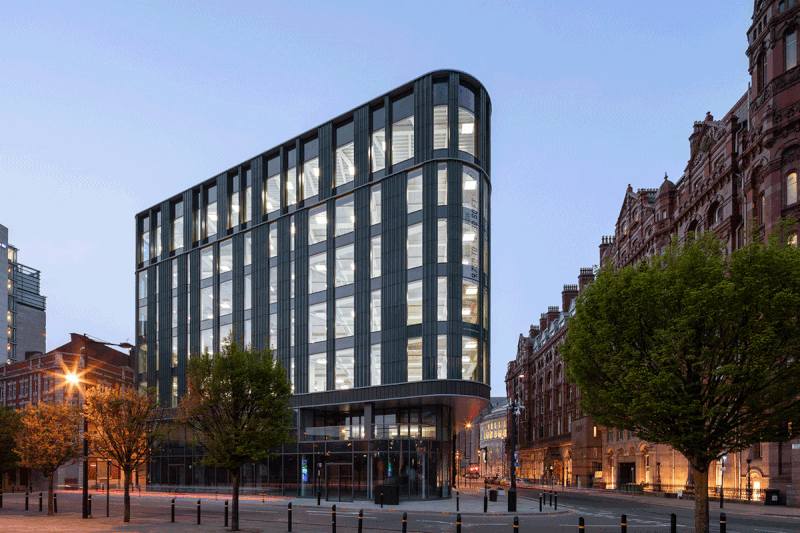 The retrofitted offices retain the shell of a former 1970s' concrete building.

Credit: Pawel Paniczko
Building: Windmill Green Office Buildings
Location: Manchester
Architect: TP Bennett / FORE Partnership
Building type: Office retrofit
---
Windmill Green, an 80,000ft2 office building in Manchester, is the first multi-let office in the city to be rated BREEAM Outstanding. It began life as a vacant 1970s concrete office block that was acquired by FORE Partnership, a real estate investment firm, which engaged architect TP Bennett to carry out a deep retrofit.
The project is a commercial one 'with good intentions', as judge Cecilie Sachs Olsen puts it. FORE was adamant that reducing the carbon footprint and promoting healthy living be intrinsic to the design; one way of doing this was to retain the concrete frame. An efficient facade system interprets local character through the use of terracotta. Bifacial solar panels, ultra-efficient LED lighting and underfloor displacement ventilation with exposed soffits were introduced. Biophilic features include a green wall, a green roof and an apiary. 'Developers and commercial architects need to be doing more stuff like this,' says judge Hugh Pearman. 'The default position today seems to be to demolish rather than reuse. This is a nice riposte to that, and worthy of commendation.'
The building also has a cycle entrance, 40 bike racks, 32 lockers, shower facilities, maintenance centre, a Brompton Bike rental and a free fleet of scooters, made by a local business.
Windmill Green has been a springboard for social initiatives such as a construction skills programme creating 16 apprenticeships for local people, and offers free space for community groups and charities.
The judges were impressed that a commercially driven venture should place sustainability and community so firmly in the picture. 'It has social impact. [You can see] that they have tried here,' says judge Hana Loftus.
---
Click here to see the longlist and other shortlisted schemes
Credits
Owner/developer: FORE Partnership
Architect: TP Bennett
Development manager: FORE Partnership
Employers' agent/project manager/CDM coordinator: Gardiner & Theobald
QS: Walker Sime
Structural engineer: Curtins
M&E consultant: Crooks Walker Consulting
Landscape consultant: Scotscape Smartscape
Acoustic consultant: Lighthouse Acoustics
Approved building inspector: Building Consents
Main contractor: Kier Group
Lenders: Deutsche Hypo Venn Partners