Baggy space and unlooked-for encounters make Wrexham's and arts centre and covered market a hit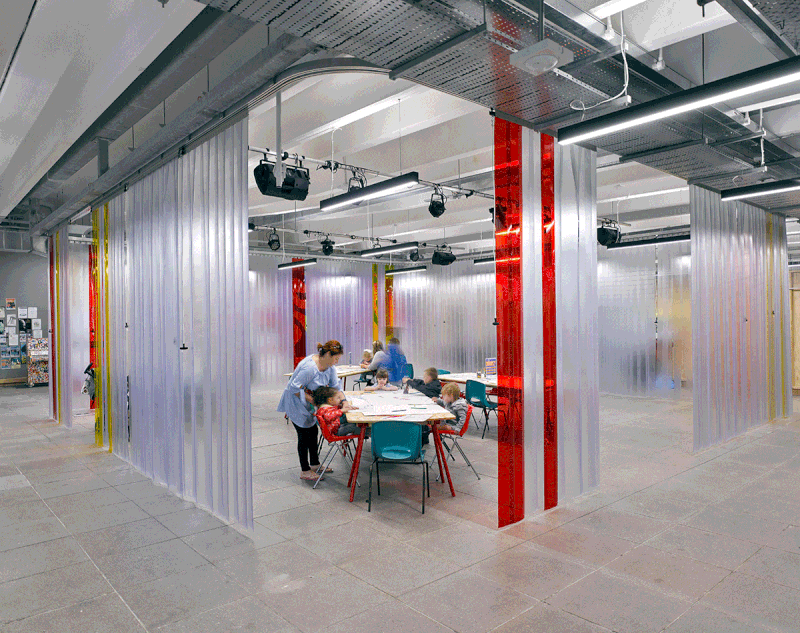 The flexible 'People's Square' can be partitioned with plastic strip curtains for different uses.
Building Tŷ Pawb Covered Market and Arts Centre
Location Wrexham, North Wales
Architect Featherstone Young
Building type Arts venue / Retail / Public space
Tŷ Pawb – meaning Everybody's House – brings together under one roof a local market with a forward-thinking arts centre and gallery. Located in a former multi-storey car park in Wrexham, Wales, Featherstone Young's innovative model – funded by Arts Council of Wales and the Welsh government – enables the arts venue and market traders to benefit economically and socially from each other's presence, while revitalising an overlooked part of town.
The new facilities housed within the building include art galleries, market stalls, performance space, a learning centre, a café and a bar on the ground floor. Above are studios and meeting rooms for artists and gallery staff, which benefit from a view over double-height spaces.
Featherstone Young adopted a deliberately flexible approach to the interior, enabling users to tailor the space according the different needs on a given day. This is achieved through movable furniture, sliding partitions and retractable seating within the performance space; the architects devised a concept they call 'baggy space' – loose and unprescribed areas where users can fill in the gaps. This approach inspired the gallery curators to implement a new type of programming which responds quickly and flexibly to ideas and provides a platform for the wider community to raise important local issues.
Making art accessible and part of 'everyday life' was fundamental. Architecturally, this is achieved with maximum visibility and permeability designed into the building. Interior windows, mesh partitions, gaps in the blockwork and open spaces all contribute to an effect which uses walls as communication devices rather than barriers. In the words of creative director Jo Marsh: 'It's our ambition to create a programme centred on dialogue with the local community [that is] locally-rooted and internationally facing.'
Thanks to its location between two distinct retail areas in the town, Tŷ Pawb acts as a shortcut for shoppers, who thereby come face to face with the arts while not necessarily seeking to do so. Conversely, people specifically visiting the gallery are encouraged to peruse the market and visit local shops, contributing to the wider economy of Wrexham.
It is an imaginative solution to multiple challenges, such as the decline of the high street, encouraging the public to engage with the arts, and the creation of genuinely public spaces for communities to use. As judge Hana Loftus said: 'it's a really interesting project. You can imagine so many spaces being re-used in this way.'
Hugh Pearman agreed, adding: 'It's a good example of the use of low budget materials in a restrained way. Every town in Britain has a car park like this; if we are going to have fewer cars we'll need more reuse of existing structures.'
Click here to see the longlist and other shortlisted schemes
---
Architect Featherstone Young
Building contractor Wynne Construction
Structural engineer Civic up to stage 3; Haltec stage 4-5
Services engineer Ingine, formerly Michael Popper Associates, up to stage 3; ESD stage 4-5
Civil engineer Civic up to stage 3, Haltec stage 4-5
QS Stockdale stage 3, SP Projects stage 4-5
Artist/furniture maker Tim Denton
Graphics/signage Elfen
Photography James Morris