Contour has teamed up with artist Will Clarke and RIBAJ to offer readers an exclusive 2016 wall calendar featuring a Barbican of London print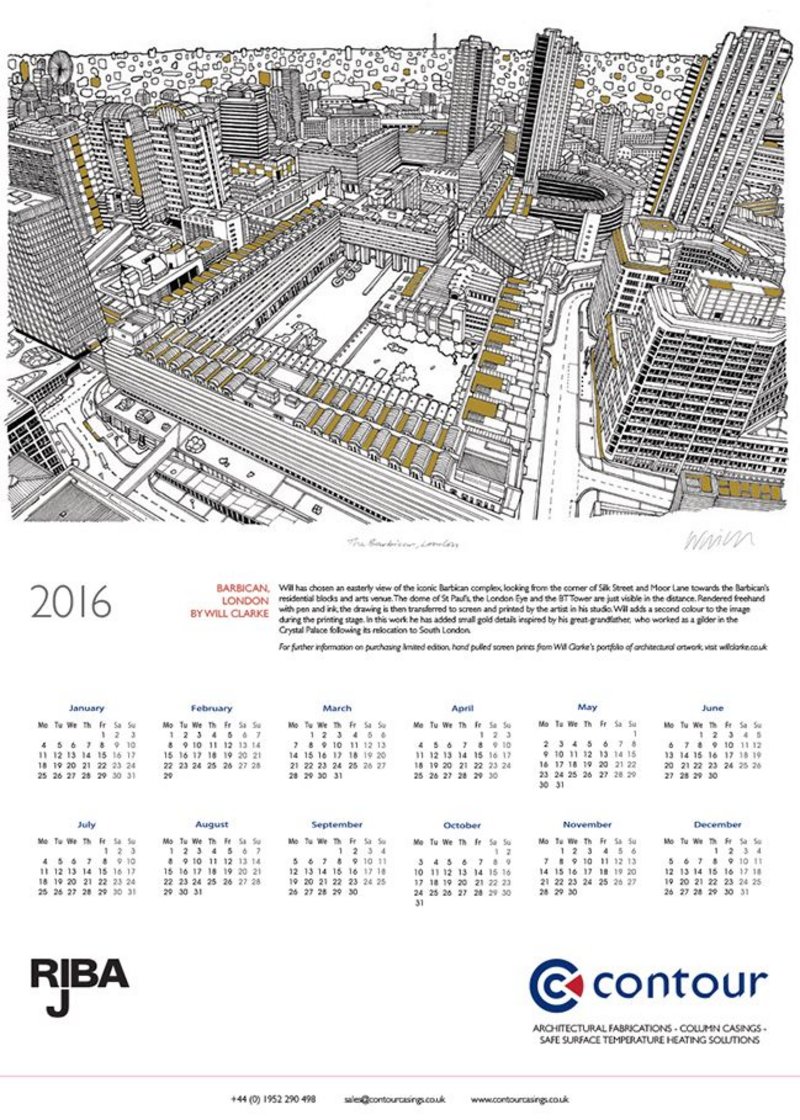 Innovative architectural fabrications designer and manufacturer, Contour, is delighted to announce the inaugural edition of its wall calendar and is inviting applications from architects and building sector professionals for a free copy of this limited print item.
The beautiful, high quality A2 size portrait print (420mm x 594mm) features a reproduction of a screen printed detailed illustration of the Barbican, London, and surrounding area from above in gold and black by Will Clarke, one of the UK's leading architectural artists. Contour has been given an exclusive licence to reproduce the original artwork in association with RIBAJ. The print highlights the Barbican's impressive scale, geometry and brutalist design.
A faithful reproduction of the original screen print, the calendar illustration uses the careful spot application of gold colour to highlight details. Like the original printed illustration, the calendar is a limited edition print. Only 1,500 copies will be available.
To apply for the chance to receive a free calendar, visit www.contourcasings.co.uk and fill in the application form. Calendars are limited to one per applicant and subject to availability. Should the print run be oversubscribed, the allocation of calendars will be on a random basis. Please see the webpage for terms and conditions.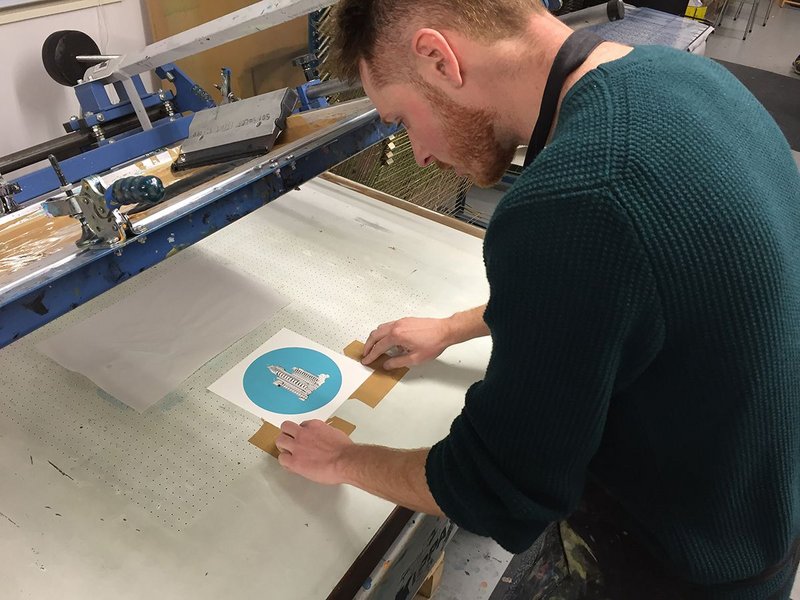 About the Barbican
The 2016 calendar shows the Barbican, Chamberlain, Powell and Bon's pioneering mix-use project completed in central London in the 1970s. Despite common misconception, much of the building was intended to provide exclusive housing, with a number of the apartments on the upper levels of the towers designed as penthouses. This area of London suffered serious bomb damage and loss of life during the Second World War and discussions on what to do with the war-ravaged site began shortly after the end of the war. A decision to build residential properties was reached in 1957 and the Barbican went under construction in the 1960s, with the aim of providing a centre for living and socialising. It remains one of the greatest examples of Brutalist architecture in Europe and is now grade II listed.
About the artist
'I first became interested in printmaking as an art student in Bath, and have now been working as an artist and printmaker in south London for six years. Having experimented with various styles, I now focus primarily on architectural imagery. Some time ago I undertook a six-month drawing of London, as seen from the dome of St Paul's Cathedral, and have been fascinated by architecture and the urban landscape ever since. Screen printing, more than any other technique, gives me the precision and control I need to reproduce very detailed line drawings. To this detail I like to add bright blocks of colour and an element of abstraction – none of my drawings are exact renderings of what I see – in order to produce urban scenes that are animated and, I hope, a little unusual. All of my works are drawn and then screen printed by hand to a limited edition. Each print will inevitably look a little bit different, but I love the variability that is intrinsic to the printmaking process".
About Contour
Contour design, manufacture and install innovative exterior and interior building products including architectural fabrications such as copings, fascia and soffits, column casings, anti-climb protection and LST (Low Surface Temperature) radiators and guards. The company has an entrepreneurial 'can do' spirit and excel in meeting technically challenging specifications where quality is paramount. Contour works in close partnership with architects and design consultants, contractors and specifying customers to deliver their vision. From its 32,000 square feet facility in Telford, the company has the design and manufacturing capabilities, and capacity to tackle almost any project regardless of scale or technical complexity, anywhere in the UK or overseas.