Manufacturer IG is still defining the way we build. Its latest award-winning product Hi-therm+ is the only BBA-approved one-piece design that achieves the appendix R value for steel lintels in Part L 2013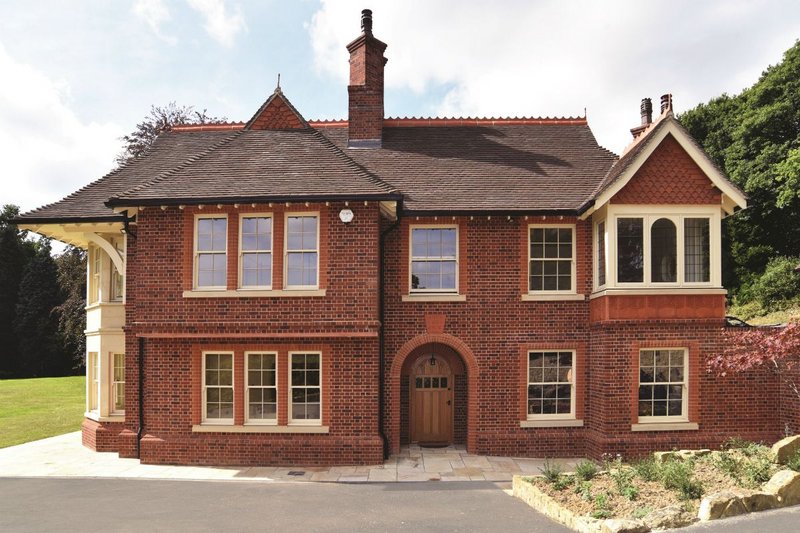 IG Brick Slip Feature lintels were used over the openings of this private residence in Kent. Stephen Langer Architects / Ascent Building.
IG was the first manufacturer to develop a lightweight steel lintel and, thanks to its innovation, millions of UK homes have been built using steel lintels, now adopted as the standard for building. Today, IG's Hi-therm+ lintels are helping lead the way in energy-efficient homes.
Innovation
IG has a history of firsts in the steel lintel industry and a culture of innovation, which is the inspiration behind its Better By Design advertising. The company began as IG Engineering, specialising in steel bridges. In 1967 it introduced the first open-back steel lintel to the market as an alternative to the heavy concrete lintels used at the time. IG was the first manufacturer to insulate a lintel and in 2011 it launched Hi-therm - the first one-piece lintel designed to reduce thermal bridging.
Certification
IG was at the forefront of third-party certified quality and performance and has been liaising with the BBA since 1976. IG's Hi-therm+ lintel remains the only BBA-approved one-piece lintel that achieves the appendix R value for steel lintels in Part L 2013. Launched earlier this year, Hi-therm+ won Best Building Fabric Product at the Housebuilder Product Awards 2018.
Fabric first
This new lintel technology is manufactured on a fabric-first basis with the ability to reduce a building design's reliance on secondary, bolt-on technologies that can often interfere with the integrity of the architectural design. The additional performance within SAP can also remove the need to increase cavity width from 100mm to 150mm, which, over the floorplan of a building, saves valuable interior space.
Design solutions
As well as increased thermal efficiency, other design requirements have changed over time too. 'There has been an increase in demand for more features such as bay windows, arches and light boxes,' says Michael Finn, group design and technical director at Barratt Homes. 'This is a challenge because we've got to make sure we get the lintels right to carry the masonry above these components.'
IG has developed new products to meet this growing demand for bespoke and specialist lintels. The company's Brick Slip Feature Lintels, for example, offer specifiers an off-site solution to intricate brick details.
IG marked its 60th anniversary with a black tie event at the Hilton Cardiff hotel, where guests were treated to a Back to the Future-themed video charting the history of IG Lintels and celebrating its successes.
For more information and technical support, visit iglintels.com
Contact:
01633 486486