Resembling a sleek white ocean liner, a French city's new Regional Environmental Building not only makes a striking impact, its energy performance is also impressive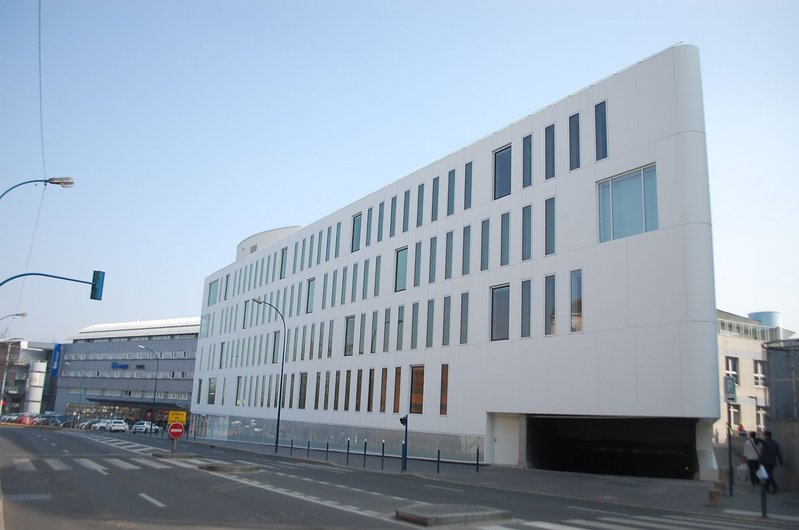 The new Regional Environmental City building in Pantin, France, by Fassio and Viau with DuPont™ Corian® in the Glacier White to the façade and DuPont™ Tyvek® breather membrane as a weather barrier.

Credit: DuPont
The combination of a gleaming Corian® façade together with a Tyvek® breather membrane maximises the benefits of these two hi-tech DuPont products to help create an original, durable and sustainable design by architects Fassio and Viau.
By virtue of its unique, high quality composition, Tyvek® is naturally vapour-open but air and water tight. Robust, easy to install and UV resistant, Tyvek® breather membranes provide exceptional protection, both during the construction phase and over the long term. The white colour of the Tyvek® 45 membrane specified here makes the rain barrier completely invisible behind the subtle open joints of the Corian® panels.
The versatility of Corian® allowed for complex specifications and precise tolerances on this project, including forming to five different angles. A total of 584 panels of 3 different sizes (up to 4.10 metres long), and 12 mm thick were machined off-site to keep material waste to a minimum. Certified Corian® fabricators A.E.A. also worked on site when necessary to adjust the panels to meet certain constraints (e.g. the slope of the street) and for the assembly of the rebates.
Etanco aluminium frames with KEIL inserts allowed for thermal breaks between the façade and the concrete structure to further enhance the building's energy performance which is forecast to be approx. 40 kWhep/year/m².
Corian® currently has the highest level of certification among solid surfaces for façade applications and sponsors a RIBA approved CPD seminar on Solid Surfaces for Rainscreen Facades. Please call: 0800 962 116 or email: sales@corian.co.uk
For more information about DuPont™ Tyvek® in the UK please visit www.construction.tyvek.co.uk or call 01275 337 660