Using Reynaers' bespoke aluminium systems, Greenwich Square has been thoughtfully designed by Make Architects for generations to come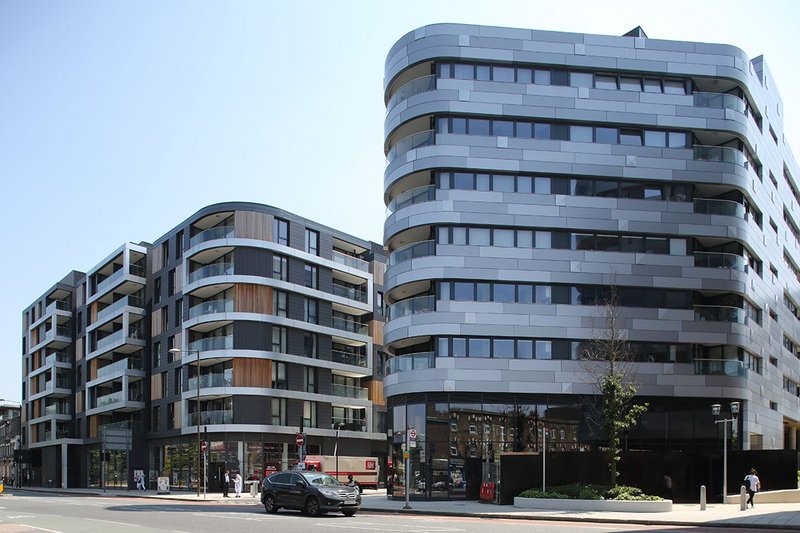 Greenwich Square is an 89,000m² regeneration scheme on the site of the former Greenwich District Hospital in London. Designed by Make Architects, the scheme is a mixed-use project containing more than 600 homes in a variety of apartments and townhouses, and is the capital's first major carbon neutral development.
Curved, swooping facades work with undulating islands of woodland landscaping and meandering paths in harmony with the contemporary, high specification housing – half of which is social housing. The design echoes traditional street patterns to create a sense of place and destination, with main amenities surrounding a relaxed public square and communal gardens. The new restaurants, shops and Greenwich Centre with its swimming pools, gym, library, medical centre and crèche mean that new residents have many of the facilities they need on their doorstep, while being a short walk from the Underground, Thames and O2 arena also.
The scheme has specified multiple Reynaers systems, including CS 86-HI, CS 77, CW 50 and Vision 50. These aluminium windows and doors are well-insulated to control heat and air permeability, thereby reducing costs for residents.
Used throughout the £215m development, Reynaers' CS 86-HI and CS 77 include robust flush door and window systems, which meet the highest requirements with regard to thermal insulation, safety and stability. Several of its aluminium systems, including CS 77 and CS 86-HI, have achieved the Swiss Minergie and Minergie-P component labels based on their low energy consumption. The overall insulation value (Uf) of CS 86-HI+ variant goes down to 1.0 W/m²K, making it one of the most energy efficient systems available. The systems are compliant with burglar resistance classes 2 and 3, offering security and peace of mind to residents.
With unlimited design freedom and maximum transparency, CW 50 is a curtain wall facade and roof system installed across the public square buildings. Vision 50, used in the retail elements of the development, is a non-insulated flush door system designed for ground floor and shop front constructions that is suitable for high traffic areas and with the option of integrated anti-finger traps.
Hugh Moss, head of marketing at Reynaers Aluminium, said: 'This is yet another impressive project which showcases the design freedom, sustainability credentials and functionality of our aluminium systems. The fantastic development maximises glass and aluminium structures by contrasting them against light, space and greenery.
'Sustainability has been integral to the design of Greenwich Square and we are proud that our systems have been chosen thanks to their excellent credentials. Not only do we aim to reduce energy consumption and emissions with our architectural glazing, we contribute to the limitation of energy consumption with the development of our energy efficient door and window systems.'
Sustainability initiatives at Greenwich Square are based around Best Practice Design. This includes a centralised heat and power facility to reduce CO2 emissions, rainwater recycling, green roofing and engineered facades from Reynaers, that are insulated to control heat and air permeability.
The development aims to deliver a Building For Life 'Silver Standard' measured against the quality of the new area, a CEEQUAL rating of 'Very Good' based on the sustainability of the landscaping and public realm works, as well as a BREEAM 'Excellent' rated development to meet Code for Sustainable Homes Level 4 standards.
Greenwich Square was fabricated by Fleetwood Architectural Aluminium Ltd and contracted by Mace Plc. In 2014 the scheme won Best Residential Development at The Wharf Awards, and will be completed in 2017.