Armstrong Ceilings play multiple parts at NORR-designed new biologics centre in Darlington, from adding interest to providing easy access maintenance and assisting M&E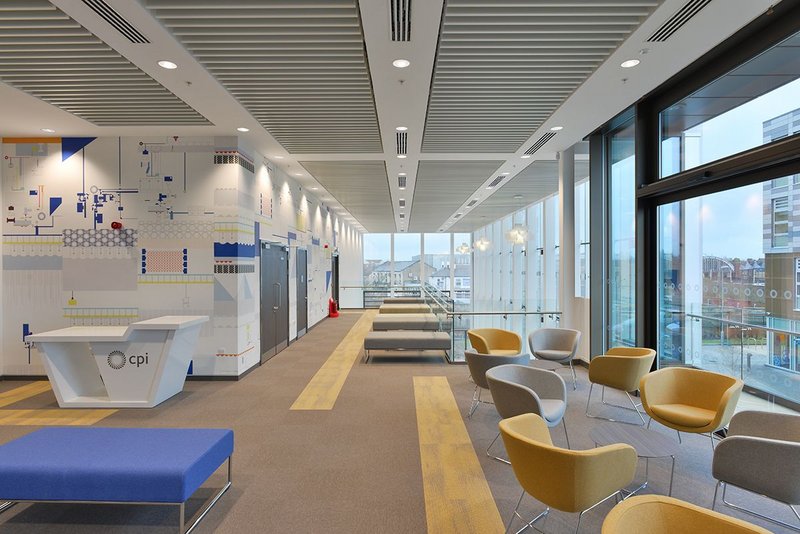 More than half a dozen different ceiling solutions, including wall-to-wall systems, rafts and linear baffles, have been specified by architects NORR for the National Biologics Manufacturing Centre in Darlington.
Developed with a £38 million investment by the government as part of the Strategy for UK Life Sciences programme, the building is used for conducting research on biologic products by promoting collaboration between academia, the NHS and industry. The 5000m2 facility features flexible laboratory and pilot plant areas, dedicated spaces for Good Manufacturing Practices (GMP) process, analytical and technological development, and clean rooms for research as well as offices, meeting rooms, and spaces for training and conferencing.
Armstrong Ceilings systems have been used widely in white for maximum light reflectance. The manufacturer's metal systems Tegular 2 microperforated tiles with acoustic fleece have been specified in the laboratories, B-H 300 microperforated planks with acoustic fleece between plasterboard margins in corridors, and V-P 500 perforated metal baffles at 125mm centres in break-out areas and the double-height reception area. The D-H 700 floating raft ceiling, comprising microperforated panels with acoustic fleece hung from a U-profile grid system has also been specified in the reception area.
Mineral systems specified include humidity-resistant Hydroboard tiles with corrosion-resistant grid and perimeter trim in the changing rooms, Optima Vector tiles on a 24mm grid with shadow perimeter trim in meeting rooms, and Cradle to Cradle certified Ultima+ Vector tiles on a 24mm grid in offices, corridors and stairwells.
A NORR spokesman said: 'The Armstrong systems were specified for the look of the ceiling, the excellent pre-specification service, the great product and that they have been used on similar buildings of quality. Quite often ceilings are missed out, but Armstrong systems enhance the space while providing access, ventilation and acoustic performance. The details were straightforward to create.'