Students realise the potential of lightweight timber construction at Hooke Park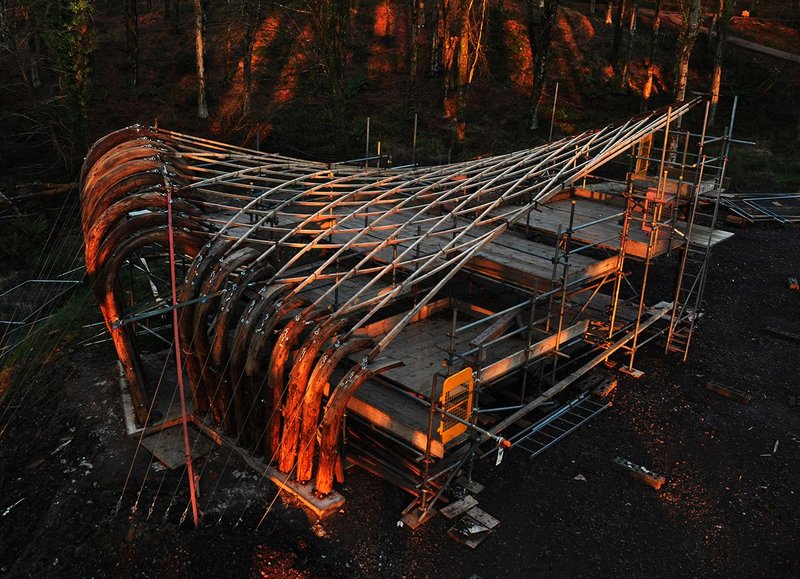 The Sawmill Shelter roof takes shape.

Credit: Evgenia Spyridonos
Whole steam-bent tree trunks and a gravity-defying mesh of thin timber laths form the basis of an experimental tensile timber structure built by students at the Architectural Association.
The Sawmill Shelter was erected on the school's Hooke Park forest campus in Dorset in the latest phase of an investigation into the potential of lightweight timber construction by students on the Design + Make master's programme.
The wing-shaped canopy is formed of thinly jointed timber laths that span 11m over an existing concrete slab. It is supported at one end by 18 hockey-stick-shaped tree trunk columns and anchored to the floor at the other end by a series of tensile steel cables.
'The project pushes the boundaries of small section timber construction by maximising the tensile capacity possible along the grain of the wood,' says Martin Self, co-director of Design + Make.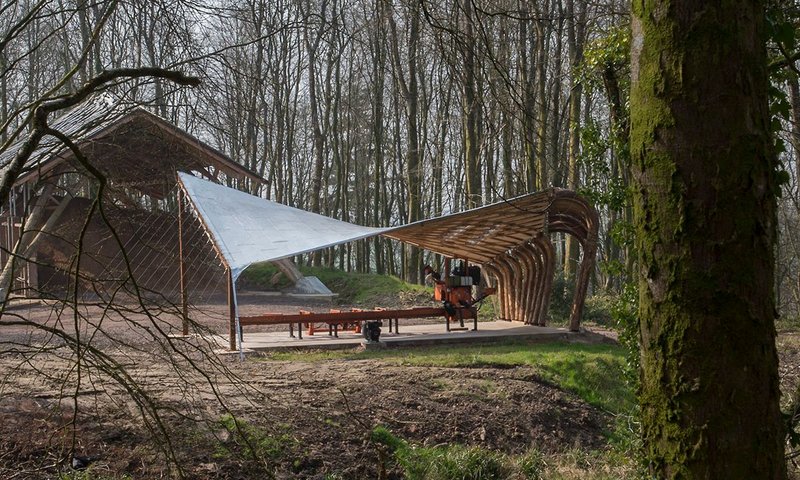 The wing-shaped canopy curves in two directions.
The anticlastic surface curves in two directions and is pulled tight to resist both downward snow loads and uplift from wind. The laths were milled from western red cedar harvested from the surrounding woodland and each can carry up to two tonnes of tension.
'We knew, anecdotally, the potential strength of the timber, but it was only when we started to load up the structure and we had students hanging from the edge that we realised its remarkable potential,' says Self.
The unconventional idea of steam-bending entire tree trunks to create structural columns was the brainchild of student En-Kai Kuo, based on his experience working with a local furniture maker.
The steam-bent ends of the trunks were first cut into longitudinal slices, laminated, then softened in a large 'plastic bag' pumped full of steam. A special jig was used to curve the timber around a defined radius.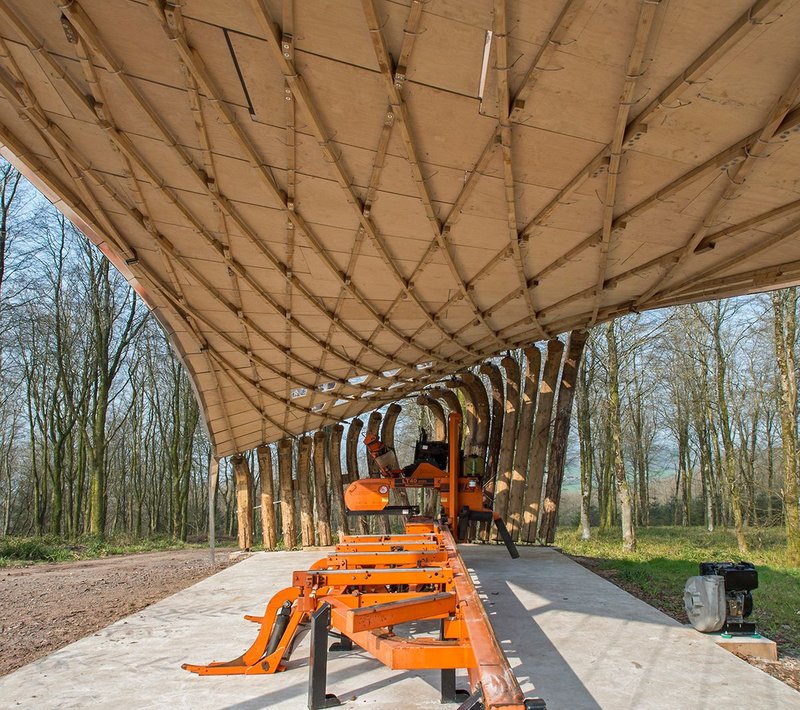 Tree trunk columns support the roof.

Credit: Valerie Bennett
The project is one of a series of prototypes that will inform the design of a new lecture hall building at Hooke Park, to be erected by students this summer.
'This experiment gave us a real tactile sense of the material and the confidence to take it up in scale and push the technology even further,' Self concludes.