VELFAC high performance aluminium / wood windows – affordable quality, affordable style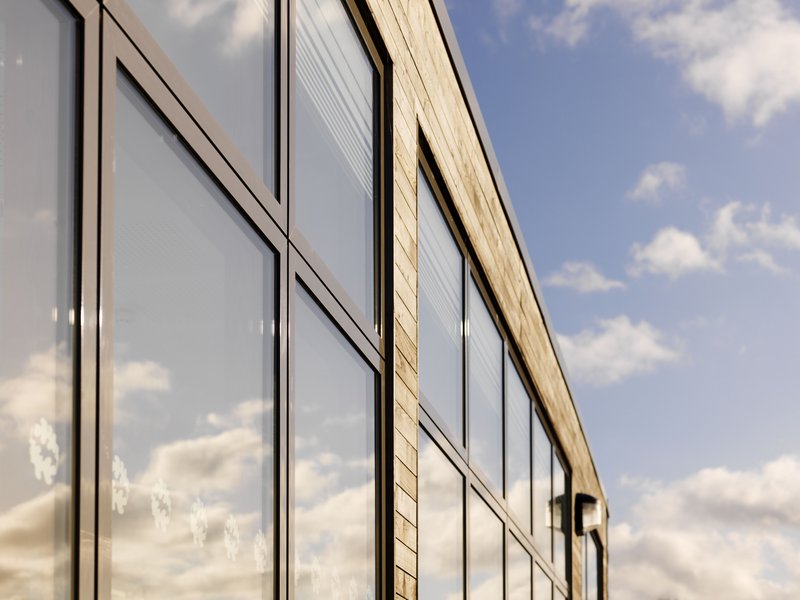 From new build to refurbishment, single window to major curtain wall, VELFAC composite aluminium and wood glazing delivers style, durability and exceptional energy performance at a price often equivalent to all-aluminium alternatives. Installed in commercial and domestic projects across the UK, the signature VELFAC slim frame design is distinctive, versatile and contemporary. Offering uniform sightlines, the external aluminium framing is durable and low maintenance, while pine delivers a natural, warm interior finish. Both frames are available in a wide range of colours and finishes, and the pine framing can also be stained or varnished to maximise the beauty of natural wood.
VELFAC glazing delivers exceptional low energy performance. Double-glazed as standard (with triple-glazing an option), a VELFAC window can achieve U-values as low as 0.8W/m2k, well below the minimum U-value of 1.80W/m2k currently required by UK Building Regulations. The slim VELFAC frame also maximises solar gain and natural light, reducing dependency on artificial heating or lighting to keep energy bills low. Optional low emissivity coatings can be used to control excessive solar gain, or reflect heat back into the interior, minimising 'cold spots' within a room, ensuring maximum use of floor space – right up to the glass.
The VELFAC system carries a 12 year guarantee, and windows, patio and entrance doors are also Secured by Design accredited. In addition, VELFAC offers one of the few systems that guarantees NHBC-compliant performance while also delivering energy efficient, architecturally stunning curtain walling at a price equivalent to all-aluminium.
For more information visit www.VELFAC.co.uk