Lithodecor's Airtec Glass cladding creates a colourful and striking facade at a refurbishment in Munich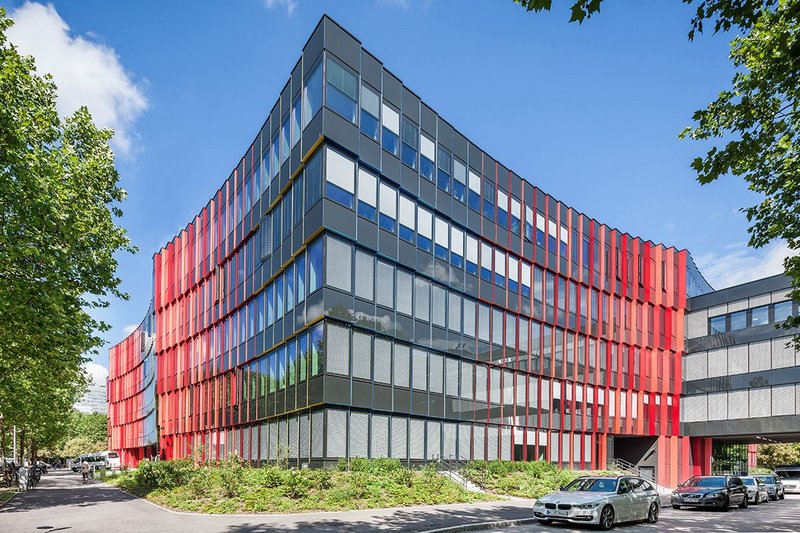 Lithodecor's Airtec Glass ventilated rainscreen cladding system has been a vital element in realising the ambitious concept behind the redevelopment of a prestigious office building for Münchener Rückversicherungs- Gesellschaft AG by German architect Sauerbruch Hutton in Munich.
The unusual colour scheme recessed into the facade gives a stunning and striking effect, as well as a distinctive and changing view depending on the angle from which the building is observed. The architect has achieved this lip effect by using offset vertical pilaster strips. The same colour is applied to the left-hand side of these strips on one facade and to the right-hand side of the neighbouring facade. In total 2550 square metres of the Airtec Glass system has been installed.
The project came about when the Berlin architect's planning team won an architecture competition to refurbish and extend a well-preserved 1980s building, formerly used as the Siemens-Nixdorf computer centre. The key feature of the design concept focused on a completely new facade. The building's appearance has been completely transformed by its dynamic lines. The architect incorporated the recesses in the glass envelope and used them to create the distinctive and elegant curve of the facade. These dynamics are enhanced by the gradual upward projection of the building.
The Airtec Glass system has been an appropriate product to specify for this project because it is an extremely impact-resistant composite panel consisting of toughened safety glass (ESG) bonded to a special lightweight concrete carrier. The panels can be up to 4.7 square metres in size and are fixed in position using special concealed clips that allow each composite panel to be accurately adjusted both horizontally and vertically.
For more information and technical support visit: www.lithodecor.co.uk