AluK (GB) is continuing an exciting business expansion with the launch of the AluK Design Studio in the City of London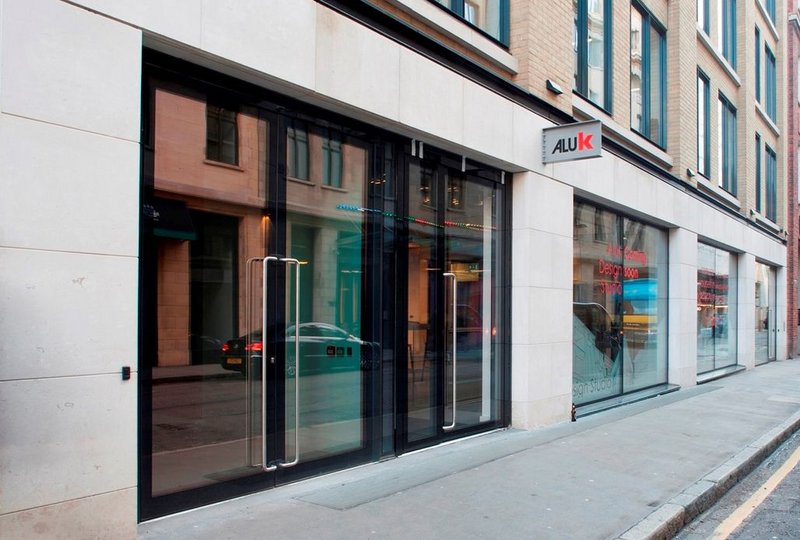 Their new design and product demonstration space opened to the public on Monday 11th April, as they continue to grow in the UK and develop their prominence within the aluminium building systems sector.
The AluK Design Studio is an interactive space for collaboration, discussion, and demonstration, where you can engage with engineers and designers, work in peace and quiet, or simply have a coffee and take a break from bustling city life.
Located in the heart of the City of London, the Design Studio includes full-height, fully working displays of AluK performance aluminium building systems, which architects are welcome to explore and discuss with an expert in-house sales and technical team. Our dedicated Studio team is on-hand to offer one-to-one guidance on how our systems can meet the needs of your projects and to advise on design, configuration, and performance to provide the optimum solution.
Products on display include:
7m high curtain walling systems
Window systems
Commercial door systems
Folding door systems
Sliding and folding door systems
3m high sliding door systems
Solar shading
First sight of new products under development
AluK's goal is to provide a space in which you can immerse yourself in architecture.
From meetings to relaxed working, the AluK Design Studio offers space to everyone in the architecture and design community.
We hold various events that offer networking, education and insight opportunities to industry professionals and students alike. These include Panel Debates, held in conjunction with RIBA J, CPD training seminars, and other events hosted with our business partners and industry organisations. The first Panel Debate, which will be held on 14th April, explores the question 'Does new technology mean that the age of mass production and homogeneity is over?'
The Studio has a dedicated meeting space, which can be used as a convenient Central London base to host your clients or partners, and will also act as an international meeting area for the AluK Group, which operates across the EMEA region and Asia.
Graham Hurrell, AluK's Commercial Director comments: "The AluK Design Studio will be a multifunctional space where exceptional and bespoke technical projects are planned and designed. Our Architectural Project Managers will use the area to discuss individual project needs with customers and prospects. We believe we are the first designer and engineer of aluminium building systems to operate such a facility in a City of London location, providing our customers with an easily accessible space to bring their clients to interact with the newest and most popular AluK systems."
"In the spirit of collaboration, our meeting spaces and AluK resources will be available for use by architects, specifiers, contractors, designers, builders, educational bodies, and other visitors to the studio."
AluK is one of the UK's leading designers of aluminium window, door, and curtain walling systems, engineering innovative solutions that improve our living and working environments. For more than forty years around the globe and twenty years in the UK, AluK's local knowledge and expertise has delivered a complete range of products which offer the form and functionality required by modern buildings.
Through accredited testing facilities and in-house research and development, we ensure our high performance systems exceed many industry standards, combined with the service and support that facilitate successful projects.
Find out more about the AluK Design Studio here.
---