TheSize introduces StrongFix, its proprietary hidden installation system for ventilated facades exclusive to TheSize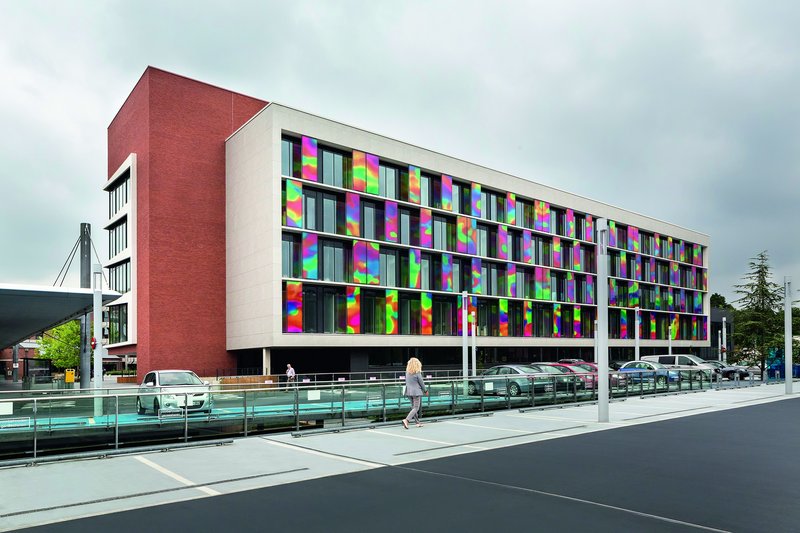 Ventilated façade of the ZOL hospital in Genk, Belgium.
StrongFix is the only one of its kind on today's market for slim 6mm panels. This new fixing system provides architects with an invisible mechanical solution that helps creating sleek looking, sturdy and secure facades.
With StrongFix, TheSize is now able to offer a tailored and customised installation system support to specifiers; starting from the initial choice of Neolith panels, and designing the support system, to cutting and assembling services, and providing architectural recommendations.
"Listening to customers' requirements and surveying the industry, we invested into development of a comprehensive fixing system for an easy and invisible installation of slim panel," said Alvaro Palencia, Neolith's Architectural Project Manager, TheSize. "StrongFix not only fills the gap in the marketplace for such installation system, but the direct support provided by our architectural department means that the projects' lead times and budgets are optimised."
StrongFix is a cost-effective fixing solution that enables an easy and swift installation process. As the Neolith panels are hung to the supporting structure like pictures on a wall, all fixations are hidden behind the slabs, creating a smooth and aesthetically facade. The durability of Neolith panels ensures the pieces will not crack or splinter during maintenance or due to general wear. Furthermore, it allows for an easy removal and access to electrical systems, as well as panel replacement without difficulty.
Used together with StrongFix, Neolith, TheSize's brand of sintered compact surfaces, ensures durability and a long-lasting resilience to UV, high temperatures and bad weather conditions. Neolith slabs also enable permeability, thermal and acoustic insulation, solar protection, and water impermeability as part of an energy-efficient ventilated facade system. Furthermore, Neolith panels have a near-zero porosity, making them resistant to stains and graffiti.
Beyond durability, Neolith by TheSize has expanded its range to a total of 45 colours across its 6 collections and also added new sizes and thicknesses, providing specifiers with further design possibilities.
To find out more about ventilated facades and TheSize's fixing systems, have a look at this installation video here. Or visit the website at www.neolith.com