For the new Waitrose site in Helensburgh, developers wanted to create a design that was visually attractive and complementary to the locale. Specifiers selected Resysta, a new fibre reinforced hybrid material, to clad the building's soffit as it is both durable and aesthetically pleasing.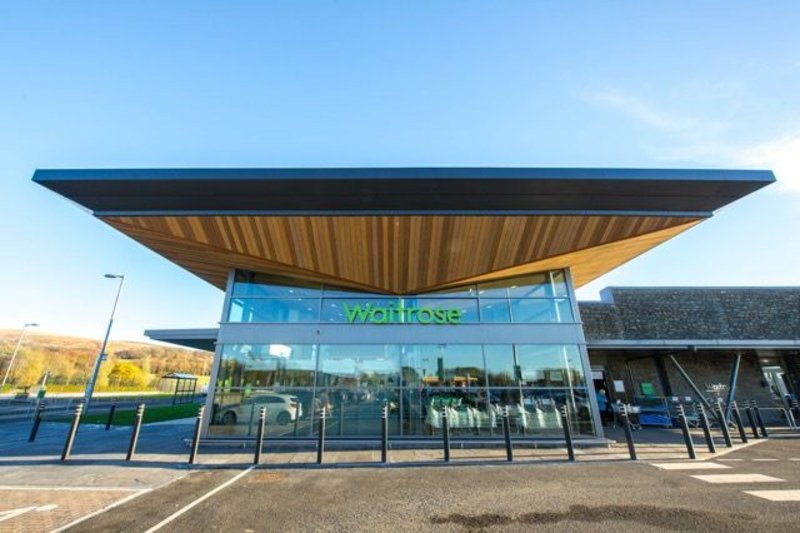 Project Challenges
Positioned at the gateway to Helensburgh coming from Glasgow, the location presented some challenges. Separated from the Clyde Estuary by only the North Clyde Railway, leaves the site very exposed. The marine environment and frequent rain meant that specified materials needed to be able to cope with these demanding conditions. Using traditional timber cladding would be a challenge, if not an impossibility because the material would deteriorate over time.
Visual design requirements were also an important consideration in the building's planning, as the Helensburgh City Community Council (HCC) published a Design Statement to promote and encourage Design Excellence in future developments. Central to these guidelines were the obligations that future developments would integrate with the immediate and wider locale, and deliver variety and distinctiveness in terms of design.
The store's prominent location makes it visible from the Cardross Road between Helensburgh and Glasgow, lending even more importance to the look of the materials used. This was a concern when specifying soffit cladding, as it is such a large feature of the building's design.
Solution
Resysta was used for the soffit of the building as it:
Complied with HCCs design statement in terms of blending in with the natural materials used in both this construction and other developments in the area

Copes well with the environment
Resysta looks and can be worked like timber, yet it is water resistant, highly durable, defect free, and sustainable. The fibre reinforced hybrid material is produced from approx. 60% rice husk, 22% common salt and 18% mineral oil; making it an environmentally friendly option in terms of saving trees and recycling waste materials.
Resysta is not subject to any fluctuations in size caused by humidity and whether lacquered or left raw, Resysta does not need a maintenance cycle. Resysta does not silver or grey like timber and will not rot. This means that the soffit of the Waitrose store will continue to look new and will retain its colour.
Results
This is a superb example of how a progressive material is able to deliver the performance required in a marine environment and look aesthetically pleasing.
Andrew Thorp, Manager of Architecture for Waitrose commented, "We are trialling Resysta as it is an alternative to timber that looks great and is low maintenance. You would never know at our Helensburgh store that the soffit wasnt timber".
The cladding is expected to endure the wet conditions of the location with very little upkeep, so the soffit will continue to be an attractive focal point of the building for years to come.
---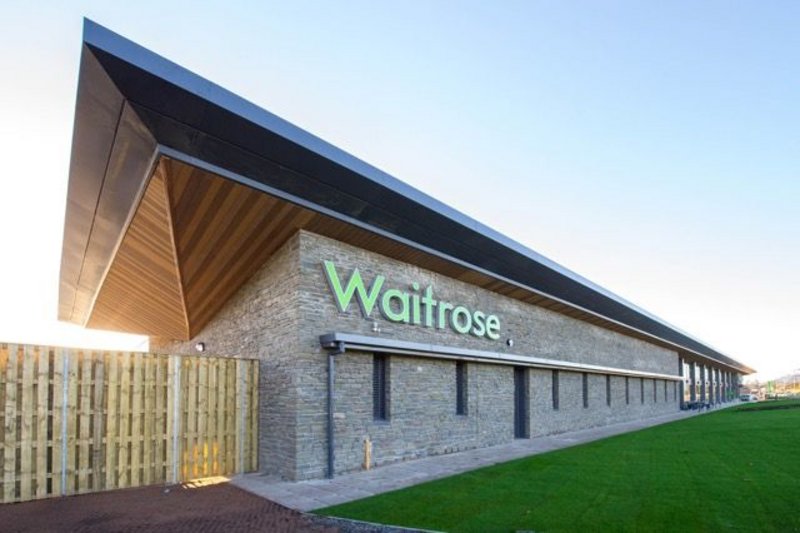 Falcon Panel Products are the UK distributor of Resysta's range of products including; cladding, decking, screening and louvres.