Integrating BIM while protecting practice personality is key. As Vectorworks introduces its 2020 release at this month's Design Day, for DMA's David Miller what stands out is the move to a more data-driven process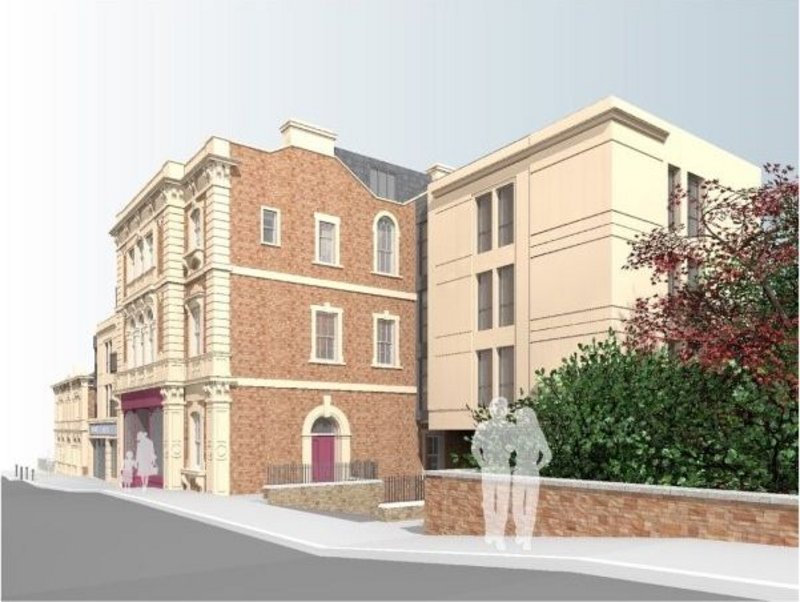 Case Study 1: BIM on Mid-sized Projects, O'Leary Goss Architects. Robert O'Leary has been using Vectorworks since it was MiniCAD so he is very familiar with its strength as a 2D drafting and presentation tool. As the practice has moved to 3D modelling and BIM, it has worked hard to maintain a good quality graphic output.

Credit: 3D model of Down Hill Road. O'Leary Goss Architects
It was just as the then Housing Minister Esther McVey's Conservative Party Conference speech was trending on Twitter and animating architects, that I attended the 2019 Vectorworks Design Day UK at 30 Euston Square. Her reference to '3D architects, 3D visionaries, doing it with it on a computer' was what seemed to get the profession worked up, provoking many to point out that computer-aided design has been around for years and that we're all doing it.
I wonder, though, whether the point she was trying to make was more about the move towards a design and construction industry that is more data driven. This is a move that is largely being led by the government's buying power through initiatives such as the BIM Level 2 mandate on government-funded projects and, when it comes to BIM Level 2, we can be fairly confident that we're not all doing it.
For a number of practices, the challenge is adapting to changes such as the BIM mandate while maintaining our current business in order to pay for it. This is where it is clear that Vectorworks understands its customers. Many practices distinguish themselves in a crowded marketplace through their design and communication skills. The visual identity of a practice is carefully considered and hard won. Vectorworks has a reputation for being able to produce beautiful drawings and for having an output that is customisable and adaptable, allowing a practice to express its own personality. As we move towards the building information model being a project deliverable, how do we respond without losing sight of that hard won visual signature?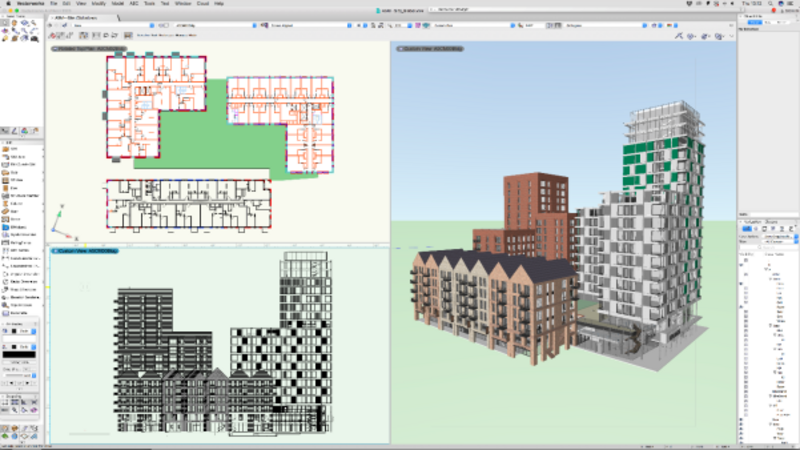 Case Study 2: Build it Minimally: A Plan for Using BIM, Studio Partington. Colin Davis thinks the BIM tools in Vectorworks provide the opportunity to 'own the process'. The practice has aligned its workflow to BS 1192 and started the move towards a single information model on sizable residential projects.

Credit: Screen shot of BIM for Upland Quarter, Cotton Quay, Salford. Studio Partington
This is where Vectorworks has taken an 'evolution, not revolution' approach. The product has continued to evolve while maintaining its customers' loyalty and this was in evidence at the conference, with many of the contributors referring back to MiniCAD (which became Vectorworks in 1999). The 2020 release has many new features, but what stands out is a careful balance between new BIM and enhanced presentation tools.
There are a number of interesting developments to enhance BIM workflows.
The new Data Manager tool is intended to simplify the data management within a project. It appears to be a visually intuitive way of arranging your information workflow and customising it to the requirements of specific stages of a project. This will give users the opportunity to optimise their workflow and avoid over-complication at the early stages of a project and data loss in the later stages - the right information at the right time. As the tool automatically maps model object information to IFC, the Data Manager tool is also a way of producing and validating information for a BIM Level 2 project. This new tool should also allow practices to refine their workflows and develop templates for specific project or building types, improving their efficiency and consistency from project to project.
Similarly intuitive is the new enhanced Data Visualisation tool. This allows you to graphically represent data within the geometric model. This has the potential to be a really powerful design tool, allowing real-time validation of information as the project is developing, rather than relying on last-minute quality checks before issuing, when you are short of time. It also presents the opportunity to provide clear visual representations to describe proposals or demonstrate compliance.
The other BIM development that caught my eye (expected in spring 2020) is the ability to integrate Vectorworks with NBS Chorus. This will allow a two-way flow of information between the model and the specification, all structured around Uniclass 2015. Again, this is an exciting development for those striving for BIM level 2 compliance.
Case Study 3: Freeform Modelling, Snug Architects. Matthew Brown shared his experience of using Vectorworks to refine and define the design for a project with a complex geometry.

Credit: Wire frame model or The Wall (Mobius strip). CGI, Darc Studio. Snug Architects
Balanced against these new BIM delivery tools are some very nice new animation and presentation enhancements. The new animation tools allow you to develop walk-through paths and camera movements within your model more easily than before and the examples shown throughout the day looked smooth and professional. Furthermore, if you are a subscriber to Vectorworks' cloud services, your animations can be rendered in the cloud, freeing your machine up to carry on working. The final output, whether animations or presentation boards, can be shared with clients over the cloud via a link. In terms of external real-time rendering, there is already a link to Lumion and an Enscape link is coming soon.
The ability for an architect to stay in one CAD tool from concept through to delivery is what many practices are looking for and Vectorworks enables this. If it continues to keep up with an appropriate level of open BIM integration without losing its graphical and presentation advantage, it will continue to have a loyal following among architectural practices and, in doing so, facilitate the move to a more data-driven process without losing the architectural values embedded in more traditional presentation techniques.
David Miller is director and principal architect at David Miller Architects
For more information and technical support, visit vectorworks.net/uk
Contact:
01635 580318
---