Speed and ease of use for modelling 'at building block scale' make Arkio the first truly viable tool for architectural modelling in VR, says early adopter Davey + Smith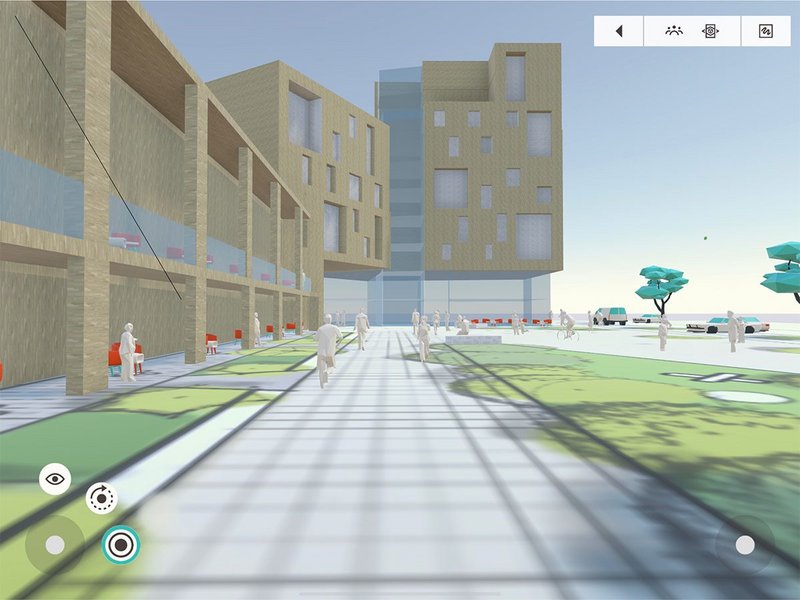 A virtual model of a scheme designed by Davey + Smith Architects and created from within Arkio's virtual space.

Credit: Greg Davey
Grimshaw and Kohn Pedersen Fox Associates are among architects experimenting with a VR architectural design tool built for rapid iteration and 'collaboration for the masses' across various devices.
Arkio software, developed by an Icelandic tech start-up run by two architects, will provide users with intuitive design tools to quickly sketch out buildings or urban plans via a standalone VR headset, smartphone, or tablet.
Designs can be built up from scratch using simple geometric shapes and objects, or developed from existing 3D models imported from software like ArchiCAD, Rhino or Revit.
Users can collaborate in the same virtual space, shaping building forms and adding volumes to brainstorm and explore different design options.
Dublin-based Davey + Smith Architects was an early adopter of the app, using it to create a feasibility study for a residential scheme, plus more detailed design work.
According to practice director Greg Davey, Arkio is the first truly viable tool for architectural modelling in VR and a step ahead of more photo-realistic VR tools that provide only limited options for design.
'Arkio is quick and easy to use, and while the palette of objects isn't hugely sophisticated, it's really neat in the way it works, comparable to building architectural models out of foam board,' he says. 'It doesn't try to be fully immersive. I see the USP as modelling at building block scale, which it does really well.'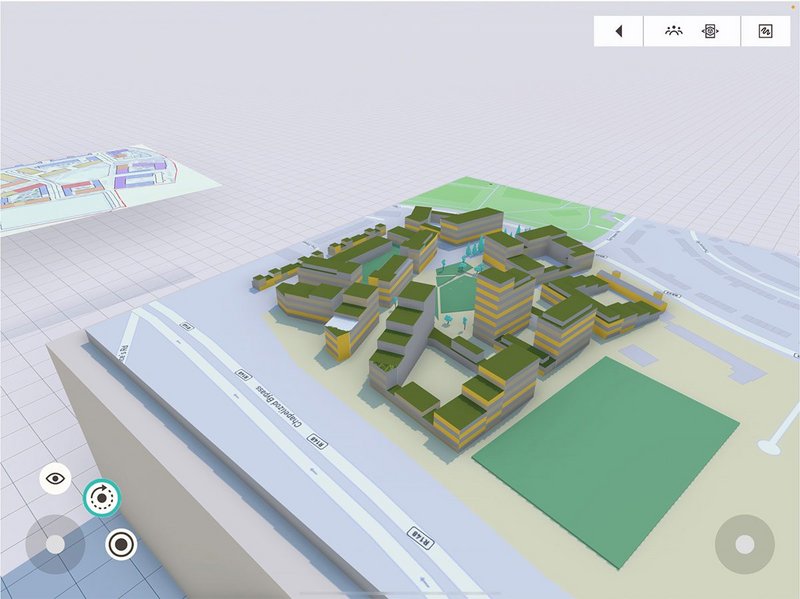 A perspective sketch of the same scheme using the Arkio model as a base.

Credit: Greg Davey
Graphics are generated using a bespoke solid modelling kernel, optimised for real-time modelling on mobile devices, with fast boolean operations and shape editing. VR at a minimum of 72 frames per second is available on standalone headsets such as the Oculus Quest 2.
Davey + Smith Architects runs the app on a tether-free Quest 2 headset, using the two hand-held controllers to trigger different functions. Volumes or floors can be 'grabbed' and moved or deleted. Picking up and placing an object generates haptic feedback through the controller to replicate the actual sensation of touch.
Building volumes are extruded by clicking on surfaces and raising the controller. They can be split automatically into predefined levels to calculate heights.
Davey + Smith used Arko to remodel a feasibility study for a high density housing scheme after the local planning authority raised some concerns.
'Heights in certain parts of the development were adjusted and additional volumes added in other areas so that the overall density could be balanced,' says Davey. 'We were able to monitor the impact of removing volumes by monitoring the real-time volume calculation feedback generated by the app.'
Virtual meetings in the app are a 'really nice and fun way to collaborate', adds Davey, although he experienced teething problems with an array tool used to mimic curved geometry (not currently available in the app) through a sequence of clicks.
'I've reached a stage now where I use it quite a bit. It's become a really useful piece of software and I'm planning to buy a licence,' he concludes.
Arkio has had more than 10,000 downloads since launching in beta. It is available free until the start of September, when three plans will become available: A free version will provide continued access to all modelling tools, the ability to host one-to-one meetings for up to 20 minutes duration and basic 3D model import and export.
Arkio Pro costs $55 a month per floating license and enables up to 24 people to collaborate in real-time and import/export unlimited files from Revit, Rhino and Sketchup.
Arkio Enterprise costs $85 and offers more flexibility and additional workflow integrations, including the ability to assign guest editor rights to viewers in a meeting, import/export from Autodesk BIM 360 and access priority support and training.