Armstrong Ceiling Solutions feature at BPR's redevelopment of Blake House in Uxbridge, including wood-effect metal baffles new to the UK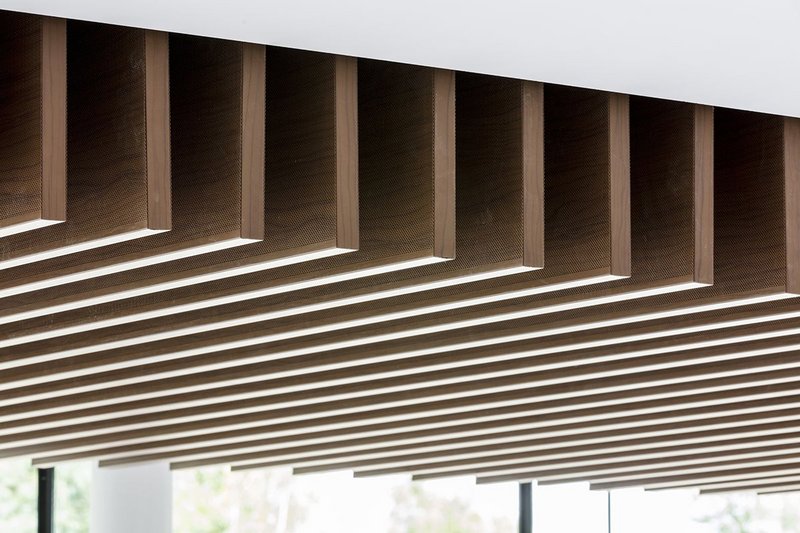 Armstrong has installed wood-effect metal baffles at BPR's refurbishment of Blake House in Uxbridge.
Armstrong Ceiling has installed its wood-effect metal baffles for the first time in the UK at the £3.9 million office refurbishment of Blake House by BPR Architects in Cowley Business Park, Uxbridge.
The 300mm-high metal baffles bring a contemporary linear aesthetic to a new lobby extension and refurbished main stairs alongside a range of other Armstrong products. BPR specified the VP-500 vertical metal baffles with a US Walnut finish for the three-storey office building, formerly known as Teal House, for client Henry Boot Developments.
The new look involved increasing the size of the 1990s steel-framed building from 22,000ft2 to 30,000ft2 by adding extra office space to the rear, remodelling the internal core layout and building a new double-height entrance lobby at the front to enhance its dated appearance and attract large corporations as lease holders. On top of the metal baffles, Armstrong has installed 2,800m2 of its 600mm x 600mm metal MicroLook tiles in a Prelude 15mm grid in the open-plan office areas, the new Drywall Grid System (DGS) for plasterboard ceilings in staircase areas and Ultima+ Vector 600mm x 1200mm mineral tiles on a 24mm grid in the core areas.
Special attention was also given to the specification of fixtures and fittings and communal spaces, much of which feature black walnut to echo the Armstrong baffles, without over-prescribing the design.
As well as delivering an exciting architectural aesthetic, the Armstrong metal baffles enable easy integration of services and achieve the required acoustical level via the use of perforated sides and an acoustic inlay fleece. They are also highly scratch resistant, manufactured from up to 30% recycled steel and are quick and easy to install.