Winners at the Association of Noise Consultants Acoustic Awards 2017 included Sandy Brown Associates and Apex Acoustics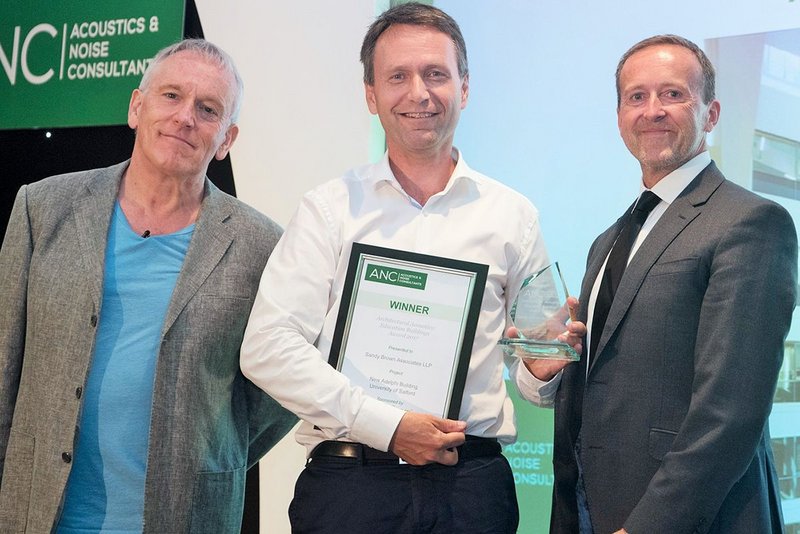 Architectural Acoustics - Education Buildings: Sandy Brown Associates. Awards guest speaker James Woudhuysen with Stephen Stringer of Sandy Brown Associates and Shane Cryer of Ecophon
The skills and ingenuity of UK-based acoustic professionals working on national and international projects across a variety of environments were celebrated at a recent trade body awards. ANC, the Association of Noise Consultants, unveiled the winners of its acclaimed Acoustic Awards programme at the Hyatt Regency Birmingham on 21 June 2017.
Promoting and recognising excellence among UK acoustic consultants, the awards showcased the skills of members across five categories.
Hoare Lea secured the winning project in the award for Architectural Acoustics: Commercial Buildings, sponsored by H & H Acoustic Technologies, with Sandy Brown Associates highly commended and SRL Technical Services commended in this category.
The award for Architectural Acoustics: Education Buildings, sponsored by Ecophon, was secured by Sandy Brown Associates, with Adrian James Acoustics receiving the highly commended accolade and a commended award for Pace Consult.
Environmental Noise, sponsored by ANV Measurement Systems, was won by Apex Acoustics, with Southdowns Environmental Consultants taking highly commended and a commended title for AECOM in this category.
It was another successful outcome for Apex Acoustics, winner of the Smaller Projects award sponsored by Bruel & Kjaer, with AECOM taking the highly commended award and Red Twin the commended title.
The final award, Vibration, sponsored by Pliteq, was won by Cole Jarman. WSP was highly commended and RBA Acoustics commended in this category.
The awards were presented by James Woudhuysen, forecasting and innovation specialist and visiting professor at London South Bank University, with a distinguished panel of judges comprising of academics and professionals, as well as representatives from the sponsor companies, scrutinising the national and international entries.
Robert Osborne, association manager at ANC, said: 'Now in their fifth year, the ANC awards continue to gain ground as a major opportunity to highlight world-leading expertise in the industry, and to inspire the next generation of acoustic consultants.
'Once again this year, the judges were hugely impressed with the scope and scale of the entries. The projects illustrate the unique skills of our UK-based acoustic and noise professionals and their innovative approach across the built environment, transportation and entertainment sectors.'
For more information and technical support, visit: www.association-of-noise-consultants.co.uk
Contact:
020 8253 4518
---