Winner of the Single Ply Roofing category at this year's NFRC National Roofing Awards, the roof refurbishment of the Joseph Black Building is an extraordinary project completed by BriggsAmasco using a Sika Sarnafil membrane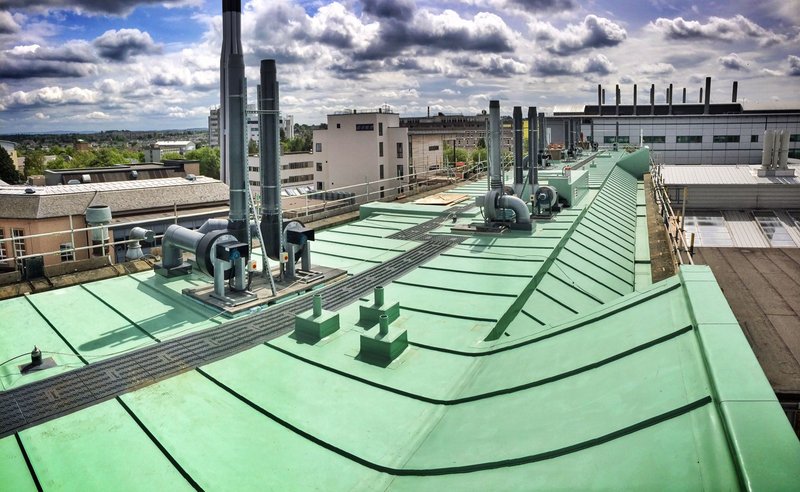 The Joseph Black Building at the University of Edinburgh's King's Buildings Campus houses the School of Chemistry. As its roof had come to the end of its natural life, Summers-Inman Construction & Property Consultants were appointed by the university to survey the existing roof, provide solutions for its replacement and procure the works. Summers-Inman consulted with the Sarnafil Plus refurbishment team to specify the Sika Sarnafil system as a replacement.
The initial scope of the works covered a multitude of trades, the most complex of which was stripping more than 2000 square metres of existing copper roof coverings. As part of Sika Sarnafil's flagship refurbishment offer, its dedicated surveyors conducted a comprehensive roof survey to determine which system was suitable.
In the end, the local authority planning department advised that because of the building's historical status and listing, the Sika Sarnafil Membrane S327-15EL in Patina Green was the most acceptable replacement. Listed Building Consent was obtained and work to replace the roof included installing a new timber taper fall to improve drainage, which was then covered with the mechanically fastened Sika Sarnafil system. The membrane was applied with standing seam profiles to replicate the original copper roof details. Contractor BriggsAmasco also had to integrate the new bespoke Sika Sarnafil outlets with existing lead and cast iron drainage system, working closely with Sarnafil Plus, Summers-Inman and the client to ensure the detailing was correct, approved and was in keeping with the heritage of the building.
"The integration of other trades and materials were all managed by us, including slate, lead and Sika Sarnafil products, working together as one," explains branch manager of BriggsAmasco Raymond Wright. "With the ability to fully coordinate, design and install the roof came greater control and led to a quicker completion of the project, along with increasing the client's confidence in on-site finishes and weathering."
"We were delighted to win such a prestigious contract from the University of Edinburgh and proud to work alongside Sika Sarnafil to produce such a high quality end result."
The job was finished within budget and with minimum disruption to the labs in operation below. A thorough final inspection as part of the Sarnafil Plus package saw the roof receive a 20-year single point guarantee. This ensures that the client is protected against unlikely problems with the membrane caused by incorrect design, defective materials or poor workmanship.
Flawless application of the Sika Sarnafil membrane across an area with complex detailing and upstands sealed the victory for BriggsAmasco at the tenth NFRC Roofing Awards. The project was recognised by the judging panel for the challenges that were overcome during the project and the wholly positive response from the client.
George Boag, buildings and operations manager, University of Edinburgh, said: "We were impressed with the outstanding workmanship, as well as the aesthetic qualities of the roof, delivered by BriggsAmasco and Sika Sarnafil. All parties worked as a team and delivered great results, which were in keeping with the building's heritage and we are confident will last for years to come."
For more information and technical support visit: www.sarnafil.co.uk
Contact:
01707 394444
---