Strength, security and style too were provided by wrapping super strong concrete in sleek cladding for the Paris vault that stores and handles 1.1 billion banknotes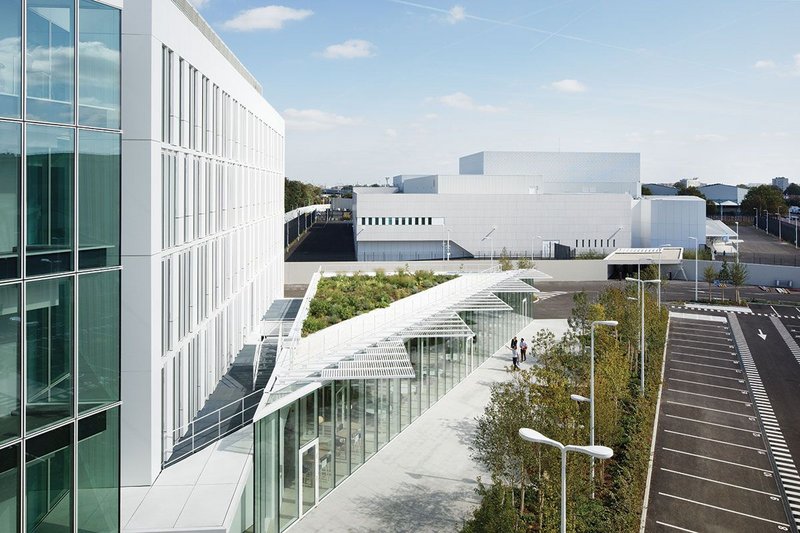 Jean-Paul Viguier and Associates' Banque de France logistics building is a three-humped beast: a heritage conservation project, a strip-back and re-clad 1980s extension and a massive, monolithic new-build.

Credit: Takuji Shimmura
In a city known for some of the world's greatest historical architecture and placemaking, drivers passing the Paris suburb of La Courneuve might raise an eyebrow on first seeing the sizeable new complex that has risen alongside the A86 artery and the rail tracks. A group of huge, dazzlingly white, cubic volumes has seen a derelict 4.5ha industrial site reborn as the new, €170 million, state-of-the-art logistical headquarters of the Banque de France. The second largest cash-handling facility in Europe processes 25% of the national cash reserve and includes the 28m high 'La Serre' – The Greenhouse – effectively Europe's largest safe, storing 1.1 billion bank notes in denominations of €5 to €500.
On winning the invited competition in 2014, architect Jean-Paul Viguier and Associates faced something of a dichotomy. Arguably one of the highest security facilities in Europe, the main storage building in the 23,000m2 design had to be impregnable, requiring highly controlled entrance sequences for both people and vehicles; massive walls, moats, fences, steel nets, cameras, lasers and aural sensors. But being at the heart of this former industrial suburb, it also had to respond to its context and make a positive contribution to the regeneration of the area. It's no surprise that the local mayor was on the design jury panel; especially since the handsome 19th century former Babcock boiler factory opposite was a future 'La Fabrique des Cultures'; and the wider Seine-St Denis area, in which La Courneuve resides, is part of the proposition for the 2024 Paris Olympics.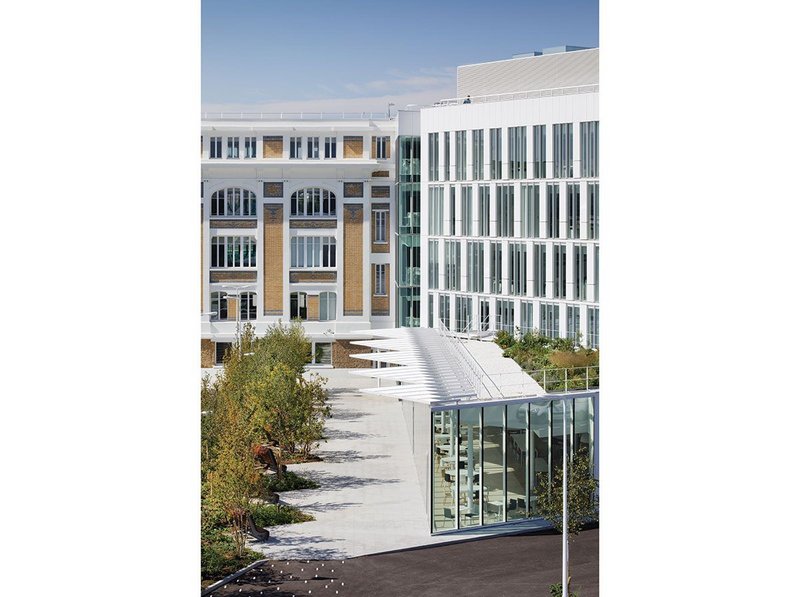 The 1929 former Babcock offices have been restored and upgraded, connecting back to a radical new iteration of its 1980s extension.

Credit: Takuji Shimmura
'The programme was about accommodating highly precise automated activities,' Viguier tells me. 'The building's purpose is the secure, robotic receipt, transfer, sorting, destruction and redistribution of money. There was no leeway –we had to make all that 100% possible. So a construction of high strength cement 'impenetrable by a tank' was a given. 'Our problem was to make the complex visually acceptable for those both living around it and working in it.' Most of the staff were moving, contentiously, from the bank's prestigious Place des Victoires HQ in central Paris. 'If these people are undergoing such a dramatic change to their working environment, we felt they deserved some kind of benefit in exchange,' adds Viguier.
Part of the problem was unlocked on the site it was gifted. At its western end stood the 1929 old Babcock office, clumsily extended in 1980. Viguier retained and opened this up, placing administrative and service functions on the western side and high security elements to the east. The old building now has light-filled offices with new upgraded glazing, while the five-storey extension was stripped back to its concrete structure, remediated and given a bright, white aluminium unitised glazing system, with a light-filled triangular café appended to it. Facing south, its double glazing has UVB coatings to reduce solar gain and openable spandrel panels for natural ventilation. 'As Paris has six months of temperate climate, fresh air augments the mechanical systems; it gives people a sense of personal control in an otherwise regulated environment,' says Viguier.
The Babcock building is effectively a sop to the eye-watering levels of security in the vault complex. Lower-level security administrative functions are concentrated here, allowing large areas of glazing. The re-clad performed several functions, explains the architect, especially at lower level in the café: 'It connects with the existing heritage building, engaging with the urban context opposite and linking to the secure vault.' Rising to 4.3m at its highest, this sun-filled, spacious, ground floor conservatory is one of the architect's quick wins, providing an antidote to the cramped, dark, back-of-house areas staff would have experienced in the city centre.
Access to light was key in the vault building too; but here it had to be stolen from outside rather than availed of. It was an uphill struggle. Even accessing it requires negotiating an outer security zone of walls and a dry 'moat' to ensure trucks containing bank notes are securely vetted on entering and leaving.
The vault admin and note processing area, where notes are checked for authenticity (a thousand notes per day in France are identified as counterfeit) and quality (where they are destroyed and replaced) proved to be the only chink in the armour that Viguier could use to architectonic advantage. It results in the triangular plan that encloses a wire-netted open courtyard within both functions, albeit via large bullet/ bomb proof Saint-Gobain Vetrogard Bullet Climaplus' glass units, which are 100mm thick. 'The courtyard was a means of introducing light into the offices,' explains Viguier. 'The way we get light into high security sorting rooms is vicariously, through glass clerestory lighting running along the courtyard's perimeter corridor.'
Otherwise, the processing/vault building itself is an exercise in cladding effectively huge, blank, concrete volumes. Viguier reverted to modernism's stark white, connecting the old Babcock office with the complex but giving each volume different facade treatments to break down their mass. The Moeding Alphaton HF white glazed ceramic cladding on lower level processing areas is striking. The facade's 1.2m high panels are run vertically with irregular, angular striations that offer an interplay of shadow and reflection in the sun. Elsewhere, air handling and secure admin are handled with Alucoil Larson aluminium composite panels, solid and with vertical corrugations. All three variations break down the volume into its constituent elements while the white unifies them.
Constructed in high density concrete, with double floors and double walls 55m by 35m in area and rising to 27m, most imposing, and problematic, is The Greenhouse vault itself. Completely automated, unpeopled and storing the 'European Strategic Stock' for national emergencies, this cathedral of cash creates the greatest impression in the urban landscape. For this Viguier saved a sleight of hand, suspending the perforate aluminium panels from concrete spigots projecting from the solid box. It might seem a nominal gesture, but from below, the box dematerialises at the top, the sky, read through the cladding, creating a gauze-like effect.
It is a moment of lightness for a building defined by its impregnability, that has more in common with a nuclear power station than the classical Place des Victoires. A subtle conceit revealed in this overt anti-architecture.