Bauder completes accessible roof terrace roofing for Marks Barfield's British Airways i360 observation tower in Brighton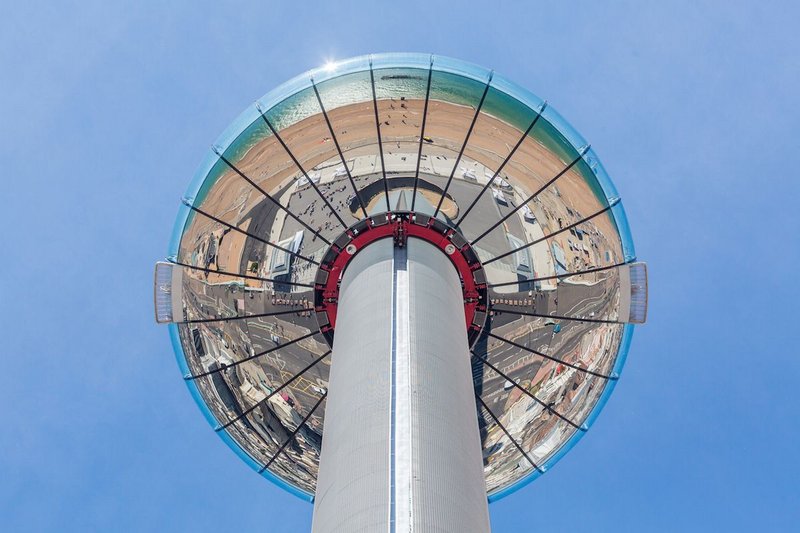 The underside of Marks Barfield Architects' i360 observation platform in Brighton.

Credit: British Airways i360
Situated at ground level of the British Airways i360 tower in Brighton, the world's tallest moving observation tower and first vertical cable car, is an accessible roof terrace area that features 1,500m2 of Bauder's reinforced, inverted hot melt waterproofing system with hard landscaping.
The i360 tower is a 531ft-tall structure that features an ascending and descending circular viewing platform that has capacity for 200 people. At the end of the 'flight' visitors descend to the alluring outside terrace deck, where people can relax and socialise. Understandably this roof top area will experience significant amounts of foot traffic, so the client wanted a waterproofing system that was both robust and high quality. Given these requirements, Bauder's hot melt structural waterproofing system was a natural choice. The system is designed to last the lifespan of the building and provides a monolithic, fully bonded membrane that is self-healing to minor punctures.
This new landmark is an exceptional example of how modern architecture and roof landscaping can revive a historical monument, which is expertly and intricately intertwined with over 150 years of history. The i360 tower has already proved extremely popular having welcomed its 100,000th visitor just three weeks after it was opened in August 2016 and it was also given a royal opening by His Royal Highness the Duke of Edinburgh in October.
For more information and technical support visit: www.bauder.co.uk
Contact:
01473 257671
---