The ideal site for BBC Cymru Wales was also on one of Cardiff's busier roads and beside its train station. How could it be made quiet enough for the studios?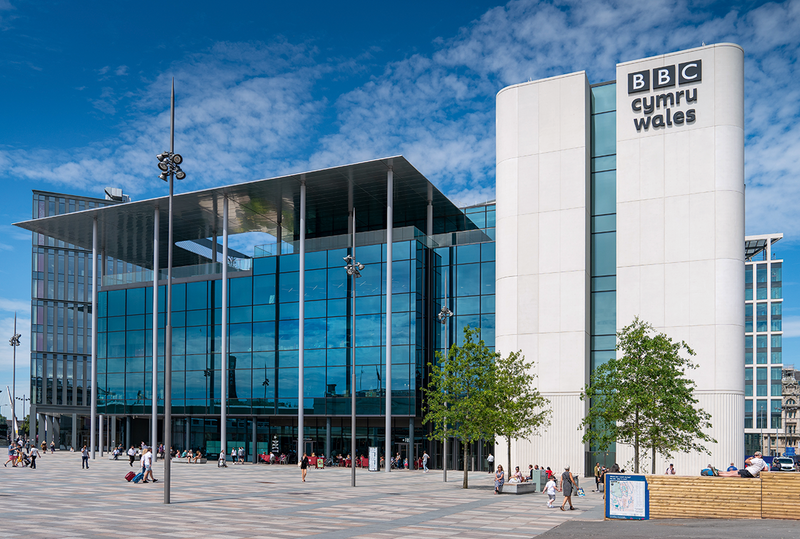 BBC Wales looking north from Central Square. The steel structure base build, clad by Kawneer, forms the centrepiece of the Central Square development.

Credit: BBC Wales
The changing nature of media and the way it is received, processed and consumed underpinned the recent move of BBC Wales and its 1,000 staff from its former leafy business park campus in the north of Cardiff to Central Square, slap bang in the city centre. But it didn't happen without a lot of soul-searching by the corporation about what kind of organisation it wanted to be in the 21st century.
Sheppard Robson's interior design firm ID:SR, which has collaborated for 10 years with the BBC on its estate, was brought on early in the decision-making process to advise on whether the brutalist campus complex in the city's Llandaff area – designed by Sir Percy Thomas & Sons in 1967 – could, with some tweaking, be made future-fit. But that, recalls ID:SR partner Helen Berresford, proved a tall order for the suburban site, given BBC Wales director Rhodri Davies' aspiration to attract fresh new talent, embed the organisation in the cultural life of its home city, and connect it better with both the Welsh-speaking community and the wider world. With the decision made to develop the Llandaff campus for residential use, the BBC initially looked to its FAT-designed Cardiff Bay studio site before plumping for the Central Square regeneration zone facing the city's rail station.
Putting the new media building at the heart of one of the capital's regeneration projects and next to the city's noted School of Journalism presented the challenge of placing an acoustically sensitive building adjacent to one of the city's main thoroughfares and a transport hub through which goods trains carrying steel from Port Talbot regularly rumble. Berresford also points out that a prudent budget precluded a purpose-built design. Instead, the BBC looked to leasing a Foster + Partners-designed spec office building from developer Rightacres, part of its 140,000m2 Central Square urban regeneration. And with ID:SR's expertise – not least on London's BBC New Broadcasting House – it helped tweak the base build and help turn it into this £100m media HQ, delivered on a competitive tender and lump sum basis.

A notional section through the ground floor broadcasting/public zone.
And the acoustic challenges inherent in creating an office building that is now 40% broadcasting centre, 50% news/support space and 10% administration has informed almost every decision, especially since the modified building still contains Rightacres' imposing, four-storey atrium- the kind of space that usually runs counter to any notion of a space designed to perform acoustically. Surprisingly, ID:SR turned it to advantage, making it a palpable element of the BBC's public remit and stated commitment to openness and transparency.
The BREEAM Outstanding, 26,250m2 former spec office design has now been fitted out with four floors of state-of-the-art broadcast and media facilities, with base build slab to slab height increased at design stage to allow for the necessary lighting rigs. At ground floor entrance level, viewed directly from the publicly accessible atrium, are two fully-functioning TV studios with audience capacity and a smaller radio drama studio. The first floor is the radio floor with 10 broadcast booths and ancillary support. The second and third are devoted to Welsh and English TV broadcasting; the former with its own high-spec TV news studio and surrounding newsroom. The fourth houses administrative functions, secure server rooms and a restaurant, with a roof terrace sheltered by its oversailing roof.
For a steel building that has an almost completely glazed facade with a large internal atrium, isolation was key to the whole insulation strategy – both in terms of performance and cost. Berresford explains that it's an office building with specialised 'hot and heavy' broadcasting elements in it. This means that the three TV and 11 radio studios and their editing suites effectively 'float' between standard composite slabs, separated from what's around them, and designed to a much higher specification – so outlay only occurs where it is required. 'If we had designed for the tech only we'd have built a "black box" away from a train stain station,' says Berresford.' But these are multi-functional spaces and with the speed of modern media, seconds count. Studios and their associated spaces need an open, collaborative connectivity that's in opposition to the black box idea; we had to create a balance between the two.' This resulted in the broadcast 'pavilions' arrangement sitting within open office areas. 'They needed outstanding technical and acoustic performance,' she emphasises. 'Zero movement, zero sound, zero tolerance.'
It turns out they have completely separate floors, walls and ceilings. 'Any studio or editing suite sits on a 150mm resilient concrete slab cast in special steel trays and jacked up on acoustic mounts, set into the grid of the main slab and perfectly aligned but independent of the raised floors around,' says ID:SR's Matthew King. Poured resin floors in the TV studios are perfectly level to ensure faultless movement of camera equipment and, King adds, have a very high structural tolerance for vibration, 'as we can't have the cameras bouncing while on air.'
The section for these spaces is almost an egg-in-a-box principle. 'The 400mm thick walls are in fact a pair of independent ones. The inner, sitting on the floating floor, is a Metsec type stud partition with acoustic-grade plasterboard and a steel structural lid to support the lighting rig,' says King. 'There is 150mm of acoustic lining to walls and ceiling within a studio, with metal, fabric or joinery panel finishes and joists forming a lid. The radio studios are similar but with metal suspended ceilings'. The 'outer' jumbo stud plasterboard wall meanwhile, sits directly down on the base build slab.
King says that the internal glazing – particularly for the studios facing the atrium and newsroom – had to perform to same specification as the walls, with the same density, making them 'at least double or even triple the thickness of a similarly sized standard glass panel'. Radio studios had to perform 25% better acoustically relative to TV, resulting in more wall and small observation windows with special anti-reflective coatings applied 'as radio staffers communicate through it with sign language.'
Acoustic separation was onerous as the M&E strategy demanded dedicated mechanical services for each studio. As electronics and lighting generate a lot of heat, the high air exchange rate coupled with low velocities to minimise sound resulted in large ducts with dampers. Not only that, localised plant required not one but two fan cooling and heating coils; one to act as a standby if a unit fails during a live transmission. The additional plant requirement was installed on the 5th floor, set back to avoid impinging on the main central square elevation.
For the Dolby-accredited post-production editing suites on the perimeter of the floorplate, acoustic concerns also needed addressing. Tenancy issues actually helped, says King. 'The edit suites needed to be independent of the facade anyway as the BBC doesn't own it. To allow for an facade maintenance area and to provide the requisite acoustic insulation from the street outside we built a layer of secondary glazing on the "outside" face of the suites.'
Once outside these 'hot and heavy' areas, specification became easier. The 50% requirement for acoustic attenuation to offices was primarily met through the use of perforated acoustic tiles supported on a concealed grid and suspended between rows of chilled beams supplying cooling to the office floors. Small banks of acoustic booths are dotted around elsewhere for private meetings, but in the breakout areas, which suited a more 'buzzy' vibe, exposed services in the soffits are partially hidden with strategically positioned Rockfon panels. Like all the furniture, these are covered in Welsh designed and made fabrics. Distinctive cruciform light fittings complete the look, echoing Berresford's aim to 'make the ceiling plane functional in every respect- in terms of lighting, acoustics and space-making. We achieved 50% coverage; no more, no less. We didn't want to spend any more than we needed to.'
Where live broadcasting might occur, such as in the circular breakout spaces facing into the atrium, acoustic curtains can be left closed or open, allowing for visual drama or cosseting privacy. As the ground floor studios – seen from the public lobby – stand at the ready to host a Question Time or Breakfast TV show, wall-mounted mesh baffles are packed with absorbent material fleece and mineral wool to quell echoes. That approach is repeated on the atrium slab reveals, making the overall sound of the working office muted yet still lively.
It reflects the public yet private nature of this broadcasting HQ. They do tours in the office, says Berresford, yet up on the third floor there's a highly sensitive 'ingest area' where footage from around the world is streamed in, and in a raw and sometimes scary state.
'It needs to be screened and contained at times. But it's sensitive data entering what's effectively an open, public space – it seems almost counter-intuitive,' says Berresford. 'But BBC's Rhodri Davies' desire was just that; to show how content is made – right in front of your eyes.'
Credits
Client BBC Workplace / BBC Cymru Wales
Developer Rightacres
Interior designer ID:SR Sheppard Robson
Base build architect Foster + Partners
Project manager J4 Projects
Base build structural engineer Arup
Fit-out engineer AECOM
M&E consultant CMB Engineering and Evans Electrical
QS Currie & Brown
Acoustic consultant Ion Acoustics
CDM co-ordinator (principle designer) AECOM
Fit out contractor Overbury
Base build contractor ISG