Sarah McCann-Bartlett, director-general of the British Constructional Steelwork Association, on how a no-deal Brexit poses little risk to the UK's structural steel supply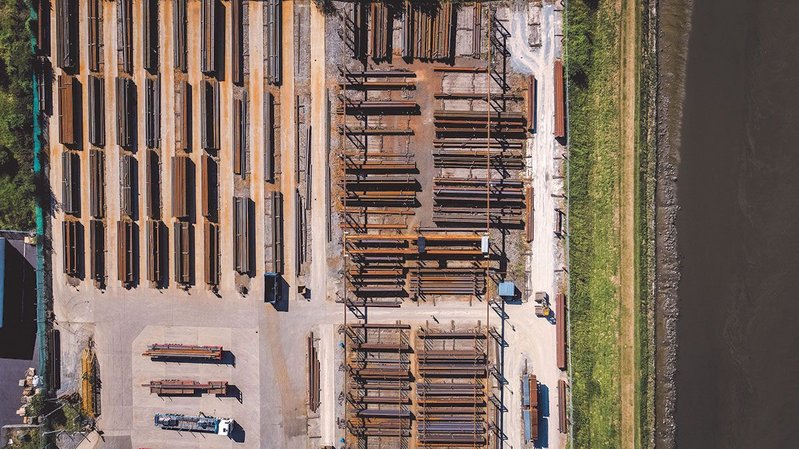 Stocks are high: 98% of the UK's structural steelwork is fabricated here.

Credit: Barrett Steel
With the continued lack of clarity to the ongoing Brexit negotiations, the BCSA has carried out its own risk assessment of what a no-deal Brexit could mean for the UK's structural steelwork supply.
The findings, reassuring for all architects and engineers looking to specify structural steel, are that the risk to supply is low. This conclusion has been reached following a risk analysis undertaken by the BCSA and its member companies that looked at the supply of materials and products, the structure of the workforce, stocking trends, and tariffs under World Trade Organization (WTO) rules.
Crucially, 98% of the UK's structural steelwork is fabricated here, which means a no-deal Brexit poses no risk to structural steelwork manufacturing. The key input to this process is of course steel, and the risk to the availability and delivery of hot rolled structural sections is low. This is largely due to a joined-up supply chain that includes a UK producer, European producers, and a well-established network of distributors and stockholders who keep sufficient levels of stock to support just-in-time deliveries to steelwork contractors.
UK steelmakers currently source their raw materials outside the EU and purchase forward due to long shipping times. A no-deal would have no effect on this trade and any customs delays could be easily absorbed. And if UK-EU trade moved to WTO rules under a no-deal scenario, import duties on raw steel would remain at 0%.
In addition, there is very little risk to labour availability. An average of only 7% of employees working for UK steelwork contractors are from the EU. These form part of a permanent, stable and full-time workforce fabricating structural steelwork offsite in manufacturing facilities and they are employed on the same terms and conditions as UK employees.
Plant and equipment are a high value, long-term purchase with orders for new plant and machinery made many months in advance. Machinery supplies are expected to be unaffected by a no-deal Brexit. Structural fasteners and bolts used by steelwork contractors in the UK are sourced globally and UK suppliers already have to hold a sufficient stock of product in their UK warehouses. The risk to supply is low.
Currency fluctuations would impact on both input and output pricing since around 55% of raw structural steel is sourced outside the UK, but this is only one of many factors that has an impact on steel pricing models at any one point in time.
A KPMG study shows UK structural steelwork capacity to be between 1.142-1.343 million tonnes in 2019. Since Construction Markets is currently forecasting constructional steelwork demand of 0.93 million tonnes in 2019, there is sufficient latent capacity in the sector to meet projected demand.
In conclusion, Brexit poses no risk to the UK's structural steelwork supply.