The world's first integrated doors designed for inside-outside living without compromise.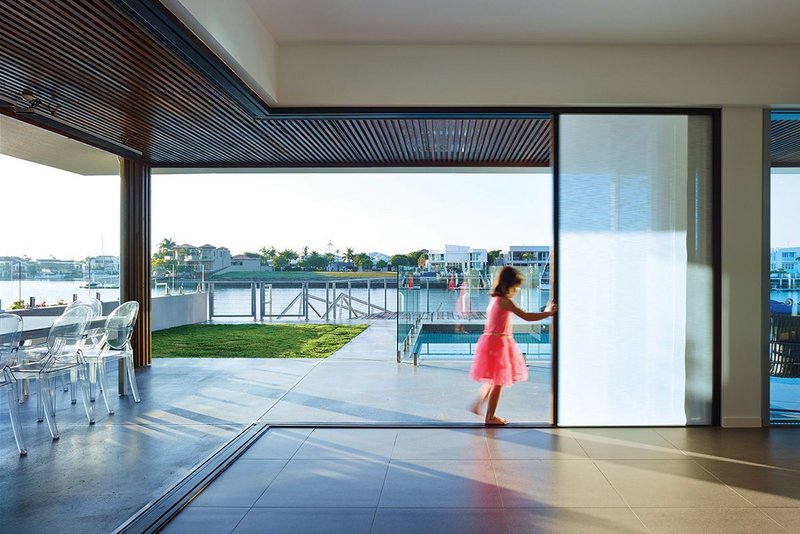 Centor Integrated Doors are truly unique, connecting people to the world outside by integrating a door, screen, shade and hardware into one beautifully designed door system. By designing each component to work together as one, all of the compromises associated with full height glazed doors are gone. Heavy drapes and awkward screens no longer detract from the view while hardware is hidden from sight.
Integrated screens and shades control insects, sunlight, privacy and airflow and retract completely into the doorframe when not in use leaving uninterrupted views to the world outside. The screens are available in two mesh types controlling even the smallest insects, while the shades are available in light-filtering and blackout options. The light-filtering fabric protects interiors from sunlight and glare, while blackout fabric completely darkens a room when drawn. Each fabric is available in three patterns with up to 10 colours in each.
Hardware is concealed within the door including the Centor AutolatchTM which allows door panels to be closed and latched with a single action. Meanwhile the doors operate with smooth, fingertip operation due to Centor's patent-ending hardware.
All Centor Integrated Doors are made to order in with a range of options available including, Folding, Double width folding, French or Single door types.
Contact details;
Centor Europe Ltd, 610 Solar Park, Highlands Road, Solihull, B90 4SH, UK
t +44 (0)121 701 2500
---