Set to offer an extra 16,000 rooms by the end of this year, England's hotels are booming. There's plenty there for architects who understand the market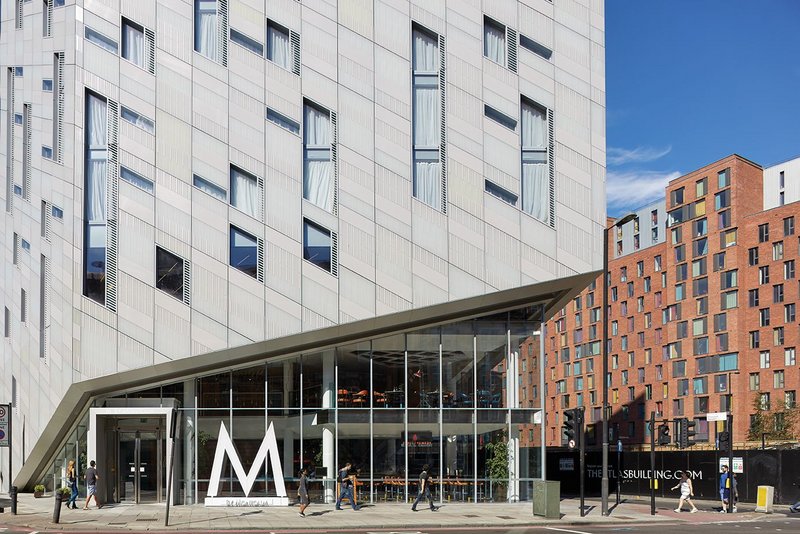 M by Montcalm on London's Old Street, where rooms are 'teched up' in anticipation of its 'Silicon Roundabout' clientele.

Credit: Rob Parish
This year started with the opening of the InterContinental London at the O2 on Greenwich Peninsula, a hotel boasting more than 450 rooms and a 3,000 capacity, pillar-free ballroom. Before 2016 is over, almost 7,000 rooms look set to be added to the capital's hotel stock, including Ron Arad's 156-bedroom Nobu Hotel in Shoreditch, with its cantilevering Cor-Ten beams, sharply angled concrete balconies and printed glazing.
Hotels are big business for the UK and particularly for London, where around 90, plus extensions, are in the development pipeline. The UK may not have major sporting events on the horizon – like the 2012 Olympics or 2015's Rugby World Cup – to pull in visitors, but the sector is still healthy and looking to a host of factors, from major conferences to heritage attractions, to keep future travellers resting their heads on its plumped-up pillows. As a result, London's hotel capacity is expected to rise by more than 12% over the next three years, passing the 150,000 room mark in 2018, according to research by the capital's promotional body, London & Partners, and hotel intelligence specialist AM:PM.
Outside London, capacity looks set to grow by 9,000 rooms this year and more than 13,000 in 2017. The picture across the country is more varied, however, with business consultant PwC's UK hotels forecast for the next 18 months marking out Edinburgh, Glasgow and Manchester as locations with significant development pipelines.
Both inside and outside the capital, it is the budget end of the market – covering everything from hostels to more stylish but still affordable 'budget luxury' hotels – that is booming. AM:PM's listing of the top five UK hotel groups by number of rooms in 2015 includes the well-known names of Premier Inn owner Whitbread, Travelodge and Accor. Some 3,000 budget rooms are under development in London for 2016 – around a third of rooms being delivered. Looking further ahead, the appetite for budget accommodation remains strong, accounting for half the rooms scheduled for 2017.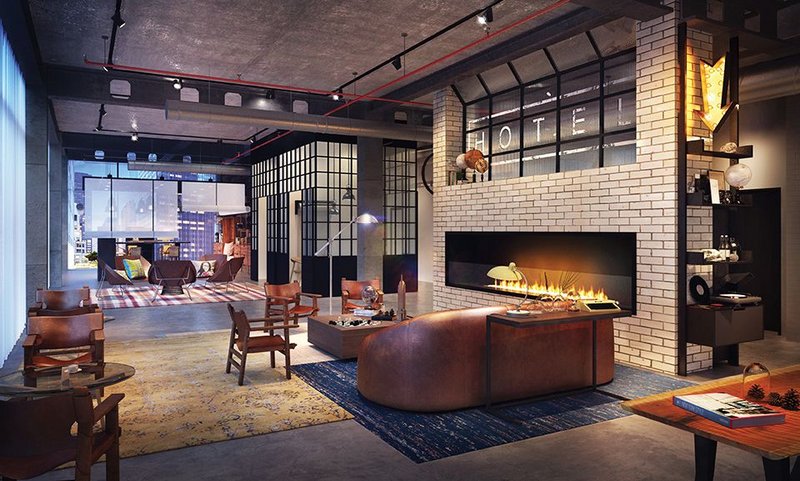 Marriott's Moxy brand, targeting younger travellers, is a new offering to the UK market.
The science of selling sleep
Big hotel groups have a reputation for being demanding clients, putting a wealth of research into product and service, and then translating that into weighty and sometimes quite prescriptive guidance for their design teams. 'The hotel sector is very exacting,' acknowledges Russell Potter, director of SODA Architects, which worked on the recently opened Green Rooms in north London (see overleaf). But he points out that there is a good reason for that focus: 'That's because ultimately they're selling sleep and that's a precious thing. People might only be staying one night, so the hotel has to get it right or those visitors won't come back.'
Hotel business is driven by a metric known in the industry as revPAR – revenue per available room, which influences not only how a facility is operated, but also what goes into a development at the start. 'When we roll out hotel plans, the key questions are how much are you going to spend on a room, and how much are you going to get out of it,' says Katrina Craig, chief executive of consultant Hotel Solutions Partnership.
'In general the big hotel brands are becoming quite restrictive, particularly at the budget end where they want to guarantee a hotel can be delivered on budget,' she adds, but says architects shouldn't see that as a constraint. 'Designers have to be better at understanding how the hotel operates. They need to be in tune with how service must be delivered,' she says. Features such as view corridors and combined reception desk/bar units can be essential where there are multi-tasking receptionists, for example.
When The Montcalm Luxury Hotels group came to develop its first UK hotel, M by Montcalm on London's Old Street, in Shoreditch, the client was in some respects typical of the industry in its approach to the project. 'They had a magic number in mind of around 200 rooms,' says Murray Levinson, partner at architect Squire and Partners, which undertook the concept design, working with executive architect 5plus.
The design eventually provided 269 rooms, in a 23-storey tower that has become well known for the optical illusion presented by its distinctive exterior. Hackney Council wanted the hotel to stand out from the crowd, and the client also fully understood the benefit of investing in architecture. 'It was their first new building – their other London hotels were refurbishments,' Levinson says. 'It was agreed that the budget allowance would be higher than for a standard building, and the client was supportive of spending more.'
Rooms at the Shoreditch hotel are larger than average and packed with technology, including touch screen controlled underfloor heating, and lighting and curtains that can be managed via a tablet. Tech is becoming increasingly important, says Craig. 'The size of the hotel room used to be synonymous with luxury, but we're now seeing highly specified hotel rooms commanding high rates.' These are the kind of features that have become associated with brands like Ace Hotels and The Hoxton. Their emphasis on design, lifestyle and comfortable communal spaces for coffee, co-working and clubbing gives them a personality and a local connection that the larger chains have traditionally lacked. There is a clear appetite for something different, says SODA Architects' Russell Potter. 'The priority in a hotel used to be a good bed and a hot shower. Now younger people are interested in the bigger picture, the chance encounter.' The innovations of the smaller independent hotels might just be helping the sector as a whole rise to the challenges of the sharing economy
If you can't beat them…
Online travel agencies and the sharing economy have played a significant part in changing travellers' experiences, and the hotel offer. 'The rise of online transactions has meant that more companies can operate without being part of a big brand,' Craig points out.
Home sharing is now significant in the UK travel market, with Airbnb reckoned to have around 30,000 home listings in London. 'Home sharing has presented both challenges and opportunities,' says a spokeswoman for the British Hospitality Association. 'More people are travelling because they can afford to, so it has expanded the market. But what's always been of concern is the health and safety issues around the sharing economy. A large part of it is invisible.'
Some businesses are said to be considering responding by listing their own rooms on sharing websites, while in April chain Accor went a step further and acquired onefinestay, a luxury serviced home rental platform.
Big brands are also learning from the smaller, independent businesses that have brought individual style to budget city stays. 'Hotels are differentiating more between travellers and what they want. They are now even more conscious of design,' says the BHA spokeswoman. 'There's scope for the bigger groups to have distinctive brands within. They are thinking about how they can have quirky bits.' For example, Marriott is bringing its new Moxy brand, which targets younger travellers, to the UK, with a 200-room hotel under construction at Aberdeen's airport. 'These are hotels with a design focus, tech-enabled rooms, bigger public spaces and fresh, cool design elements,' says a Marriott spokeswoman.
---
Key facts
Total rooms in London in 2015 139,880
New rooms due to open in London in 2016 6,970
Increase in openings on previous year 4.9%
Total rooms in the regions in 2015 472,850
New rooms due to open in the regions in 2016 9,210
Increase in openings on previous year 2%
Number of visitors expected to the UK in 2016 36.7 million
Increase in visitors on previous year 3.8%
---
Catering for creatives
When Green Rooms in Wood Green, north London, opened the doors for its launch party, there was the kind of queue you would normally see outside a nightclub. This is the latest arrival on the capital's budget hotel scene and it is bringing creativity to the sector in a very different way.
Green Rooms provides low cost accommodation that targets touring artists, actors, musicians and other performers. Billed as a social enterprise, the not-for-profit hotel offers a budget stay with a stripped back style. The project was founded by social entrepreneur Nick Hartwright, working with Kurt Bredenbeck, the founder, creator and former owner of the Hoxton Hotel, and has been supported by Harringay Council and the Greater London Authority.
Spa treatments and luxury services are not on offer at Green Rooms, but there is a range of sleeping accommodation, including a dormitory and 22 bedrooms, alongside a café, bar and restaurant, and a third floor space dedicated to events, ranging from performances to art shows. All are housed in a 1930s art deco office building formerly occupied by the council.

The makeover from office to hotel was carried out by SODA Architects on what director Russell Potter describes as 'a ridiculously low budget'. Given the circumstances, Potter says that the conversion approach was 'to do a soft strip and then see what we could work with. We were quite reactive.' Luckily, the suspended ceilings concealed such details as a stained glass skylight and ornate plasterwork, while carpet tiles hid mosaic tiling, parquet on the ground floor and oak floorboards at upper levels. Other finishes are necessarily low cost and simple – OSB partitions, painted concrete floors, exposed brickwork, expressed services – although money has been spent on adding acoustic insulation between rooms. 'That's something you wouldn't expect in a budget hotel. We've tried to do relatively few things well,' adds Potter.
The design is complemented by mid-20th century furniture and fittings, as well as new pieces from fashion-to-furniture brand Folk. With the price of a bed for the night starting at £18, visitors could be queuing.
---