Founded by architects, Roundhouse is a multi-award-winning British company designing and manufacturing beautiful, bespoke kitchens and furniture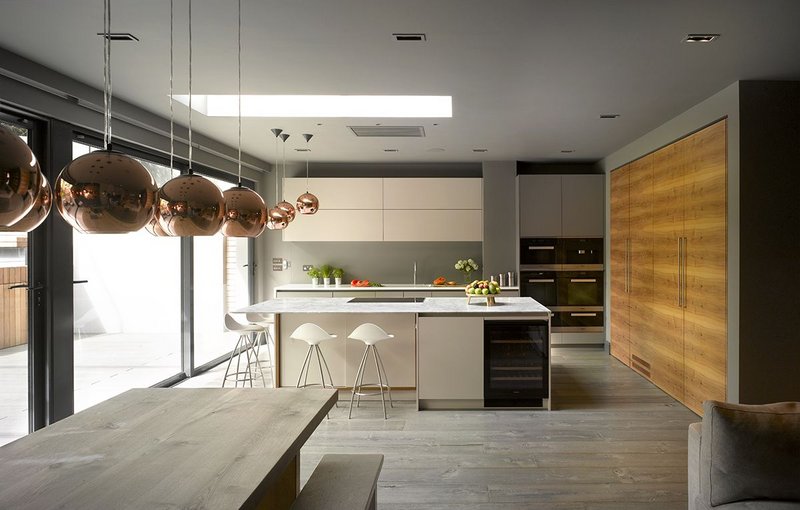 Credit: Roundhouse
At the forefront of kitchen innovation for over 20 years, our understated furniture is influenced by contemporary architecture and design, using innovative materials, texture and colour.
Because we bring design vision and architectural perspective to bear on every detail, there's a much greater scope to what Roundhouse do. We work on a wide range of residential projects, from small but perfectly formed London apartments to grand designs in large spaces and we have a dedicated team specifically working with Architects & Developers.
Our work is not merely made to measure; it is totally flexible – marrying a contemporary, discreet aesthetic with timeless elegance, combining traditional craftsmanship with cutting-edge technology, and offering an almost limitless choice of materials, colours, fittings and styles. In short, we create beautiful British furniture to suit the most exacting requirements and to serve the maximum potential of each space.
Advanced manufacturing in the UK
With our own brand new advanced manufacturing facility in Malvern Worcestershire, an area long associated with furniture making, we can offer greater flexibility to meet the needs of the most demanding bespoke specifications. Our highly skilled cabinetmakers bridge the gap between centuries old traditions of workmanship and the latest technical innovations, combining exceptional joinery skills with state-of-the-art manufacturing techniques.
We believe in minimising our impact on the environment. All woods, timber or veneers used meet the highest accreditation; strictly adhering to FSC standards. Through an extensive recycling programme our factory is close to being carbon neutral.
Unique innovative materials
Renowned for an innovative use of materials, our R & D team continually develop exclusive new finishes. Among the newest additions is a range of metal wrapped doors and panels in Matt Sanded Brass and Copper, Antique Brass, Antique Copper and Blackened Steel. These finishes are totally unique in that they will age and acquire a natural patina, which adds to the beauty and richness of the product.
Only the finest materials are used in our bespoke kitchens, including Veneer, High Gloss and Matt Lacquer, Metallic and Hand Painted finishes, with solid timber lippings & dovetailed drawer boxes internally. Our range of metallics is unique; Silver, Bronze and Copper in beautiful Patinated, Hammered or Burnished finishes, all are painstakingly applied, polished and finished by hand. We also have a wide range of beautiful and unusual veneers, from stunning Applewood to striking Zebrano. The variations in tone and structure of veneer are what make this furniture unique.
Our expertly crafted bespoke designs include, contemporary handle less Urbo, Metro, Shark and Classic Hand Painted kitchens. We also design and build other furniture, from beautifully made wardrobes, tables and shelving, to custom-built AV furniture.
Managed installation service
The Roundhouse approach embraces the house, the home and the whole creative process – from concept to completion and everything we do is inspired by design: shaped by a full understanding of our clients' needs, their ideas and the bigger picture of their lives. We take responsibility for every stage of the process – from the first sketch to the finishing touches.
A managed installation service ensures each project takes shape exactly as intended, with a dedicated installation manager on hand to oversee all aspects of the final build.
It's this freedom to design for each individual that makes Roundhouse truly different, and every project unique.
Thomas Project
This light filled and spacious extension to a Grade II listed Cotswold stone farmhouse is home to an elegant, deceptively simple kitchen. Working with the architect, the clean, linear design makes full use of the ceiling height, positioning of the roof lights and precision engineering allowed us to create a symmetrically balanced design.
Style - Urbo, Finishes - Matt Lacquer, Fumed Eucalyptus and Walnut, Corian and Stainless Steel. Designers Robyn Gifford & Peter Kandalaft
Raine Project
Designed to withstand the daily demands of family life, the Raine's kitchen is both impressive and robust. With a semi industrial look and use of exposed steel beams, we worked with the architect to ensure the kitchen was positioned advantageously in the space. Anchored by an island that is its hard-working heart, it has a wall of blackboard doors, which together create the perfect place for work and play.
Style - Urbo, Finishes - Matt Lacquer, Polished Concrete, Stainless Steel. Designer Jane Powell
Made in Britain and built to last, Roundhouse furniture will look as good tomorrow as it does today. www.roundhousedesign.com
To learn more about Roundhouse, please email: sales@roundhousedesign.com or visit any one of our six UK showrooms in West End, Fulham, Richmond, Clapham, Guildford and Cheltenham.